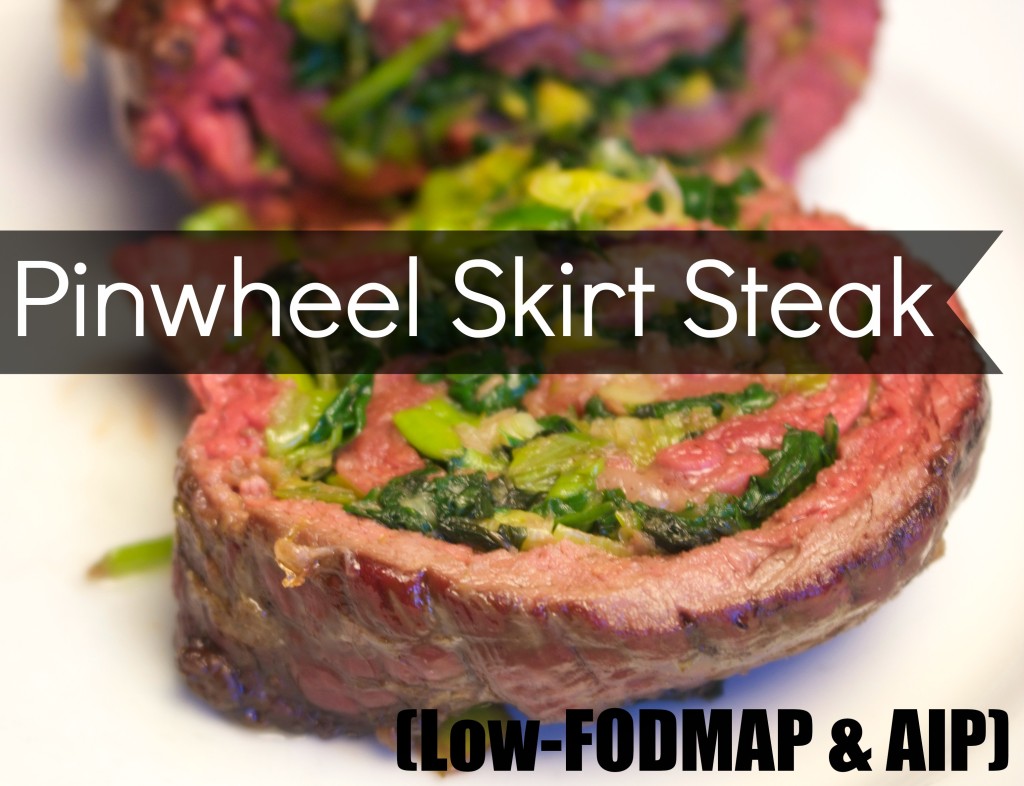 This recipe is succulent, mouth watering, and truly de-licious.  Yet what gets me, is that I was unable to do the dish justice through photography.  Some days, I am just too out of it to hold a camera steady, have the energy to go get the camera stand, or get the lighting the way it needs to be.  However, I didn't want this to take away from me posting the recipe, as I put my heart and soul into creating a dish that was low-FODMAP, yet captivating to all taste buds.  As mentioned in my previous post on FODMAPs, my diet is 95% free of fermentable carbohydrates, simply because my gut has not healed enough to be able to tolerate them without giving me extra symptoms, that I would otherwise chose to avoid.  That being said, initially beginning your journey on a low-FODMAP diet can seem rather daunting, as many of the nutritious, whole-foods that are emphasized on a Paleo meal plan, are taken away.  However, this doesn't mean that creating dishes all of the sudden becomes boring, and that there are no longer any flavors to play around with.  In reality, there are many foods free of FODMAPs that, all it takes is a little adjusting. As far as today's recipe goes, the skirt steak that I use is very similar to that of flank steak, and can almost be used interchangeably.  The difference between the two is the fact that flank steak comes from the lower abdominal area of the cow, where as skirt is from the diaphragm muscle.  Both are a relatively tough cut of meat, yet because they are so thin, pounding them out can make a piece of meat that is incredibly tender, of which is precisely what happens in today's recipe.   Overall, my entire family devoured these pinwheel steaks, as they loved how much each bite simply melted in their mouth.



Skirt Steak Pinwheels
(Serves 4-6) 
Ingredients
2 lb beef skirt steak
2 cups baby spinach
2 cup chopped leek greens
2 medium lemons
1 1/2 tsp lemon zest
2 cups lightly packed, fresh basil
1 cup lightly packed, fresh parsley
1 tsp sea salt
4 green onion sprigs
4 tbsp avocado oil
Process
Preheat oven to 425 degrees.
Cut the flank steak into two, like-size strips, and place each on a sheet of plastic wrap.
Cover each piece of steak with a second sheet of plastic wrap, and use a meat mallet to pound them out until an even 1/4 inch thick.
Zest the lemons, then cut each lemon into 5-6 slices, and place each slice on the bottom of your medium sized baking dish, along with the sprigs of green onion.
Chop the leek greens into 1/4 inch rounds, and lightly tear the basil and parsley leaves.
In a medium sized skillet, heat 2 tbsp avocado oil on medium-low.
Once the skillet is hot, sautee the leek greens and baby spinach for 5 minutes, then add in 1 tbsp of lemon zest, torn basil, parsley, and 1 tsp sea salt, allowing the mixture to cook for 2 more minutes until the fresh herbs have just begun to wilt.
Allow the mixture to cool slightly, then scatter an equal amount of filling along the length of each pounded piece of skirt steak, leaving 1/2 inch boarder all around.
Start at one of the ends, and tightly roll the skirt steaks up into two large pinwheels, and tie each one with three strings, one in the middle, and two on either side of the center string.
Drizzle each pinwheel with remaining 2 tbsp of oil, sprinkle with remaining 1/2 tbsp lemon zest, and salt to taste.
Place the pinwheels in the preheated oven and bake for at least 40-55 minutes, depending on how well-done you like your meat to be.
Remove the baking dish from the oven and allow the steaks to cool before slicing into pieces of desired thickness.
Recipe Notes
You can use flank steak in place of the skirt steak.
Romans 10:9-10 "…That if you confess with your mouth the Lord Jesus and believe in your heart that God has raised Him from the dead, you will be saved. For with the heart one believes unto righteousness, and with the mouth confession is made unto salvation."