Going to farmer's markets is one of my favorite things about the spring, summer, and fall months.  Though there is one that is held indoors during the winter, there is truly nothing like getting to spend time outside in the fresh air and picking up ingredients freshly picked from a local farmer's field.  Ultimately, this is what brings us to today's post.  How do you get the most out of your purchases at the market or grocery store?  Eat in season.  Not only will the food taste better, but the nutrient content will be much higher, ensuring that both you and your taste buds will be healthier and happier.  With spring finally rolling around, you will be faced with a variety of new, and sometimes foreign, produce items, which is why I have created a simple chart to help you know what to look for, as well as a few fun and interesting facts abut the ingredients.
What to Look For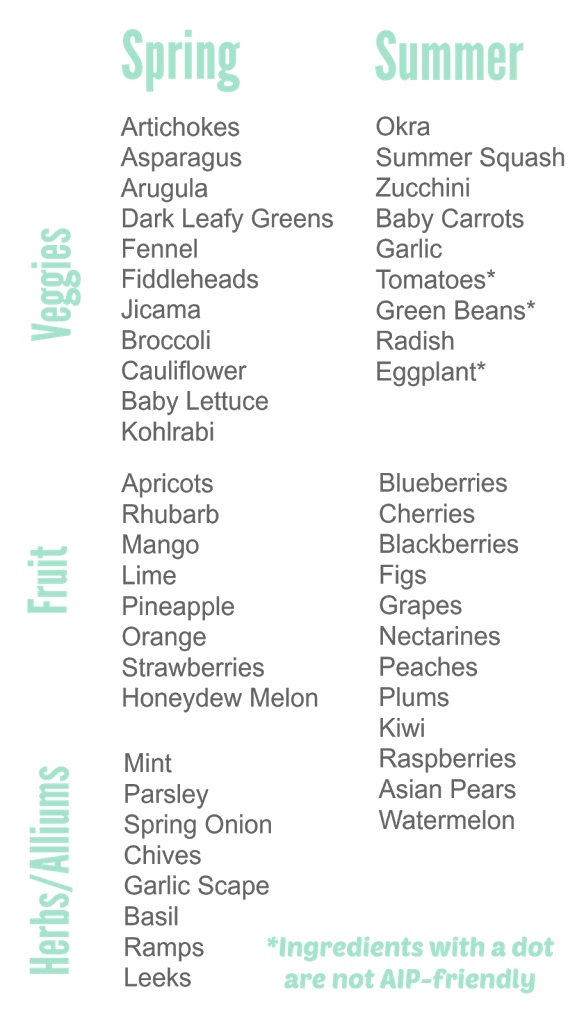 Know Your Produce
Though I assume everyone knows what in asparagus looks like, the term "ramp" or "fiddlehead," may still be a bit foreign.  Therefore, to help you decipher and find ingredients included in the list above, I have included photos of some of the produce that may be popping up in your are now that the Spring and Summer months are arriving.
How to Use Your Ingredients
 Overall, there is nothing more exciting for a cook like myself, to see new ingredient popping in the stores or markets, or welcoming the freshness of otherwise dull, bland, and withered ingredients that are sold during winter months.  In the end, the spring and summer months are a great time to start experimenting in the kitchen, trying new foods, and creating new dishes.  Therefore, below I have included a variety of recipes that use a variety of the in-season fruits, vegetables, and herbs discussed in todays post, to help you do just that.  I also encourage you to look at Jo Robinson's book, "Eating on the Wild Side," as it is a truly fascinating source of history and information behind the produce we see and eat in today's modern world.
Vegetables
Chicken Curry
Garlic Grilled Kale
Roasted Leek Greens
Shaved Jicama Slaw
Creamy Roasted Broccoli
Crispy Baked Collard Chips
Veal Cheek and Greens
Bacon Balsamic Wrapped Asparagus
Mushroom, Leek, and Ham Spaghetti Squash
Cauliflower, Spinach, and Bacon Soup – Salix is Me
Fennel Spinach Soup – Healing Family Eats
Lemon Thyme Braised Leeks – Salix is Me
Cauliflower Rice (4 flavors) – Phoenix Helix
Steak Salad with Arugula – Phoenix Helix
Kohlrabi, Carrot, and Apple Salad – This Sydney Life
Herbs
Pesto Sauce
Foiled Baked Cod
Herbed Chicken Liver Pate
Garlic, Leek, and Watercress Soup – Salix is Me
Fruit
Hawaiian Pork Roast
Sage and Citrus Salmon
Sweet Blueberry Glazed Salmon 
Strawberry Rhubarb Ice Cream – Healing Family Eats
Blackberry Basil Popsicles – Healing Family Eats
Melon Popsicles – Salix is Me
Raspberry Green Teat Lemonade – Salix is Me
Raspberry Coconut Panna Cotta – Healing Family Eats
Plum Crumble – Healing Family Eats
Peach Glazed Mini Meatballs – Grazed and Enthused
No-Sugar Added Cherry Pie Bars – Grazed and Enthused
Rhubarb Ginger Glazed Bok Choy – Petra 8 Paleo
Roasted Asparagus with Bitter Lemon Pesto – Petra 8 Paleo
1 Corinthians 1:18 "For the message of the cross is foolishness to those who are perishing, but to us who are being saved it is the power of God."