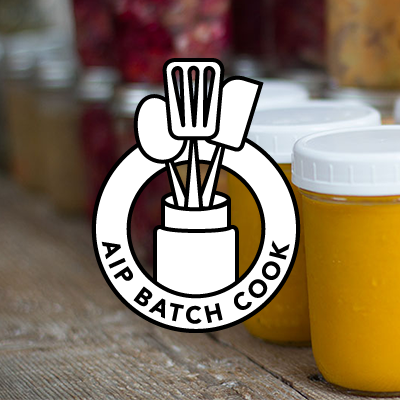 I am excited to announce the one and only, AIP Batch Cook by Mickey Trescott of the Autoimmune Paleo.
What is Batch Cooking?
Batch cooking is a method of preparing food that allows one to save time, money, and energy.  By cooking dishes in large batches, food is readily available throughout the remainder of the week.  In AIP Batch Cook, one is brought through all of the steps to prepare and cook meals for the week ahead, without any stress, confusion, or hassle.   Instead, one can be assured that there is always food stocked in the fridge or freezer, according to your dietary needs, and ready at your disposal.
Why is Batch Cooking Helpful?
Everyone knows what it is like to have a busy day, only to come home at the end and be left without a proper meal.  However, batch cooking fixes that.  Whether you suffer from a chronic illness and do not have enough stamina to be in the kitchen everyday, or a part who is toting their kids around everything, batch cooking is for you.  This method of cooking also comes very handy for those who simply do not like to cook, yet understand the importance of eating real, nourishing food (not out of a package and prepared in the microwave).  For those like myself, who enjoy being in the kitchen and creating new dishes, batch cooking also is a great option, as after all, a break is something we all long for every now and then.  Batch cooking is also a helpful in the scheme of getting the most out of all your purchases and making sure that no ingredient goes wasted.  Overall, you truly can not lose with batch cooking!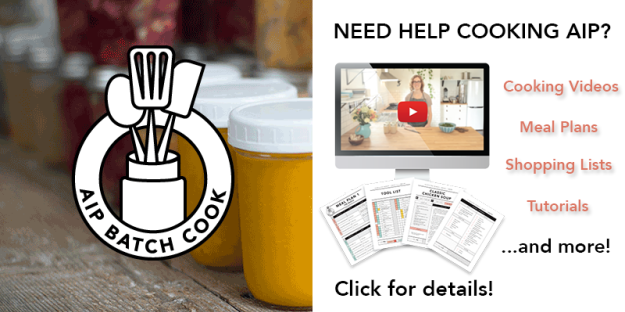 One of the most common questions or concerns that I get when one is inquiring about the Autoimmune-Protocol, or Paleo in general is, "where do I start?" While those looking to make healthy choices in their diet and lifestyle may begin enthusiastic, this excitement typically dwindles when they are faced with the task of getting in the kitchen and cooking from scratch.  On top of having to learn a whole new area of skill, eating paleo (or) AIP typically introduces one to a variety of new produce items, that don't come from a bag or container.  This ultimately can make transitioning a bit daunting, and quite frequently, is used as an excuse to continue in one's old ways.  Yet with AIP Batch Cook, one is able to mitigate the hectic lifestyle of this modern world, conserve energy, heal their body, and ultimately live a convenient, sustainable lifestyle.
As a whole, AIP Batch Cook is a program that walks people through the planning and cooking of all of their meals for one week on the Autoimmune Protocol. Each session includes: 
A program guide walking users through what batch cooking is and how to use the materials properly.
A one-week meal plan for breakfast, lunch, and dinner on the Autoimmune Protocol.
Two instructional videos walking users through the preparation of all of the food on the meal plan.
Shopping lists, chop lists, and tool lists that help them get organized for each batch-cooking session.
Video tutorials for making staples like bone broth, rendering their own solid cooking fat, and making their own kombucha.
Digital versions of every recipe and tutorial we cook together in the instructional videos.
Everything in AIP Batch Cook is laid out in such a way that is very understandable, easy to use and find. navigate. Not only that, but all of the recipe presented include ingredients that are very accessible, affordable, and prove just how easy and delicious recipes according to the Autoimmune Protocol are.  You learn how to make the most of oven and stove time, how to plan ahead accordingly, all while being opened up to various culinary techniques, tips, and ingredients that you will undoubtedly take a hold of and use for the rest of your life .  On top of that, the videos are high quality, the layout is easy to navigate, and there truly couldn't be anything easier than having meals for the week just the click of a button away.  Mickey is like your very own tutor, walking you through every step, and making cooking an enjoyable, rewarding experience, while also giving  members access to many resources from which she gets her differing ingredients, such as solid cooking fat, cooking tools, snacks, protein sources, and more. Ultimately, if you have any hesitations or questions regarding beginning AIP or even Paleo, AIP Batch Cook has got you covered.
If you are interested, you can sign up for Mickey's program through my affiliate link below.
Note: Mickey will be extending her price of $47 until May 8th, after which the price will be going up to $67.  
Romans 14:11 "For it is written: "As I live, says the Lord, Every knee shall bow to Me, And every tongue shall confess to God."