For some reason, I have never been a fan of asparagus.  While I don't typically have an aversion to food, the stringy texture just never was very appetizing to me.  Grilled, baked, seasoned, or marinated, I just am simply never a fan.  However, when I saw today's preparation method on ABC's The Chew, I was intrigued.  While I have used a peeler to julienne carrots, jicama, cucumber, zucchini, parsnips, sweet potato, and pretty much every other vegetable on the planet, not once have I thought to do the same with asparagus. Yet by pairing the earthy asparagus and parsley with a hint of citrus, and naturally sweet ingredients such as a handful of tigernuts and shaved parsnips, the result is a vibrant salad that serves well as both a side dish or as the main star.   After all, who says veggies cannot be the center of attention on a plate?  While you may be skeptical at first because the salad is completely raw, or simply because you have never tried any of the ingredients before, I promise that your taste buds will be pleasantly surprised just like my parents who through it was very tasty.  If you do not have parsnips, feel free to substitute another root vegetable, and if you can have nuts, simply replace the tigernuts with hazelnuts or almonds.  Overall, the versatility of this dish is quite wide, and truly just serves as another creative way to enjoy vegetables.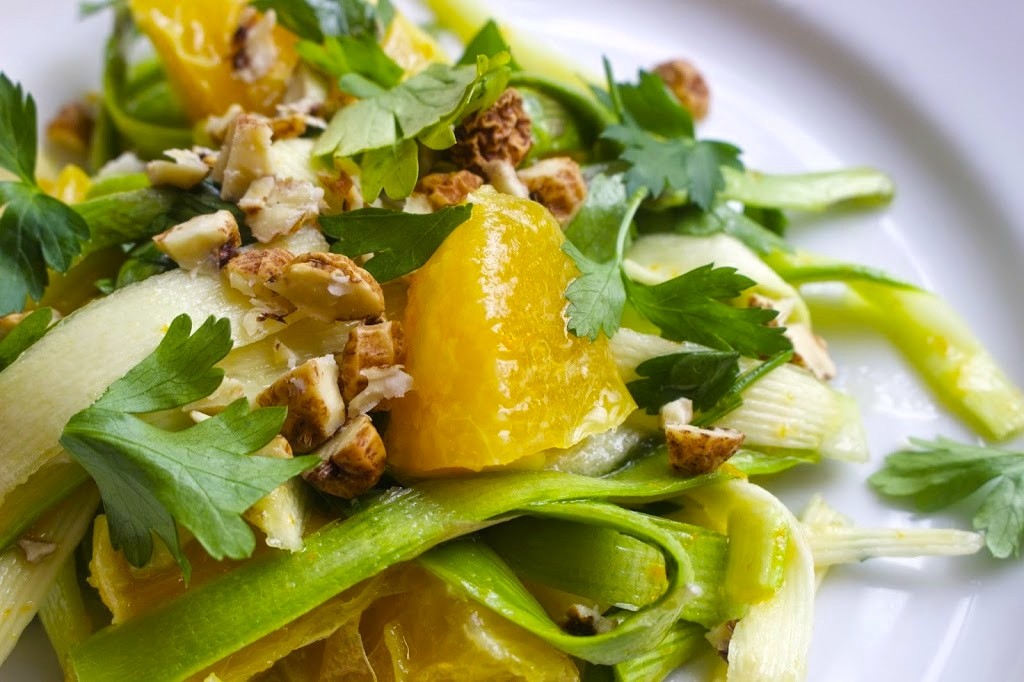 Shaved Asparagus Salad
(Serves 4-6)
Ingredients
4 jumbo asparagus stalks
1 medium sized parsnip
1 orange – peeled and cut into 1/4 inch chunks
Zest of one orange
Juice of one orange
1/4 cup tigernuts (soaked)
1/2 tsp sea salt
1/4 cup olive oil
1/4 cup fresh Italian parsley (plus more for garnish)
Process
Place tigernuts in a bowl and cover with cold water, allowing to soak for 6-24 hours.
Remove the ends from each asparagus stalk and peel lengthwise into long strips, and then do the same for the parsnip, placing the shavings in a large shallow bowl.
Zest and juice one orange, then peel the second orange and cut it into 1/4 inch chunks, placing the chunks in the bowl with the parsnip and asparagus.
Mix the zest, orange juice, sea salt, and olive oil in a bowl and pour over the shavings.
Roughly chop the parsley and sprinkle over the salad, then cover the bowl with plastic wrap and allow to marinate for 1-2 hours.
To serve, drain and chop tigernuts, plate the salad, and top with extra parsley and chopped tigernuts.
Psalms 103:2-3 "Praise the LORD, O my soul, and forget not all his benefits—who forgives all your sins and heals all your diseases."