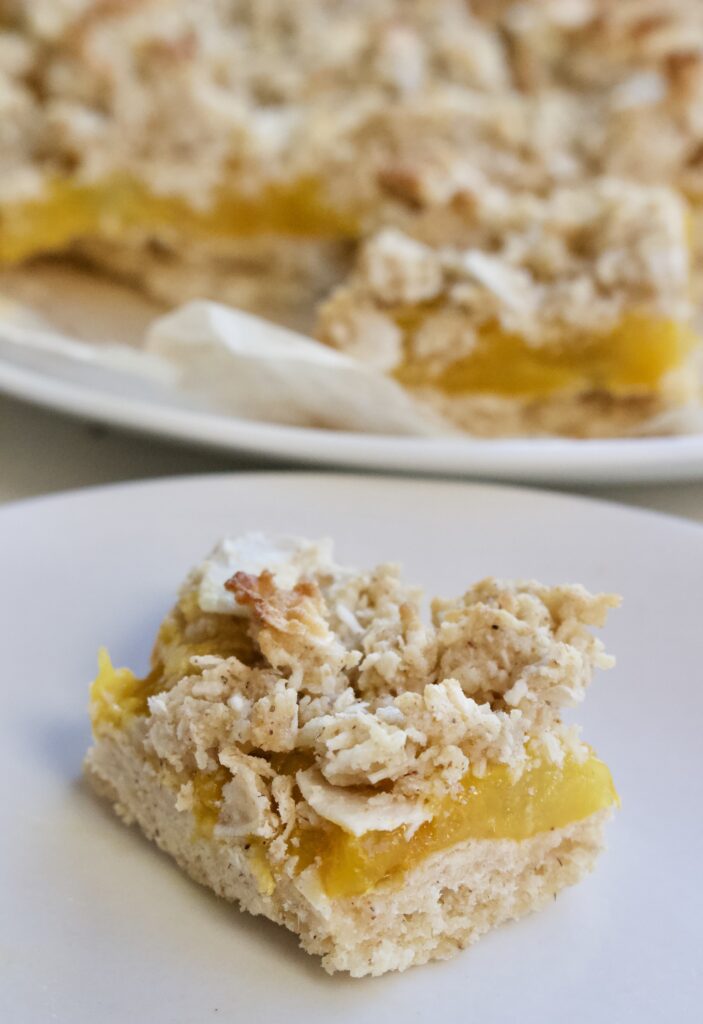 Just the past week my parents came to visit from Florida and brought with them mangoes from their backyard (if that sentence doesn't make you want to move to FL, what will?!). There also just so happened to be mangoes on the clearance rack at our local Kroger, causing us to have an over abundance of mangoes in the house. So…what to do? While a coconut-mango sorbet recipe did cross my mind, I wanted to make something a little more authentic. Baking with mango is something I've never actually done before, which is why I chose to make mango crumb bars. Crumb bars must be a May "thing," as back in 2019 I made these AIP Blueberry Crumb Bars that were a hit with the whole household. Though pureed green plantain really helps the durability and texture of egg-free, autoimmune-protocol baked goods, I tried to make today's recipe a little simpler by avoiding its addition. Overall, today's recipe is a great twist to the traditional fruit crumble bar, and can be made even more amazing with a dollop of coconut milk ice cream on top.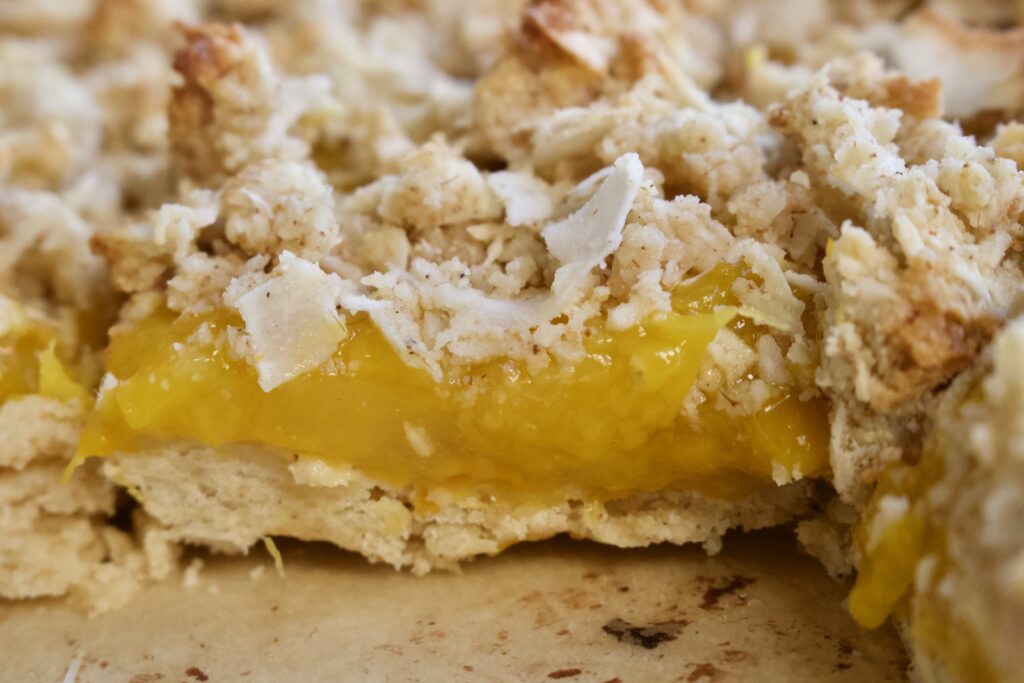 Paleo AIP Mango Crumb Bars
Crust
Filling
2 cups fresh diced mango
1 tbsp honey
1 orange, zest & juice
1/4 cup water
1/8th tsp sea salt
1 arrowroot slurry
Topping
Process
In a food processor, pulse together coconut flour, tigernut flour, sea salt, honey, and vanilla extract
Pulse in shortening a couple tbsp at a time until a dough just forms
Press the dough into a parchment lined 8×8 square baking dish, poke with a few homes, and bake at 350 for 10 minutes until just beginning to brown around the edges.
Set aside to cool fully before adding the filling.
To make the filling, add all ingredients but the slurry to a pot and bring to a simmer, allowing to cook for 5 minutes, stirring often.
Next, add in the slurry and allow to cook for another 5 minutes, allowing the mixture to thicken.
Allow the mixture to cool then spread over the baked crust.
To make the topping, combine all if the dry ingredients in a bowl, then mix in honey and melted shortening until a crumble has formed.
Next, top the filling with the prepared crumble and bake at 350 for another 10 minutes until golden brown on top.
Remove the bars from the oven and allow them to cool completely before slicing and serving.
Notes: for the arrowroot slurry, use mix 1 tbsp water with 1 tbsp arrowroot flour until combined
Romans 8:1-2 "Therefore, there is now no condemnation for those who are in Christ Jesus, because through Christ Jesus the law of the Spirit who gives life has set you free from the law of sin and death."