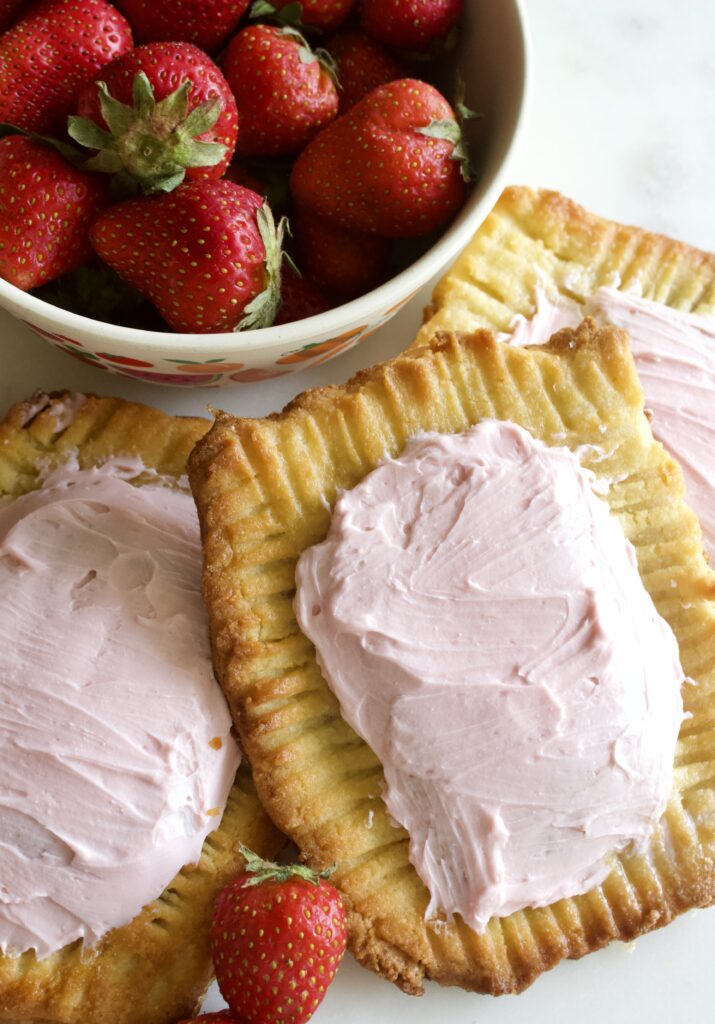 I had a thing for strawberries when I was pregnant with my first. I never knew I could crave a fruit so badly. While I'm definitely not pregnant, I still have a thing for strawberries. Growing up, my mom would take any chance she could get to take us to the local farm and fill up large flats full of PYO strawberries. Though living near the city in Nashville does not make continuing this tradition quite as easy, I'll take any excuse to pack up the car and go strawberry picking. Just this past week, it was opening day and with studying for finals truly the last way I wanted to spend a sunny day in April, my friend and I drove 45 minutes East to go picking. Allie enjoyed grazing on strawberries like it was her job while I picked a bucket to take home. While it was only a couple pounds worth, I quickly realized that they were going to last a lot longer now that I wasn't pregnant and devouring every strawberry in site. So what to do? Pop-tarts, duh.
Call them pop-tarts, hand-pies, or a strawberry breakfast pastry – I don't care! These pop-tarts can truly serve as breakfast, a snack, or treat. I chose to let the strawberries shine and not use too much sweetener. For the frosting, I made things quick and simple by using Drink Everly fruit punch flavored drink powder. My toddler loves these mixes and has them daily in her "agua" (so she calls it). The drink mix is naturally colored with red radish, but you could also opt for using powdered monk fruit sweetener and a natural food dye. Overall, I tried to make the instructions to make these pop-tarts as straight forward as possible, with their shape being completely up to you. So have fun and enjoy!
Paleo Strawberry Jam Pop-Tarts (Keto-friendly, coconut-free)
Ingredients
2 cups almond four
1/4 tsp sea salt
1/4 cup cold unsalted butter
1/4 cup granulated monk fruit sweetener
1 tsp vanilla extract
1 egg
4 oz softened cream cheese
1/4 cup softened, unsalted butter
1 egg white for brushing
Process
Remove the stems from the strawberry and place them in a pot with water, sea salt, monk fruit sweetener, and juice of clementine, allowing to simmer over medium heat until the berries have softened. 
Once the liquid has reduced by half, add arrowroot slurry and whisk to combine.
Cook the mixture for 30-60 seconds until just thickened then remove from the heat and cool the jam for use. 
To make the dough, add almond flour, sea salt, vanilla, and monk fruit to a food processor and pulse to combine. 
Add in the cold butter and pulse to combine, then add egg and pulse just until a ball of dough forms. 
Place the dough on a large sheet of parchment, cover with another sheet of parchment, and roll out to 1/2 inch thick. Place the dough in the fridge to chill.
Once fully chilled, roll out the dough to 1/4 inch thick and cut into desired shapes. 
Brush the insides of the dough with egg white, then place 1 tbsp of jelly on the inside of half of the shapes. 
Place the equivalent of dough on top of the shape with jelly, lightly press around the edges with a fork, poke 3 holes in the top, and brush with egg white. 
Repeat for remaining dough and bake at 375 for 15 minutes until golden around the edges.
Allow the pop-tarts to cool fully before frosting and serving. 
To make the frosting, beat together softened cream cheese, butter, and desired amount of Drink Everly fruit punch drink mix. 
Job 19:25 "I know that my redeemer lives, and that in the end he will stand on the earth."