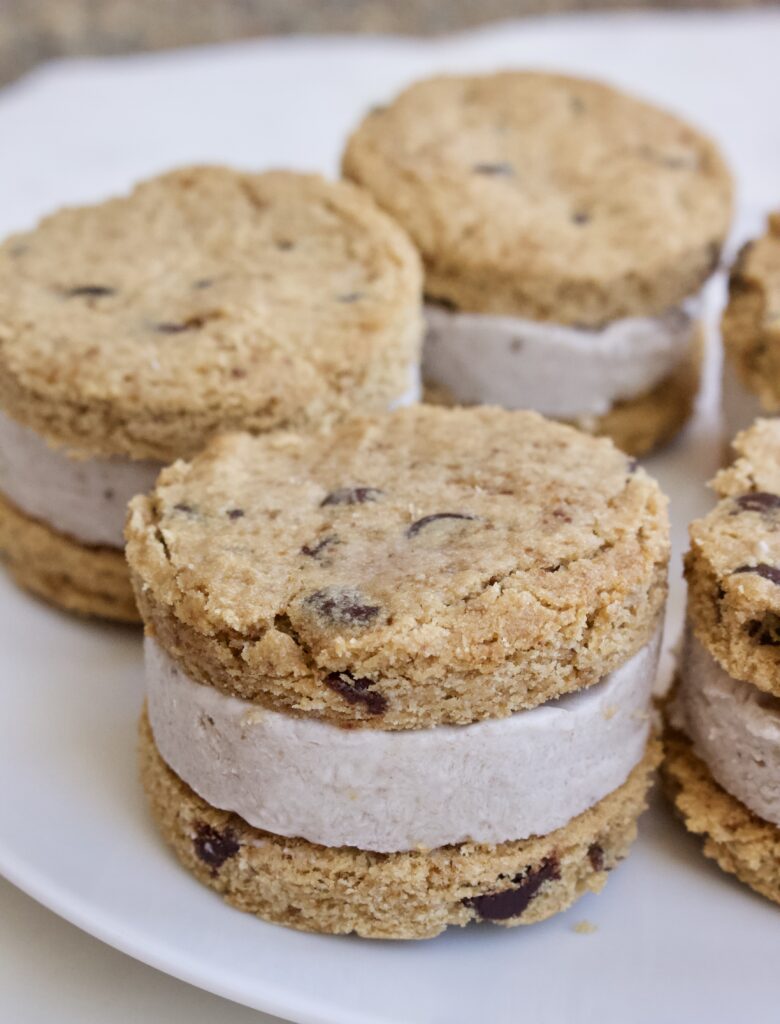 The funny thing about having a recipe blog is that somedays figuring out what to write in the body of your post can be the most difficult. The irony of this is that, most of the time, when someone is searching the web for a recipe, the body of a blog post is the last thing they read. Maybe it's just me, but rarely will I sit and take the time to read what the author and chef has to say about the recipe. And this folks, is where I am today. I truly don't have much to write about this recipe except for, ice cream sandwiches….do I REALLY need to say more? I chose to go with a simple, unsweetened filling made with banana and coconut. However, the choice is truly up to you on what you fill the cookies with. You can even omit the ice cream and simply make killer chocolate chip cookies. The choice is yours, and I promise I won't go off on any more "random" rambling. Enjoy.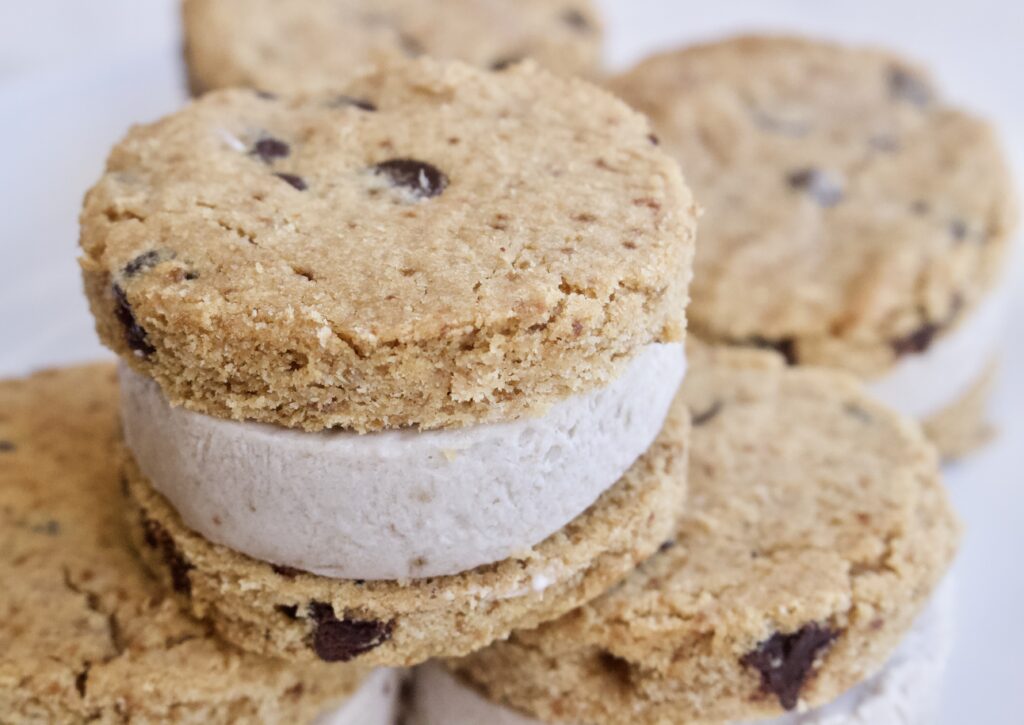 Paleo Chocolate Chip Cookie Ice Cream Sandwiches (Dairy-free, Nut-free)
Cookie Ingredients
140 g cassava flour
1/4 tsp sea salt
1/2 tsp baking soda
1/3 cup coconut sugar
1/3 cup granulated monk fruit
1 tsp vanilla extract
1 eggs
1/2 cup non-hydrogenated palm shortening
3/4 cup Lily's chocolate chips
Filling Ingredients
3 very ripe bananas
1 cup full-fat coconut cream
1/2 tsp vanilla extract 
1/8th tsp sea salt
Process
To make the cookies, a large mixing bowl, beat together palm shortening, vanilla, monk fruit, and coconut sugar until smooth, then add in eggs one at a time until just combined. 
Sift together dry ingredients and then add to the mixing bowl, beating on low until combined, then fold in the chocolate chips. 
Use a cookie scoop to transfer the dough to a parchment lined baking sheet, then use the back of a spatula or spoon to flatten the dough 1/4 inch thick. 
Repeat with remaining dough and bake at 350 degrees for 10 minutes. 
Allow the cookies to cool completely before sandwiching with ice cream. 
To make the ice cream, combine all of the ingredients in a blender or food processor until smooth. 
Place mixture into an ice cream maker and churn until thickened, then sandwich between two cookies and serve immediately. 
If not using an ice cream maker, pour the mixture into a parchment lined baking dish and freeze until firm. 
Once ready to serve, remove the baking dish from the freezer and allow the ice cream to thaw slightly, then use a round cookie cutter to portion out the ice cream and sandwich each round between two cookies. 
Notes – Simply use store-bought ice cream or another one of my ice cream recipes found here.
Habakkuk 3:19 "The Sovereign Lord is my strength; he makes my feet like the feet of a deer, he enables me to tread on the heights. For the director of music. On my stringed instruments."