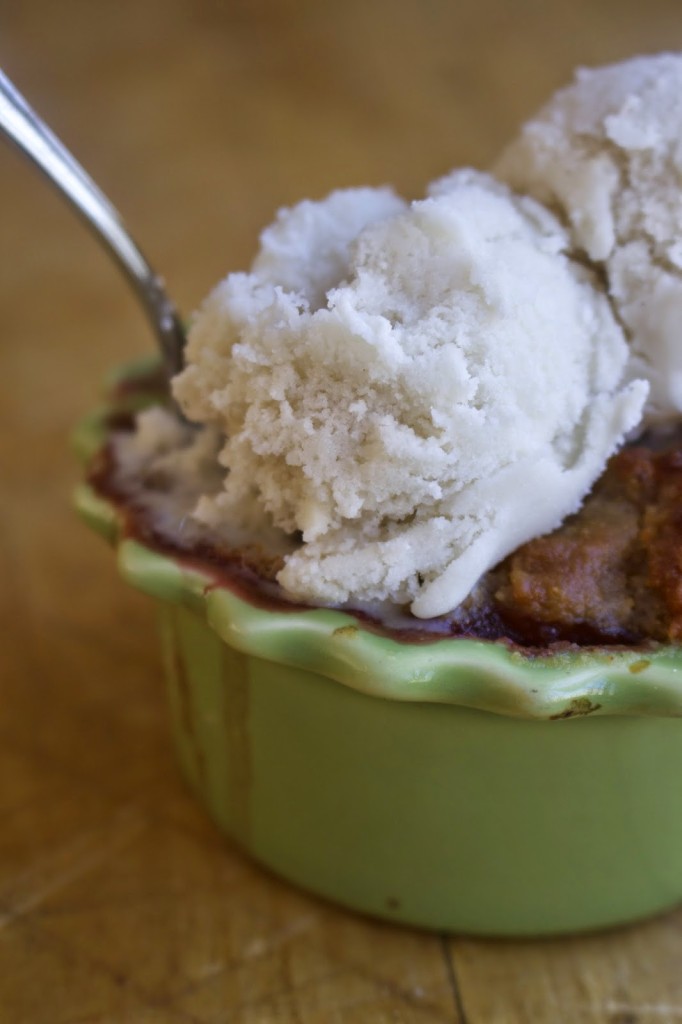 Who doesn't love a warm, oozing, fruit filled dessert straight from the oven? Despite being someone who almost always leaned towards chocolate desserts, blueberry cobblers and apple crisps were easily one of my favorite treats during my childhood.  There was just something about the scrumptious, crumbly topping that covered a steaming fruit filling, of which we topped with a chilly scoop of vanilla extract, that would get me every time. Though making a crumble can be a great dessert for serving a crowd or dinner guests,  today's recipe is specially made for individuals who like having a treat every now and then, yet don't like having the extra sweets tempting them in the days after.  Lightly sweetened with just a tad of honey, this cherry crumble is the perfect way to satisfy any sugar craving, without being left with a sugar hangover.  Not only that, but there is also no worry about wasting any ingredients, which is always a plus when baking with grain-free flours.  If you wish to make the recipe for 2 or 3 people, doubling or tripling the ingredients listed below is also quite easy.  Overall, this little treat was a big hit with my parents, as even my mother (who is like me and is biased towards chocolate desserts),  couldn't help but be excited for the mini crumble to come out of the oven.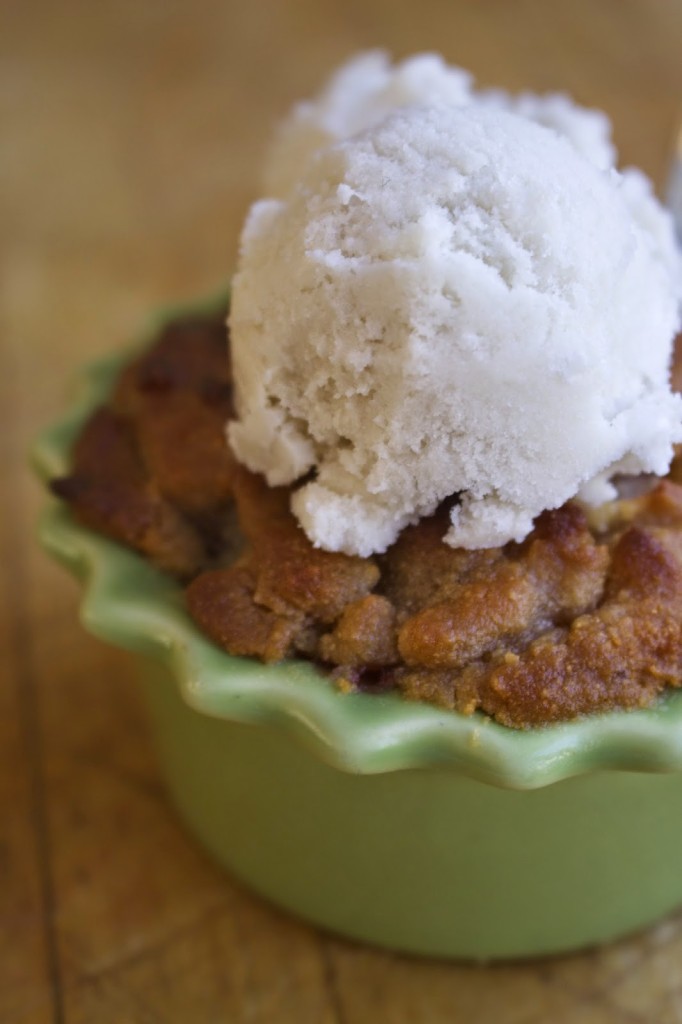 Single Serving Cherry Crumble 
Print Recipe
(Serves 1)
Topping Ingredients
1/3 cup (12) dark sweet cherries – pitted 

1 tsp arrowroot flour

1/8th tsp cinnamon

1/8th tsp sea salt

1/2 tsp lemon juice (from 1 small wedge) 
Preheat oven to 350 degrees.

In a medium sized mixing bowl, toss together filling ingredients and place in a small ramekin.

Wash and dry the bowl, and use it to whisk together the dry ingredients. 

Add in lard, water, and honey, to the bowl, and combine with a fork (or) your hands, until just combined.

Place ramekin on a baking sheet. 

Wet your hands with cold water, and crumble topping on top of the cherry mixture.

Place the baking sheet in the preheated oven and bake for 40 minutes (1:40 PM – 
Recipe Notes
Tapioca can be used in place of the arrowroot.
Coconut, tiger nut, or almond flour work great in place of the sweet potato flour.
Lard can be easily substituted for non-hydrogenated palm shortening, coconut oil, or butter.
Using a standard mixture or food processor also works great to combine the topping.
Proverbs 21:21 "
Whoever pursues righteousness and love finds life, prosperity and honor."