I love being creative in the kitchen.  Of course, this most likely will not come to a surprise to many of you who follow Beyond the Bite.   However, I truly do love seeing how different ingredients work together, or in some cases, don't work together at all.  Today's recipe features Organic Gemini tigernut flour, and Anti-Grain apple flour, two companies that I have come to support 100%, not simply because of their products, but because of the genuine individuals that are behind the companies.  As for today's hand pies, I wanted to challenge myself a bit further than the average AIP, coconut-free cookie that I would typically post (though I seriously cannot get enough of making the various types of cookies using autoimmune-friendly ingredients).  My father thought they were "fantastic," and that the filling was "absolutely amazing."   Much to his surprise, they were not made out of almond flour, but rather apple and tigernut, a tasty combination that makes for a soft, lightly sweetened crust.  My parents especially liked the combination of strawberry and peach, as it's natural sweetness of the fresh  fruit explode in their mouth.  Of course, if you do not have fresh fruit on hand, feel free to use frozen varieties, as long as that they are thoroughly thawed and drained before put into the pies, as this will undoubtedly make them soggy.  If you do not have tigernut or apple flour, make sure to check out my other pie crust of which I based today's recipe off of, here.  Also, you are able to eat nuts, go ahead and use almond flour.  Overall, the beauty of hand pies is that they do not have to be absolutely perfect.  Rather, they are unique and different according to the hands that prepare them.  All that is needed is a little love and patience, and you will end up with a dessert that  is absolutely scrumptious, not to mention in the perfect, individual portions, which makes them even better for this week's Mothers Day!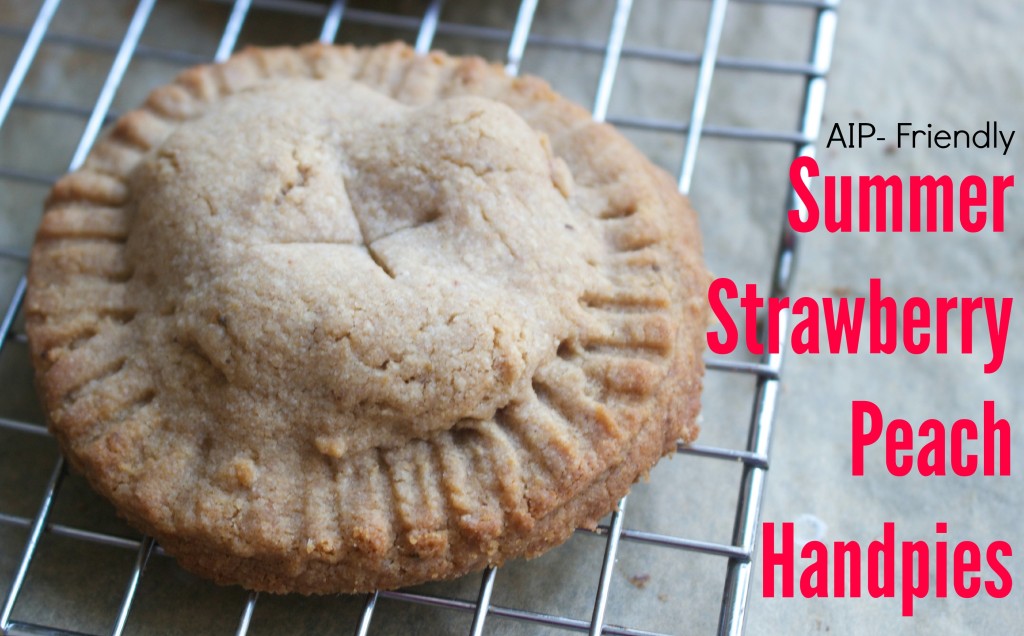 Strawberry Peach Hand Pies
(Makes 6-8 Individual Pies) 
Crust
Filling
1 cup fresh chopped strawberry
1 cup chopped fresh peach
2 tbsp arrowroot flour (plus more for dusting)
2 tbsp maple sugar
1 tsp vanilla extract
1/4 tsp sea salt
1/4 tsp ground cinnamon
2 tbsp lard – melted
Process
In a food processor puree 1 green plantain, transfer mixture to a bowl once blended smooth, and set aside for later use.
Back in the food processor, pulse together the tigernut flour, apple flour, sea salt, maple sugar, and 1/2 cup pureed green plantain.
Once crumbly, pulse in lard one tbsp at a time, then the cold water, until a ball of dough has just begun to form.
Transfer the dough to plastic wrap, form into a flat circle, and wrap up, allowing to chill in the fridge for at least 1 hour.
To make the filling, chop fresh strawberry and peaches into like-size chunks.
Place the fruit in a bowl and mix together with the arrowroot flour, maple sugar, vanilla, sea salt, and ground cinnamon.
Once the dough has chilled, flour your work space with arrowroot flour, and roll the dough out to about 1/4 inch thick rectangle.
Use a circular cut-out (such as a biscuit cutter, or the top of a mason jar)  to cut an even amount of dough circles, transferring them to a parchment lined baking sheet. *Repeat with dough until all is used up.
Next, spoon 1 tbsp of the filling into the center of half of the prepared circles, use your fingers to rim the bottom circle with melted lard, and  then lightly place a second circle of dough on top of each filled pie, lightly pressing down the edges with your fingers.
Use a fork to create a textured boarder around the rim of each pie, and then use a knife to slit a criss cross in the top of each pie.
Brush the tops of each pie lightly with remaining lard, and then place the baking sheet in the freezer for 15 minutes.
Preheat the oven to 350 degrees, and once the pies are done chilling for 15 minutes, bake them for 20-25 minutes until lightly golden.
Remove the baking sheet from the oven and allow the pies to cool at the least, 10 minutes, for serving.
Recipes Notes
For another pie crust alternative to today's recipe, click here.
You can fill your pies with whatever you like, just be aware of the water content of the fruit you choose.
You are used to low-sugar treats, simply omit the maple sugar that is used in the filling.
If you can eat egg yolks, use a beaten egg yolk in place of the lard for both sealing and brushing the pies.
Colossians 4:5-6 "Be wise in the way you act toward outsiders; make the most of every opportunity. Let your conversation be always full of grace, seasoned with salt, so that you may know how to answer everyone."