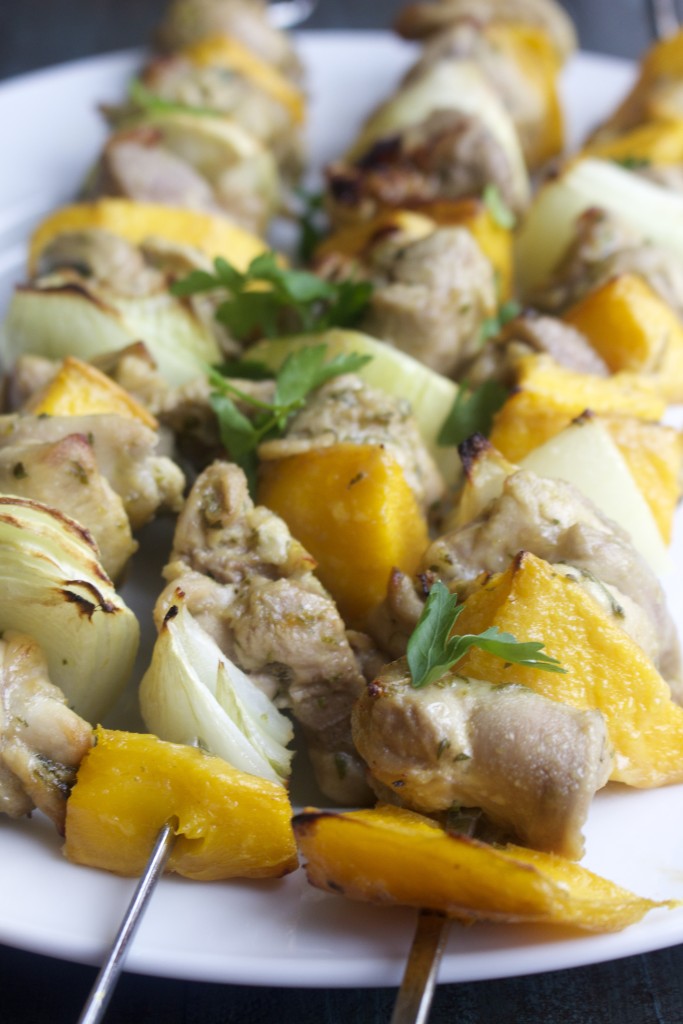 With the four feet of snow melted away on our back patio, it is officially grilling season.  One thing I love about grilling is that there is hardly any mess to clean up.  Not only that, but the various ways that you can use the fire as a heat source is innumerable.  Truly, there is nothing like the smell of someone barbecuing, not to mention the taste of charred meat and vegetables is umatchable.  All winter my family yearns to grill, so I thought there would be no greater way to please them than doing just that.  With hints of citrus, sweetness from the mango, and a bit of spice from the ginger and cilantro, these chicken skewers are a delicious dish to make all the way through early spring, into the late summer months.  Overall, everyone around the dinner table was a big fan of their chicken skewers, and loved the tropical flavors that reminded them of the summer that is coming.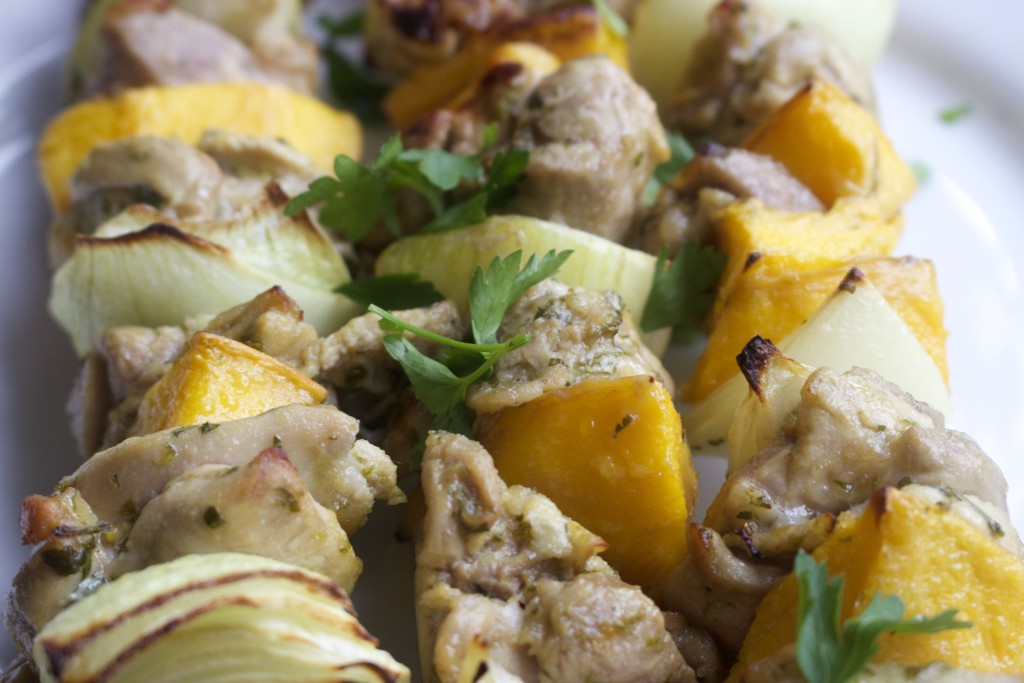 Tropical Chicken Skewers
(Serves 3-4)
Ingredients
1 1/2 lb boneless organic chicken thighs
1/4 cup avocado oil
Juice of 2 limes
Zest of lime zest (1 1/4 tsp)
2 firm mangoes (2 cups chopped)
2 tbsp chopped cilantro
1  tsp sea salt
1 tsp ground ginger
1 large onion
Process
Cut chicken thighs into like-size chunks (about 1/2-1 inch), and place in a medium sized mixing bowl.
To the bowl, add juice of 2 limes, avocado oil, chopped cilantro, sea salt, ground ginger, and zest of one lime.
Peel and chop mangoes into similar size chunks as the chicken, then add them to the bowl as well, mixing everything together with a spatula, covering with plastic wrap, and allowing to marinate for 2-4 hours.
Once the chicken mixture has marinated, chop one large onion into 1/2-1 inch chunks.
Using medal skewers, or soaked wooden skewers, rotate pieces of chicken, mango, and onion on each skewer.
Preheat grill (or) preheat your oven to 425 degrees.
Depending on your cooking method, either place your chicken skewers on the grill and cook for about 5 minutes per side until a nice char has formed (or) place skewers on a baking sheet and bake in the preheated oven for 20 minutes.
Psalms 121:1-2 "I will lift up my eyes to the hills—From where does my help come from? My help comes from the Lord, who made heaven and earth.