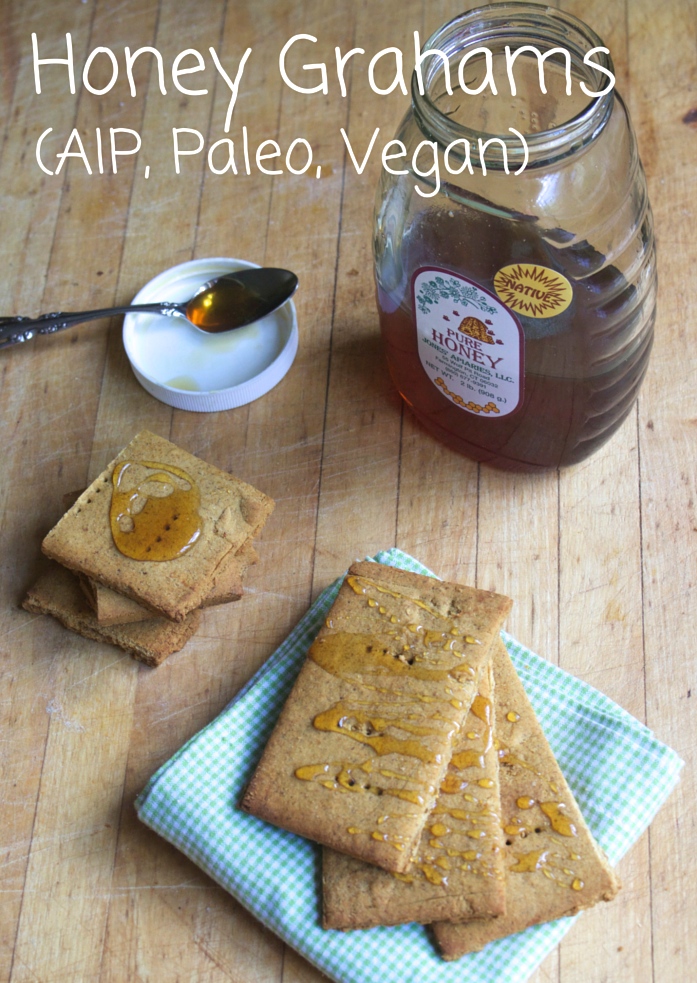 Sometimes going back through the archives and recreating old recipes is one of the greatest ways to expand the diversity of one's blog.  This past week there was a few days where I didn't have any appointments (shocker, I know), and the sun was also behind some puffy clouds, therefore leading me to experiment a bit in the kitchen after the day's school work had been finished.  I am currently taking an english college class, leading me to be a bit "typed" out by the time I get to the blog, so bear with my while I try and summarize my ramblings.   While I could easily spend hours recreating allergen friendly cookies, I figured it would be a good idea to rotate the type of desserts I share with you all.  Therefore, I decided to re-create my Cinnamon Graham Crackers that use tiger and cricket flour, into a honey graham using Otto's Cassava flour and Organic Gemini's tigernut flour.  While I  tried to make things simple by only using one type of flour, the results were not what I was looking for.  All cassava flour made them oddly tough, while a mixture of tigernut and arrowroot, with just a bit of cassava, made them way too soft.   After many different batches made with various flour ratios, the best combination consisted of half cassava and half tigernut.  The key to getting a crunchy cracker is to make sure that they have been rolled thin enough, of which is made very easy by sandwiching the dough in between two sheets of parchment paper.   Overall, today's recipe was a hit in my family, and my mom noted that toddlers would absolutely love the honey grahams.  As for myself, all I can think of is summertime smores  around the camp fire. Real marshmallow and raw, Pure7 chocolate (or carob chunks for AIP), sandwiched between these homemade honey grahams…Could it get any better?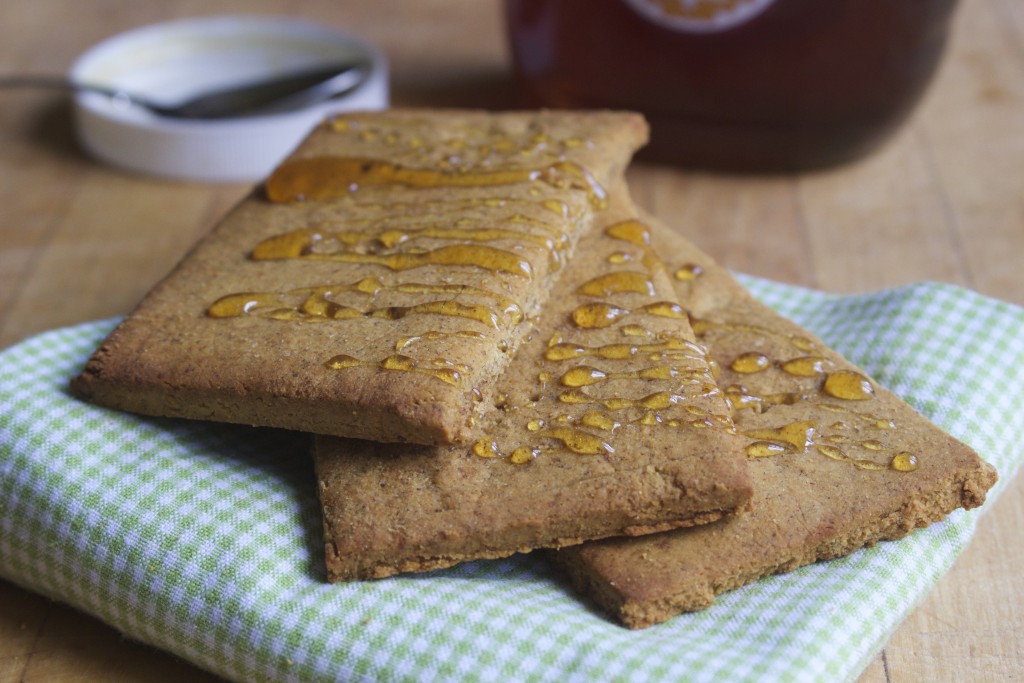 Honey Graham Crackers (Cassava and Tigernut Flour)
Ingredients
Process
In a food processor, place peeled plantains and puree until smooth, then transfer the mixture to a mason jar for later use.
Back in the food processor, puree palm shortening, honey, sea salt,  vanilla, and previously pureed plantain together until smooth.
Add in the cassava flour, tigernut flour, and baking soda, blending until just combined.
Scoop the dough onto a large sheet of parchment paper, cover with another piece of parchment, squish the dough down into a 1/2 inch thick circle, and place in the fridge to chill for about 30 minutes.
Preheat the oven to 350 degrees.
Transfer the dough covered in parchment to a baking sheet, and roll out 1/4-1/8th inch rectangle.
Use a pizza cutter or large knife to score the dough into desired square or rectangular shapes, then use a fork to poke holes 2-3 times in each cracker.
Place the baking sheet in the oven and allow to bake for 20 minutes.
Remove from the oven and allow to cool completely before enjoying.
Recipe Notes
For max shelf life, store your graham crackers in the fridge.
Because the crackers contain plantain, they may soften a bit in the days proceeding.
If you can tolerate nuts, almond flour would make a great substitute for tigernut flour.
When making the plantain puree, you may need to stop the food processor and scrape down the sides a few times.
Luke 11:13 "If you then, being evil, know how to give good gifts to your children, how much more will your heavenly Father give the Holy Spirit to those who ask Him.