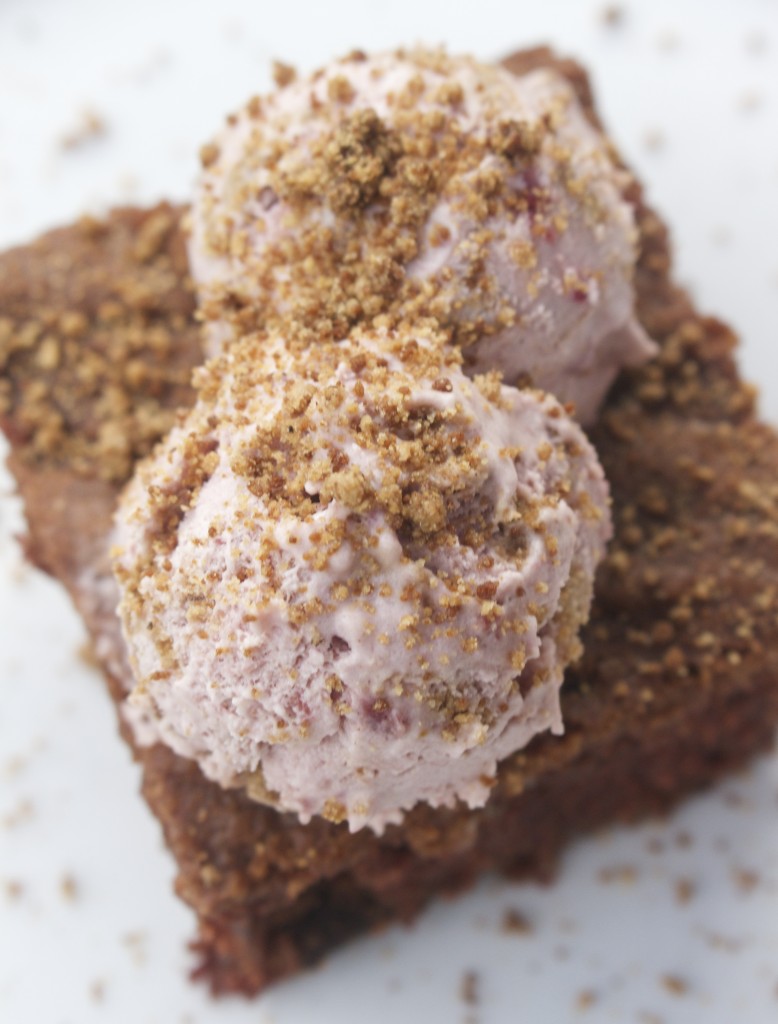 Ice cream…it just never gets old does it?  There are truly and endless amount of flavor combinations that you can experiment with.  Therefore, with the summer in full swing, I though why not do just that? Last summer when my cousins were in town, I had an ice cream "tasting."  As someone who loves to give through serving others, it was especially fun for me to present the various flavors in little bowls accompanied with equally tiny spoons.  Needless to say, everyone loved it, and I am sure that they will request for me to do the same again this year.  In the meantime, I decided to have some fun coming up with some crazy, autoimmune friendly flavors, which brings us to today's recipe – Cherry Rhubarb Crumble.  I admit, it is a mouthful, but certainly a tasty one.  After my mother brought home a bunch of rhubarb from the local farmers market, I was very indecisive as to how I would use it in a way that wasn't "the usual." I came up with about five options, of which I wrote on pieces of paper, folded, and put in a bowl.  As a friend suggested, I decided to have some fun and blindly choose one of the five options   Out of cookie pinwheels, crumble bars, cheesecake, ice cream, and a baked "crisp," ice cream is what I picked, so ice cream it was.  While my family is typically thrilled to try new recipes out for me, they left for Tennessee the day after I made this, so my visiting friend ended up being my handy dandy taste tester.  Overall, she absolutely loved it, and noted that the natural sweetness from the fruit really shined through nicely. As for my parents, well, let's just say my mom couldn't wait to get home to try some out herself!  (Pictured below the ice cream is the brownie recipe from The Paleo Parents, Beyond Bacon – a fantastic cookbook that respects the whole hog)
Cherry Rhubarb Crumble Ice Cream
(Makes 1 Quart)
Ice Cream Ingredients
2 cups chopped rhubarb
2 cups frozen (or) fresh cherries
1/4 cup maple syrup
1/8th tsp sea salt
1 1/2 13.5 oz cans of full fat coconut milk
1/2 cup chopped frozen cherries (optional)
Crumble Ingredients
Process 
To make the crumble, whisk together the dry ingredients in a bowl, then add in shortening, using your fingers to mix it all together until wet and crumbly.
Preheat the oven to 400 degrees.
Transfer cookie crumble to a parchment lined baking sheet and place in the hot oven to bake until golden brown, about 8-10 minutes.
Allow the crumble to cool completely and then place it in the freezer to chill before using in the ice cream.
To make the ice cream, in a small sauce pan combine rhubarb, 2 cups cherries, maple syrup, and sea salt.
Allow the mixture to come to a simmer, stirring every now and then until thickened and reduced by half (will result in about 1 1/4 cup).
Transfer the mixture to a large bowl and mix together with the 2 cans of full fat coconut milk until smooth.
Place the bowl in a fridge to chill.
Once cold, pour the mixture in a prepared ice cream maker and churn for 10-15 minutes, then add in optional frozen and chopped cherries, as well as the prepared cookie crumble.
Allow the mixture to churn until the texture of soft serve, then serve right away, or place in a container to harden further in the freezer.
Colossians 2:9-10 "For in Him dwells all the fullness of the Godhead bodily; and you are complete in Him, who is the head of all principality and power."