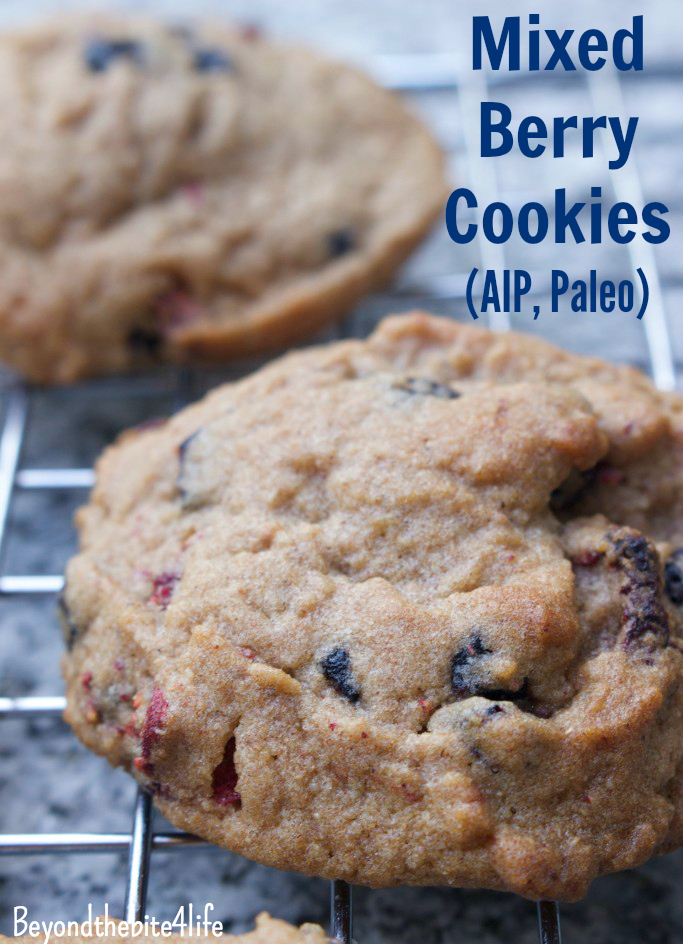 Baking cookies is my niche.  I'd rather spending many hours over perfecting a cookie dough recipe over any other baked item any day, though I am not entirely sure why.  Maybe it is because there is nothing like the texture and taste of a real, good cookie.  Yet when you take away the common grains, eggs, dairy, and cane sugar, it seems as though the art of the once easy and straightforward cookie recipe becomes complicated and messy.  Suddenly, cookies become either too gummy, or dry and crumbly.  However, I do not believe that it has to be this way, all that it takes is a little brain-power, science, and experimentation to make a cookie that is, well, a COOKIE!  Today's recipe is similar to that of a cinnamon raisin cookie.  In fact, I first started off making a snicker doodle, which I thought I'd then make into a cinnamon raisin cookie, but then quickly turned it into a blueberry cookie due to having dried blueberries on hand.  I also thought it would be fun to add freeze dried strawberries, and while you may not stumble across cookie with berries on a daily basis, these cookies will prove why, in fact, they should be a common variety sold in stores and made in houses nation wide.  While there not be an ingredient that is necessarily white in these cookies, I found the blue and red from the dried fruit to be perfect of fourth of July! Overall, I am pleased to say that despite being void of chocolate or caramel, they were gobbled up very quickly in my house, and therefore an easy favorite.

Mixed Berry Cookies
(Makes 16) 
Ingredients
Process
Preheat oven to 350 degrees.
In a food processor or stand mixer, mix together the first 6 ingredients (dry ingredients).
Add to the mixer the honey, shortening, and vanilla, beating until a dough as formed.
Pulse in dried blueberries and strawberries until just combined.
Line a baking sheet with parchment paper, and transfer dough onto the sheet with a cookie scoop and placing in the hot oven to bake for 12 minutes.
Once the middle of the cookies is no longer wet looking, and the sides have browned slightly, remove the cookies and allow them to cool for 5 minutes on the baking sheet, then transfer them to a wire rack for further cooling.
Recipe Notes
This recipe also works when replacing the tigernut flour with Otto's cassava Flour, all that must be changed is that you need to pre-flatten the cookies with a spoon or the palm of your hand before baking.
The baking time varies a bit when using cassava flour.
Almond flour may be another suitable replacement if you can tolerate nuts.
2 Thessalonians 2:16-17 " Now may our Lord Jesus Christ Himself, and our God and Father, who has loved us and given us everlasting consolation and good hope by grace, comfort your hearts and establish you in every good word and work."