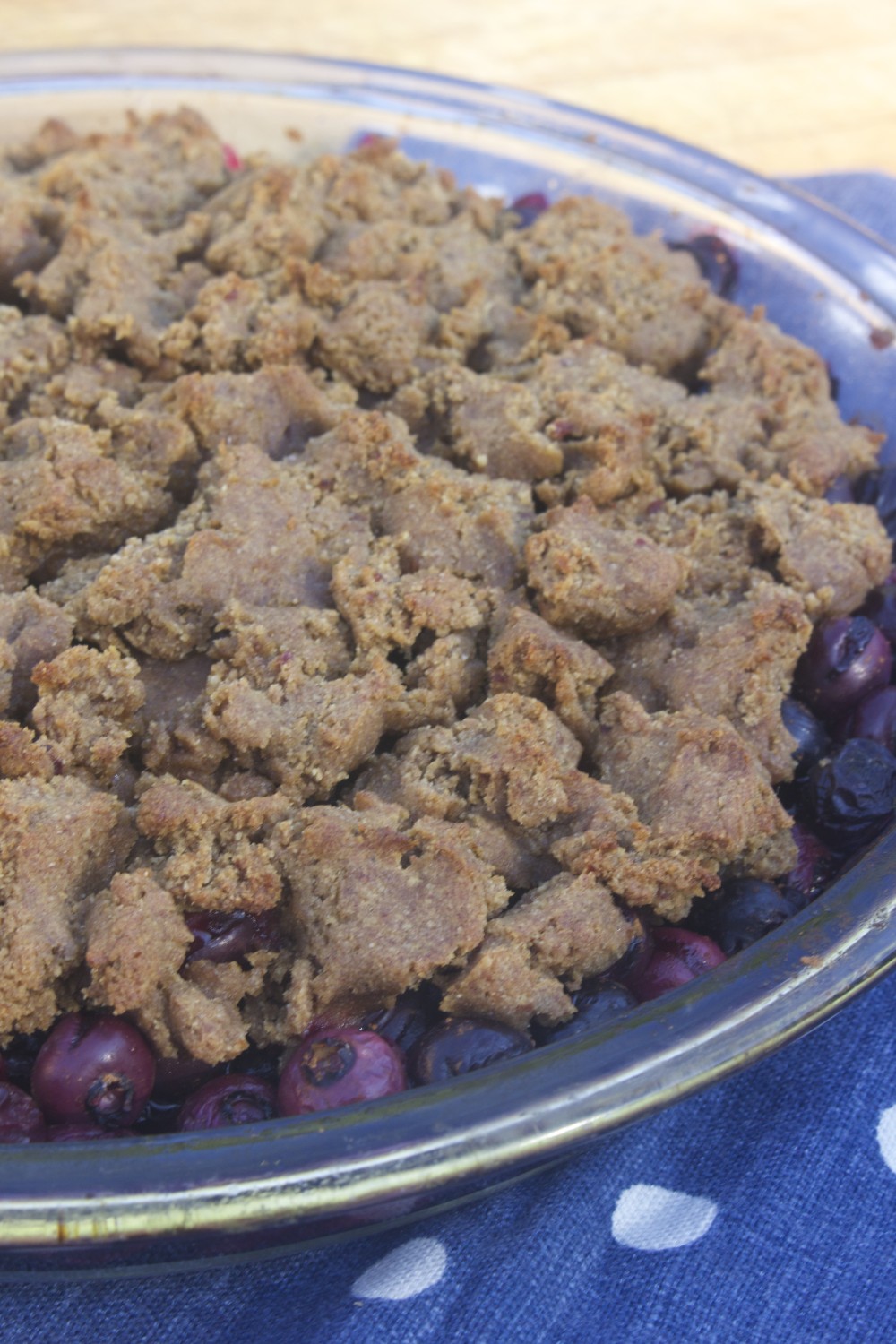 Now that it is officially August, my family and I are back from the Cape, only returning on weekends. School has also begun, and while it still is rather warm here in New England, the feeling of summer has almost passed.  Yet this does not take me away from being outdoors, as I try and do as much of my studying out on our patio.  My mother and I also like to blueberry pick, which we try and do at least twice a week. With all the blueberries hanging around, I couldn't help myself but come up with a new recipe.  That being said, when I set out to make a recipe, I typically have certain individuals in mind, today's being those who prefer only to eat sugar derived from fruit.  Of course, dates were the perfect way to do this, especially when paired with Anti-Grain apple flour, as it also contains a natural sweetness and tang that any apple would have.  Much like all other dessert recipes I make, this recipe is compliant for those on AIP.  While sweet treats are certainly to be kept to a minimum and seen as a special "treat" (much like the name implies), I truly find much joy in making AIP desserts that can pass the test of my family.  Of course, I got the run around by my younger brother, who views Paleo eating as the "devil," despite eating 75% this way without even realizing it.  He kept asking if the cobbler was "real," and I replied there wasn't anything more real than fresh picked blueberries from right down the road.  While he wasn't too thrilled with my answer, he eventually tried some, and not begrudgingly.  In fact, he actually enjoyed it very much, and I didn't once here a comment or complain.  Overall, I am thrilled with the responses over this cobbler from both family members and friends, and am sure you will equally enjoy it as well!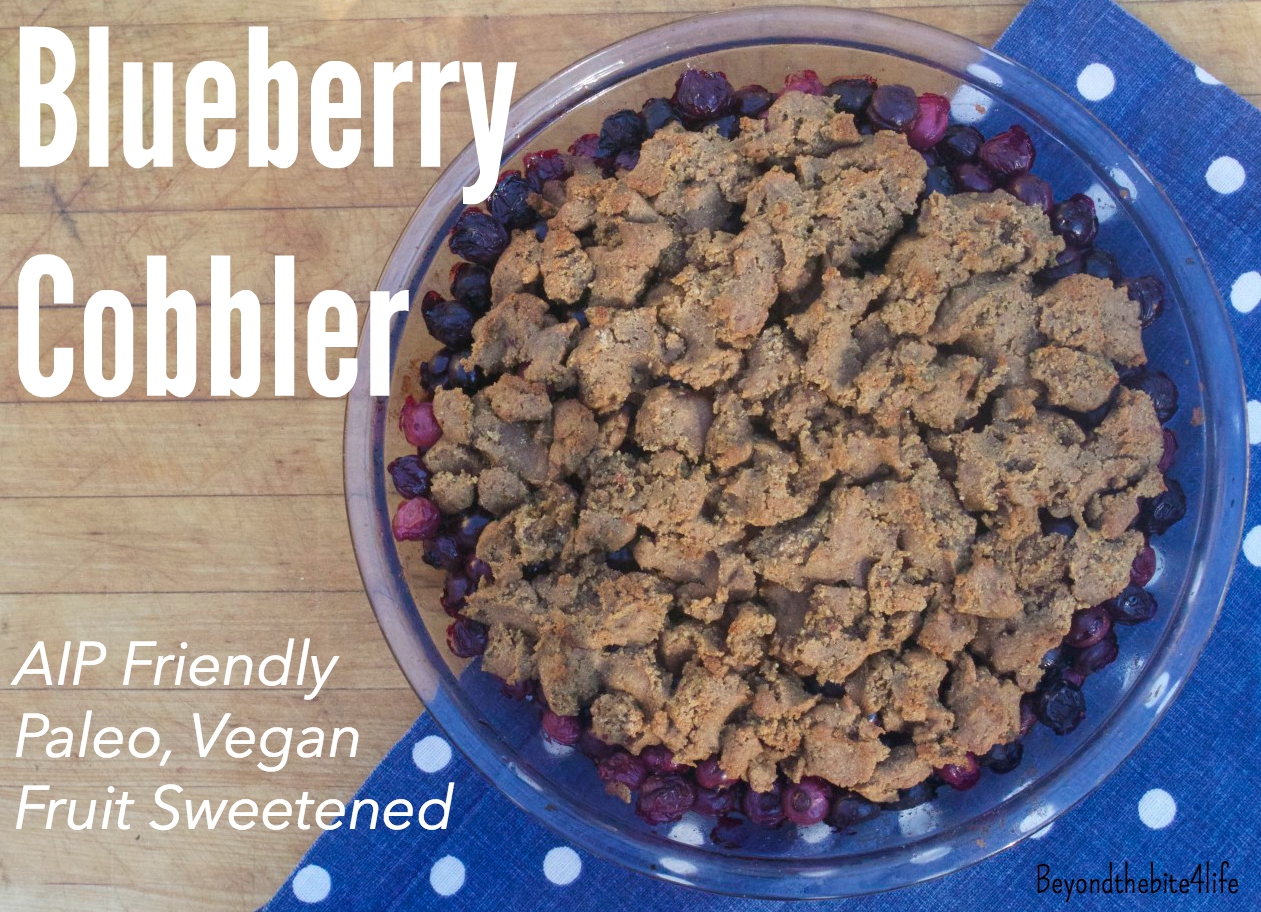 Blueberry Cobbler
Topping
Filling
4 cups fresh blueberries
1 tsp cinnamon
1 tsp vanilla extract
1/4 tsp sea salt
Process
Peel and puree green plantains in a food processor until smooth to make the plantain puree.
Measure out 1/2 cup of the puree and add it to the processor a long with 1/4 cup lard (or) shortening, vanilla, and softened dates, pureeing until smooth.
Whisk together the apple flour, tigernut flour, sea salt, and baking soda, then add to the food processor, pulsing until a ball of dough forms.
Transfer the dough to the fridge wrapped in plastic wrap, allowing to chill for at the least, 30 minutes.
Preheat oven to 375 degrees.
While the dough is chilling, grease a 8 inch pie plate with remaining 1 tbsp fat.
Mix the blueberries with the remaining 1 tsp vanilla, cinnamon, and remaining 1/4 tsp sea salt, then evenly spread them out in the greased pie plate.
Once chilled, cover the blueberries with the biscuit topping.
Place the cobbler in the oven and allow it to cook for 25-35 minutes, keeping a close eye on the topping until it is golden brown.
Ephesians 2:10 "For we are God's handiwork, created in Christ Jesus to do good works, which God prepared in advance for us to do."