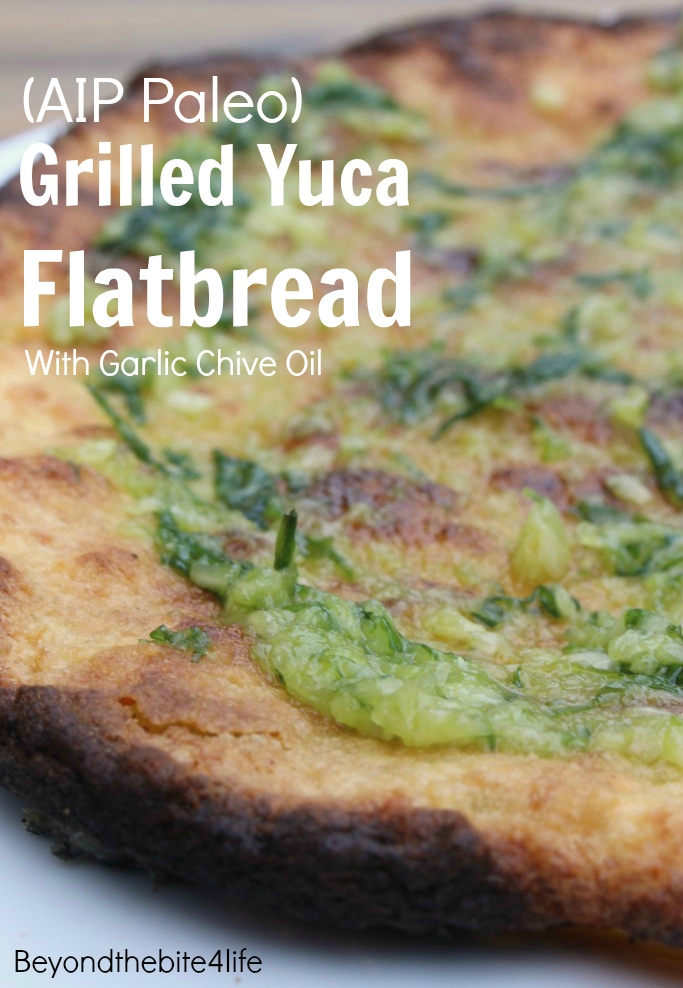 I began this recipe before heading out to Paleof(x) in April with my mother (if you are interested, you can read my experiences here).  The initial recipe I cooked off in the oven.  However, my goal is to create as many recipes made on the grill as possible this summer, so I decided to try and revise the flatbread and make it without heating up the kitchen.  For those of you concerned about yuca on the autoimmune-protocol, the present anti-nutrients that make it a grey area food are shown to be eliminated after soaking the tuber for 24 hours.  Therefore, if you are not following AIP, you can certainly skip this step and boil the yuca as is after peeling.   I also chose to use Otto's cassava flour to dust the dough due to the fact that it does not burn like tapioca or arrowroot.    All recipe specifics aside,  my family is absolutely addicted to this flatbread, especially my mom, who simply can not get enough.  They also found it to be great slathered in homemade pesto and heated up in the days after.  Overall, not only is the flatbread good, but the garlic chive oil is unbeatable, and makes your kitchen smell heavenly.  Are you worried about garlic breath? Don't worry,  two garlics cancel each other out, so don't be shy, dig right in!

Grilled Yuca Flatbread with Garlic Chive Oil
(Serves 4-6)
Ingredients
1 1/2 lb yuca root (peeled and cut into chunks)
1/2 cup olive oil + 1 tbsp
1 tbsp onion powder
1 1/2 tsp sea salt
2 tbsp olive oil
9 cloves of garlic
1 hand full of chives
Otto's Cassava Flour for dusting
Process
Peel yuca, cut into chunks, and place in a large bowl.
Cover yuca with water and allow to soak 24 hours.
Once soaked, drain yuca and place in a large pot filled with water, bring to a boil, and allow to cook until tender, about 15 minutes.
Drain yuca and place in a food process0r, along with 1/2 cup olive oil, onion powder, 1 tsp sea salt.
Puree until smooth and sticky.
Transfer dough to a medium sized mixing bowl.
Sprinkle with cassava flour and pat the dough down with your fingers into a round sphere.
In a mortar and pestle, mash the garlic cloves and salt, then add chives and continue to mash until well combined.
Add in remaining 1 tbsp oil and continue to mash until desired consistency, then set aside for later use.
Place pizza stone on the grill, brush with extra oil, and heat until very hot.
Once the dough is prepared into a flat disk, place it on the heated pizza stone, using your fingers to carefully press it down until 1/2-1/4 inch thick.
Cover grill and allow to grill until golden brown and crispy, anywhere from 45-55 minutes.
Transfer flatbread to a large plate and brush with infused oil.
Recipe Notes
Cooking time will vary on the heat of your grill and how thinly you are able to press the dough out.
While I have yet to try it, flipping the flatbread half way through cooking may result in a crispier bread at a faster cooking time.
You can also make individual sized flatbreads instead of one large one.
Isaiah 33:22 "For the Lord is our Judge, The Lord is our Lawgiver, The Lord is our King; He will save us"