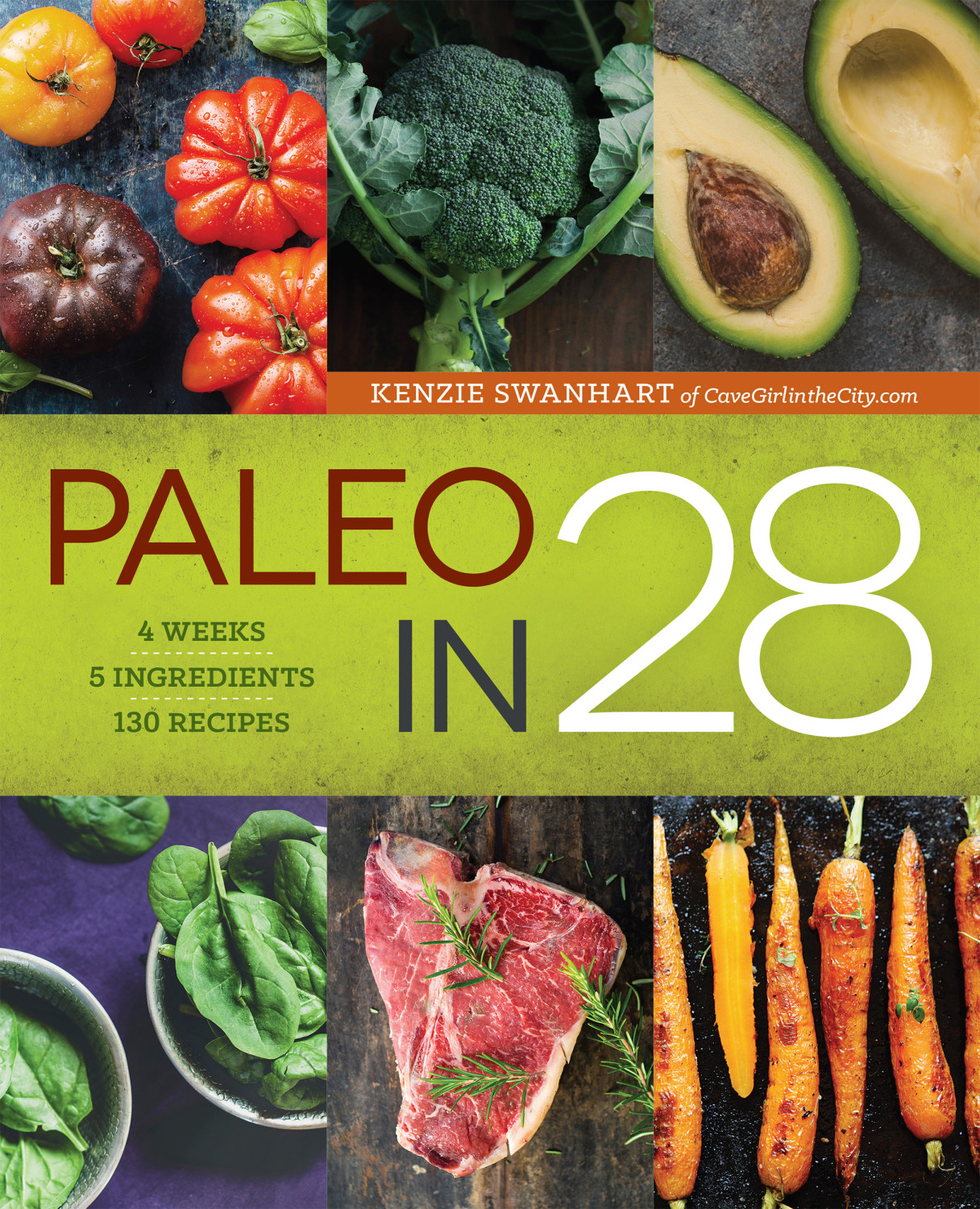 Overview 
Are you faced with the fear that changing your diet will be too difficult, or even worse, that it won't be worth it in the long run? Much like many individuals who seek Paleo for a healthier body and overall well-being, Kenzie Swanhart was faced with the dilemma of no longer being able to quickly stop at her favorite cafe for a bite to eat before heading to work in the city.  However, this did not stop her from pursuing Paleo, rather inspired her to share her experiences with adopting a Paleo lifestyle on her blog, Cave Girl in the City.  Now, she has taken the next step and published her very first cookbook, Paleo in 28, of which she kindly gave me the opportunity to review.
As someone who has been following the Paleo diet and lifestyle since my early teenage years, I am always looking for resources that can help my friends and (or) family members who are knew to this way of living.  Yet with Paleo in 28, I now have the perfect resource.   Kenzie's cookbook is exactly what the name implies – 4 weeks of delicious meals to help you kick start your Paleo lifestyle.  There is also a fifth week included, of which is left blank so you can use your own imagination in creating a meal plan filled with your favorite dishes.   While desserts should be sweet "treats," and therefore are not necessarily emphasized while eating Paleo, a great roundup of Paleo friendly desserts are also included in the end of Paleo in 28 for when you are looking to indulge. As a whole…
Paleo in 28 contains 4 weeks worth of meal plans (shopping lists included), all of which use 5 ingredients or less, making up a total of 130 recipes.

Paleo in 28 is divided into three sections that are easy to understand and learn from.

Part 1 takes a closer look into what the Paleo diet is as a whole, part 2 goes over the four weeks of prepared meal plans, and part 3 is comprised of all of the delicious recipes to help you turn a "diet" into your lifestyle.

Paleo in 28 is full of a great variety of dishes, stemming from breakfast recipes, smoothies, salads, soups, and stews, snacks, sides, entrees, desserts, and kitchen staples.
The meal plans are very straightforward, simple, and quite tasty, with easy to read shopping lists

 

and notes by Kenzie to help you stay stress-free while shopping and stocking up the pantry.
Kenzie takes you through all of the basics, not only including what the Paleo diet is, but how it compares to SAD (the Standard American Diet), and why eating primal is the optimal way our bodies ware created to be fueled.  She brings to your attention what to expect, both the good and bad, as symptoms of sugar withdrawals when transitioning to a "fat burner" are never pleasant, but do subside. For those who have been on the Paleo diet for quite some time, answering the most common newbie question, "is it Paleo?" can seem quite obvious.  However, for those who are just beginning, putting two and two together of what is considered "Paleo" can be quite frustrating.  Kenzie answers all these questions with diagrams of foods to avoid and (or) emphasize.  She teaches you how to make a balanced meal, which foods and kitchen tools should be essential in your household, as well as other aspects of the Paleo lifestyle including exercise and movement that will not only help benefit your body, but also state of mind as you make the transition to better health. 
The Food
There are so many recipes that use readily available and practical ingredients that there really was no need for my mother or I to take an extra trip to the grocery store in order to make recipes from Paleo in 28.  What is great about the book is that many of the recipes are small portions, meaning that you are not left with a huge batch of something you are unsure that you will even enjoy.  The 1-4 serving sizes in each recipe allows you to mix and match throughout the weeks, finding your favorite dishes and ones that you would tweak to your own liking.  After all, the Paleo lifestyle is about meeting your individual needs.  No one Paleo plan looks the same, and throughout the four weeks that Paleo in 28 maps out for each individual, you will realize just how functional living in such a way really is. 
What to Expect
As for the recipes my family enjoyed…The granola smelled like a cinnamon bun while baking, and the end result was a crisp, crunchy, and totally scrumptious granola that will have you forget about your oat-based cereal in a matter of seconds! We have continued to make this, as it is a sure keeper in my families house.  Next, my mother whipped up a batch of the tomato gazpacho, of which is made entirely in a blender.  She especially loved that there was no extra chopping involved, as all you must do is stick it into the blender and go!  The gazpacho was said to be very refreshing, while both my family and friends enjoyed it the following weekend that we spent on the boat in the hot Cape Cod sun.  It was very simple recipe packed with flavor, and reminded her exactly of the gazpacho she ate as a kid.  My mom and I then decided to put Kenzie's almond flour pancakes to the test on my 16 year old brother.  Typically he refuses to eat anything that is "Paleo," however, he was reluctant to try them, and in the end, gobbled up quite a few, declaring they were "a lot better than I expected."  I too found this to be true, as the batter whipped up like any other "normal" pancake batter would, cooked easily, and turned out to be light, fluffy, and tasting quite like my last recollection of fried dough served at summer camp when I was little.  As for vegetables and entrees, my mother chose to make the cabbage slaw and roasted broccoli as the two sides for dinner.  Both dishes came together super quick, and as previously mentioned, all necessary ingredients were already in our fridge, proving them to be very easy and accessible.  As a chocolate lover, my mother also made the flour-less chocolate brownies, which got an exclamation of "wow" from both friends and family members.   We even fed them to my brother's picky eater friends, who didn't even bat an eyelash and gobbled them up quickly. Overall, I couldn't speak any more highly of Kenzie's book, as it proves just how fun, easy, tasty, and exciting the Paleo lifestyle is.  My entire family genuinely loves it and cannot get enough.   Therefore, wether you are new to Paleo, or a seasoned "veteran," Paleo in 28 is a great addition to your cookbook collection.  Below I am excited to share the opportunity for one lucky person to a win a copy of Paleo in 28!
Giveaway
    *Giveaway is open to US residents only and will run from 8/25-9/01.*        
          Psalms 94:18-19 "If I say, "My foot slips," Your mercy, O Lord, will hold me up. In the multitude of my anxieties within me, Your comforts delight my soul."