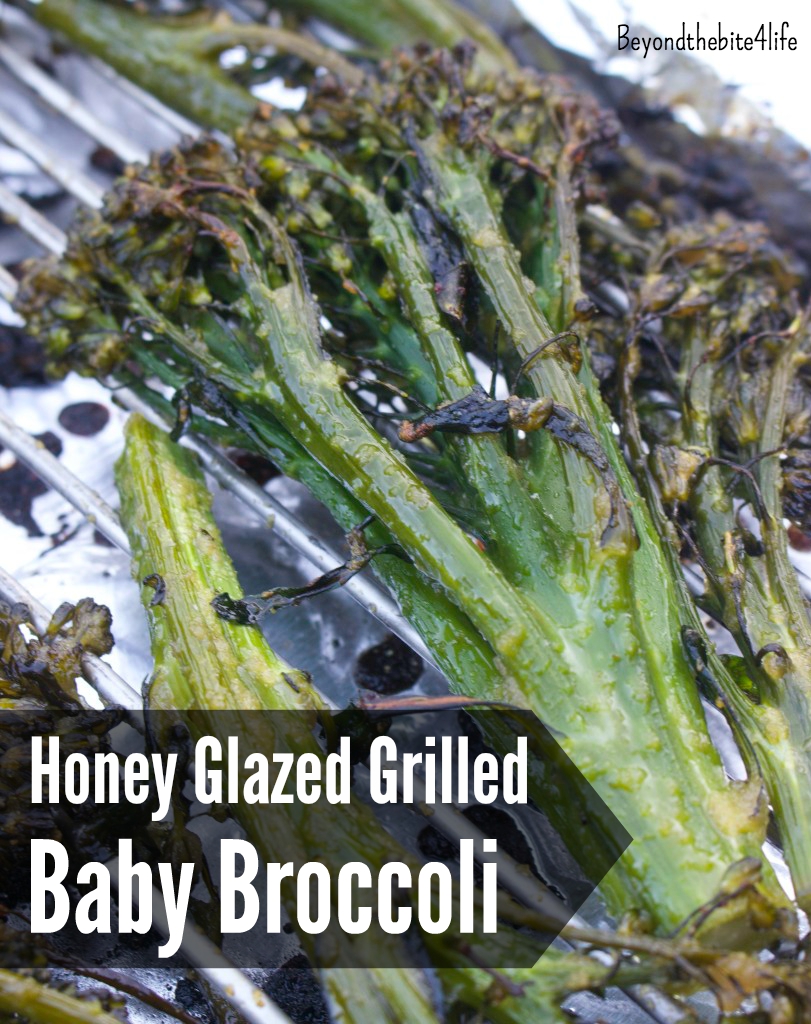 Typically, grilled broccoli requires par-boiling before placing on the hot grill, in order to ensure an edible dish.  However, I felt that this took away from the initial reason to grill in the first place, and that is to avoid any extra clean up in the kitchen.  Therefore, I decided to take a route a bit different than the usual, and that is to spread the broccoli on a large roasting sheet. Yet instead of placing the sheet in the oven, I use the grill as a heat source much like my grilled kale chips. Not only does this eliminate heating up the kitchen (which is the last thing you want to do on a hot summer night), but it also gives the broccoli an amazing, smokey flavor unlike any other cooking method would yield.  Of course, if you cannot find baby broccoli (sometimes called "broccolini), you can just as easily use a regular head of broccoli.  Otherwise, this recipe is just another great way to enjoy greens, and I am sure you and your family will like it just as much as mine!

Honey Glazed Grilled Baby Broccoli
(Serves 3-4)
Ingredients
Process
Rinse and dry broccoli, then cut off the end of the stems like you would to prepare asparagus, then place in a large mixing bowl.
Whisk together olive oil, vinegar, garlic and onion powder, fish sauce, and honey in a mixing bowl, then pour over broccoli and toss until fully coated.
Heat the grill to high, and once hot, place broccoli on a foil lined baking sheet, and place the sheet on the grill, allowing the broccoli to cook for 35-40 minutes until brown and crispy around the edges.
Recipe Notes
Be sure to line your baking sheet very well with the foil.  Once cooked, the marinade becomes very sticky!
Keep in mind, how fast your broccoli cooks depends on its size, as well as the temperature of your grill.  Take the time to check it about every 10 minutes to make sure it doesn't get over cooked!
Psalm 91:1 "Whoever dwells in the shelter of the Most High will rest in the shadow of the Almighty."