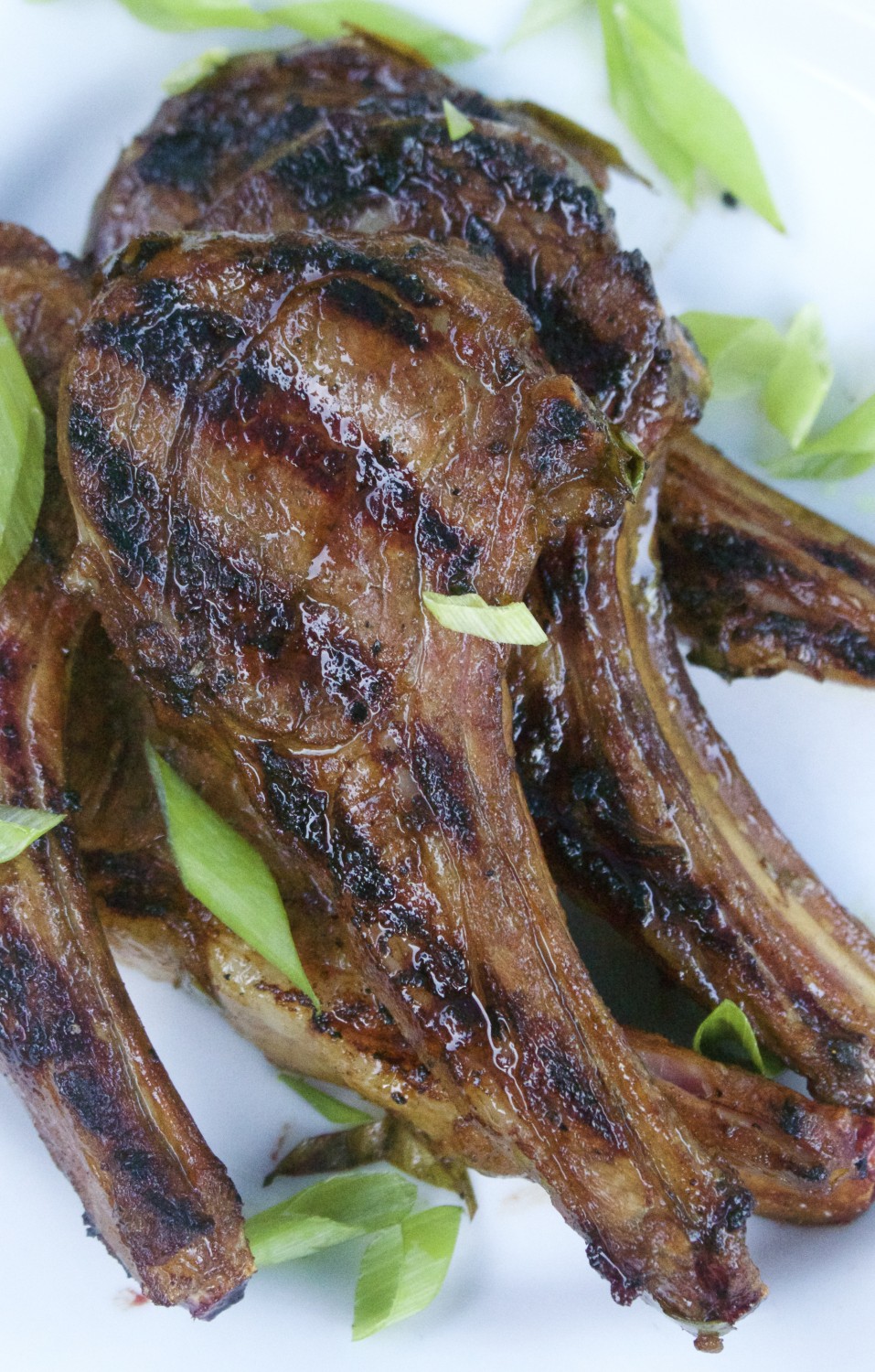 Today's recipe was my 19th birthday present to myself back in August. While I did play around with experimenting an AIP friendly treat based off of this chocolate cake, I have to say that I thoroughly enjoyed my lamb chops much more than anything else on my plate. Prepared in an Asian marinade and full of juicy fat, this dish includes all of my favorite aspects of food piled into one. Honestly, I'd rather have a cut of meat accompanied by a thick slab of fat over a baked good any day. I served my chops alongside two heads of sauteed local swiss chard, as the dish is so satisfying there is really no need to make anything else to go with it. It is the kind of recipe that has your mouth salivating even before the chops are off the grill, and once they are, you will be making sure ever last bit of meat is off the bone and licking your fingers wishing there was more (atleast that is what I was doing). If that sounds anything like you, I'd recommend making a double recipe. Of course, if you are not a fan of lamb (which I have heard is an actual thing), you can easily use pork chops, steak, or even chicken thighs in place of the lamb. The marinade contains a few ingredients that are harder to find so I could suggest using an asian grocery delivery service as they will have everything you need. Plus, it has a healthy dose of fish sauce but I still like to finish my chops off with a sprinkle of salt once cooked, which helps round out the savory and sweet flavor. Though it is currently almost October and indoor cooking seems to be coming back in season, I believe that the grill should be used for cooking until snow literally prohibits me from walking out on the patio to turn it on. Therefore, even if it is a bit chilly in the state that you reside, I promise that these lamb chops are worth the fresh air. Overall, this recipe is quite flavorful, yet not so much as to take away from the delicious, natural taste of the lamb. If grilling, juicy cuts of meat, or anything Asian related is up your alley, you are sure to love this dish.
Grilled Asian Lamb Chops
(Serves 2-3)
Ingredients
Process
Place lamb chops in a sealable gallon sized bag.
Whisk together marinade ingredients and pour over the lamb chops.
Squeeze out all of the air in the bag and tightly seal the bag, allowing to marinade anywhere from 1-8 hours.
Once through with marinading, turn the grill to medium-high.
Place chops on the grill, watch them closely as to not allow them to burn to a crisp, and allow to cook for 3-5 minutes per side.
After the chops have cooked to your desire, remove them from the grill and serve.
Recipe Notes
Cooking time depends on how rare you like your lamb to be.
For a completely Low-FODMAP version, substitute maple syrup for the molasses, or omit all together.
Molasses on its own is not Keto, however, due to the extremely small amount left after the chops have been marinated and cooked, it is not an issue.
Job 42:2 "I know that You can do all things; no purpose of Yours can be thwarted."