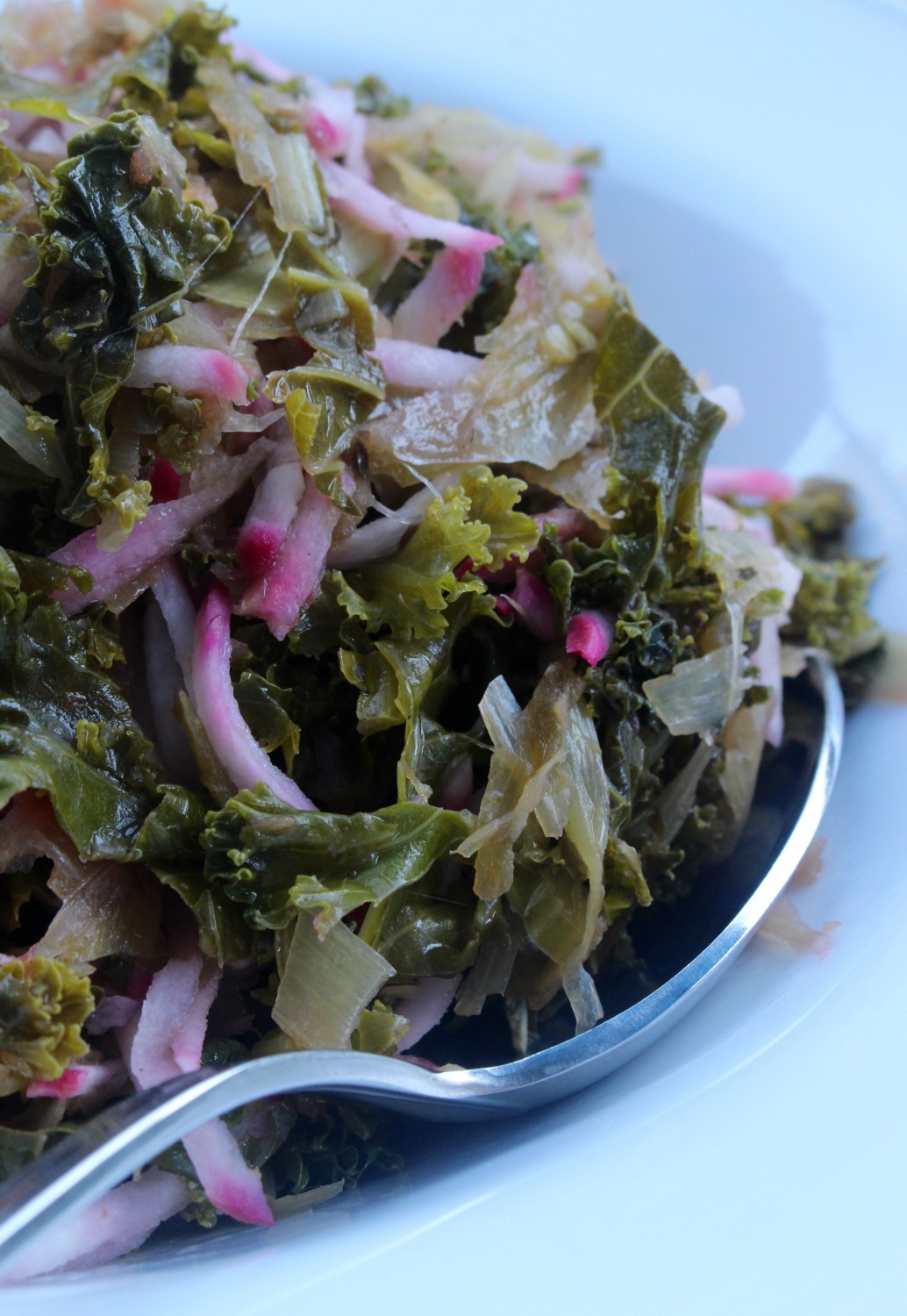 I am working on a few articles that I cannot wait to share in the upcoming weeks, one being on how pilates has helped me heal through chronic Lyme Disease, and another being on mast cells.  However, before I post those, I wanted to share a little bit of what is currently going down in my kitchen.  Now that my family and I are home for the fall, we are getting the local farm share full of a variety of veggies.  Therefore, with all of the produce on hand, I decided to make it my goal to share the different ways that my family typically enjoys the vegetables.  Truly, it is not hard to make sweet potatoes, kohlrabi, turnips, radishes, leeks, dark leafy green, and broccoli incredibly tasty.  Today I decided to combine three of these to make a savory dinner hash, though it could easily be served for breakfast.  The leeks make the kitchen smell absolutely wonderful, as they caramelize just a bit and add natural sweetness to the dish that offsets the slight bitterness of the turnips and kale.  If you are not usually a fat of turnips, thinly shredding them makes them a hundred times more appealing.  The same can also be said for kale.  I served this as a side dish to my families dinner of roasted chicken, sweet potatoes, and my upcoming rutabaga gravy recipe.  It easily passed the taste test of everyone around the table, including my aunt and uncle who were visiting from out of state.  Overall, today's recipe is an incredibly tasty way to add a punch of nutrients to any meal, and quite honestly, I could have eaten the entire hash.

Turnip, Leek, and Greens Hash
(Serves 4-6)
Ingredients 
3 cups shredded turnips (from 4 medium size turnips)
4 cups shredded kale
2 cups shredded leeks
2 tbsp balsamic vinegar
2 tbsp lard
1 tsp sea salt
Process
Use a food processor with the shredder attachment to shred the turnips and kale.
Use a knife to thinly slice the leeks.
Heat a large pan with lard on medium-low, and once hot, add in leeks.
Stir the leeks around until fragrant, then add in shredded kale and sea salt.
Allow the mixture to cook 2-3 minutes, then add in the balsamic vinegar, mixing it around until the vinegar has dissipated.
Add in the shredded turnips, stir the mixture around, allowing it to cook until the turnips have just softened and then serve.
Recipes Notes
For low-FODMAP, simply use leek greens instead of the white part of the leek.
Romans 5:3-4 "Not only so, but we also glory in our sufferings, because we know that suffering produces perseverance; perseverance, character; and character, hope."