If you have been following Beyond the Bite for sometime now, you will know that I have a deep love for Asian cuisine.  When I first hit my brick wall with chronic Lyme, was half dead, running to and fro to NYC for surgery and various other appointments, the one food that I always wanted was Pad Thai.  I craved this dish so much so, that I sought out the best Asian restaurants in NYC that were friendly to gluten and dairy allergies, and ordered their Pad Thai.  I've talked about it a bit before, but there was a time were my body couldn't tolerate me consuming any form of food do to my celiac artery being compressed, thus cutting off blood flow to digestive and surrounding organs.  Anyways, my point of me hitting on this
time in my past was to express how much I love Asian inspired food.  Despite the indescribable pain from eating with a compressed celiac artery, Pad Thai in the city was worth it, totally, all-the-way worth it.  Anyways, with this strong love for Asian food still burning strongly inside me, I decided to make a fun spin on cauliflower rice to serve at my families dinner a long side the slow-cooker pulled pork my mom was making.  Inspiration for this recipe also came from my uncle, who was visiting at the time.  He loves to eat oatmeal and rice in the morning, and one morning, he decided to cook it in coconut oil.  This reminded me how delicious rice and coconut were together, which is what led me to immediately get in the kitchen to create this recipe.  Overall, this rice is addicting.  You truly don't need anything else on your plate (or bowl) aside from this rice.  It is simply that delicious.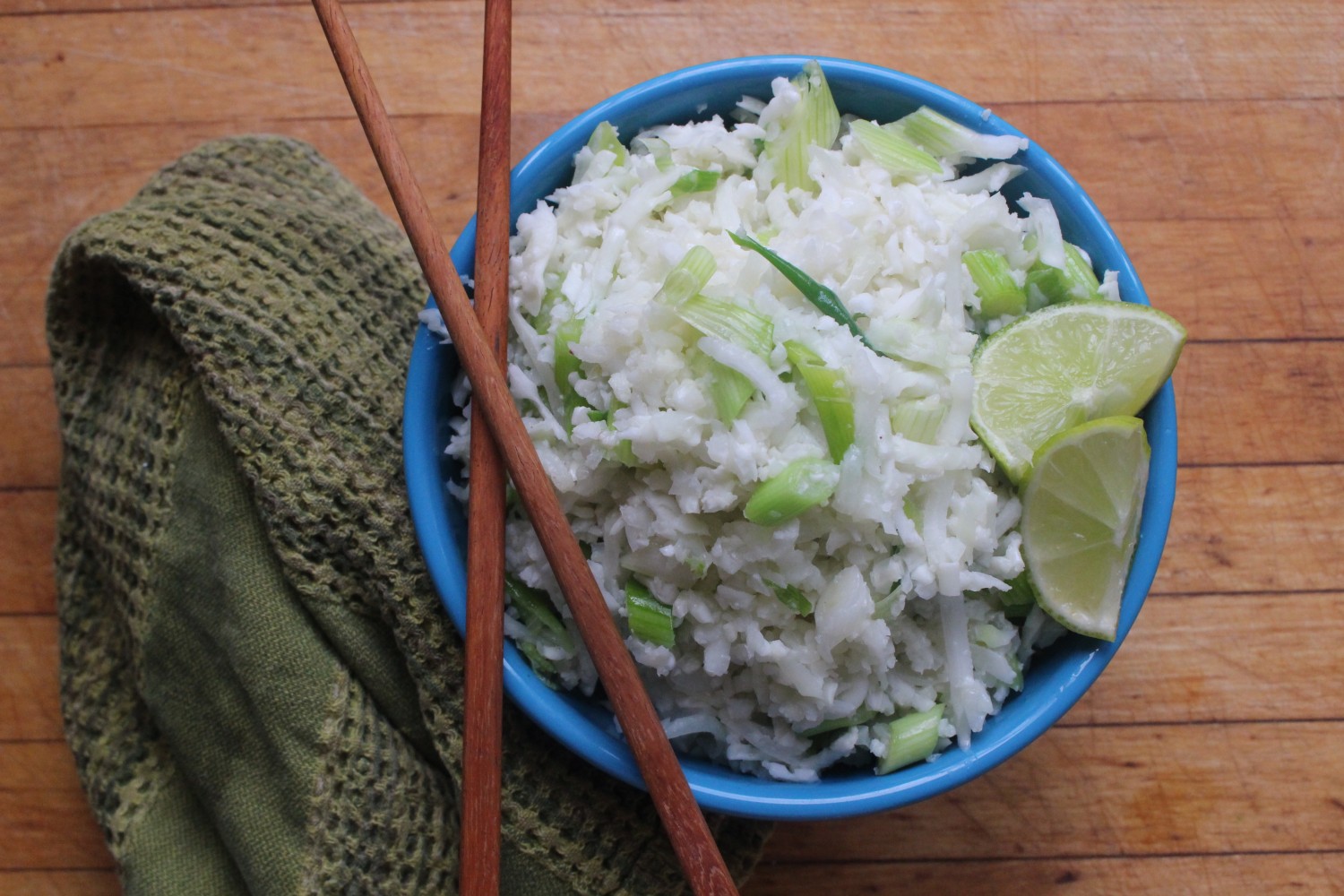 Coconut Cauliflower Rice
(Serves 4-6)
Ingredients
1 head of cauliflower
2  tbsp of coconut oil
1/2 cup coconut cream
1 tsp sea salt
1 cup chopped green onion
2 limes (optional)
Process
In a food processor fitted with the shredder attachment, shred one head of cauliflower.
Heat coconut oil in a large frying pan on medium heat until hot, then add in cauliflower and stir around.
Add in coconut cream and sprinkle with sea salt, stirring the mixture around until the coconut cream is fully incorporated.
Cover the frying pan, turn the heat to low, and allow it to steam for 9 minutes.
Remove the top, turn the heat to medium, and stir in the chopped green onion, allowing the rice to cook for another 1-2 minutes, then serve, garnishing with lime wedges if desired.
Recipe Notes
I get my coconut cream from putting a can of coconut in the fridge overnight and scooping out the cream that is on the top.  You can also purchase pure coconut cream.
You can also "rice" your cauliflower using the "S" blade, depending on how fine you like it.
John 15:5,8 ""I am the vine; you are the branches. If you remain in me and I in you, you will bear much fruit; apart from me you can do nothing. This is to my Father's glory, that you bear much fruit, showing yourselves to be my disciples."