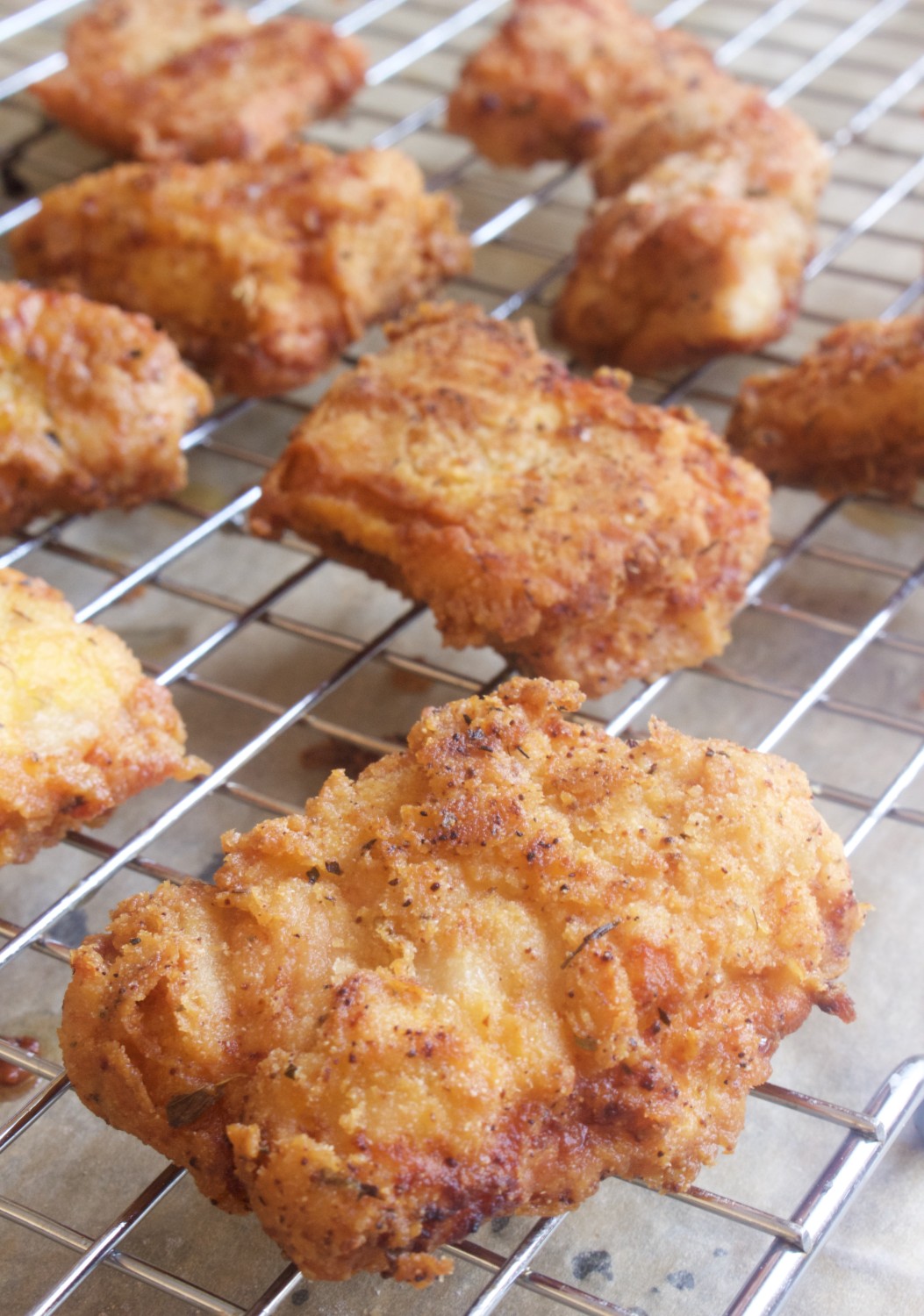 One of the Sundays I had over break, I spent a good half a hour butchering a turkey that our friends gave us.  It went surprisingly well, filling our freezer with plenty of turkey to eat throughout the winter.  Though we froze most of it, I decided I wanted to create a recipe for my brother.  I chose to make turkey nuggets, a play on the typical chicken nugget.   First, I tried baking them, but that didn't seem to work.  The flour didn't brown, and the nuggets were not crisp and tender like I had hoped.  Therefore, I knew I had to go the alternate route, which was pan frying them.  To my delight both the elimination phase AIP and stage 1 re-intro AIP versions came out fantastic.  Both were crisp and crunchy on the outside, with tender, juicy meat inside.  While I was extremely excited with the results, I knew my brother would be the ultimate test.  As he quickly ran to the lunch table and grabbed his first nugget, his exclamation was priceless.  "dang, these are really good!" he said, and the best part about it was that he had picked up an egg-free nugget, proving both variations to be equally a success.  I made sure that he saved a few for my mom (though he wanted to eat them all), and she said that they were simply amazing, perfect looking nuggets.  Overall the herbs added to the batter don't make these nuggets taste like an Italian dish.  Instead, they serve as layers of flavor that work together to create a mighty tasty nugget.  While the ingredients list might seem a little overwhelming with the different variations, you will notice that the process is really quite simple.  I recommend reading the recipe notes below for tips and tricks on making the most out of your frying experience.  If you are going to make elimination phase AIP & Keto friendly nuggets, definitely read the recipe notes, as they contain key information about how to cook your turkey.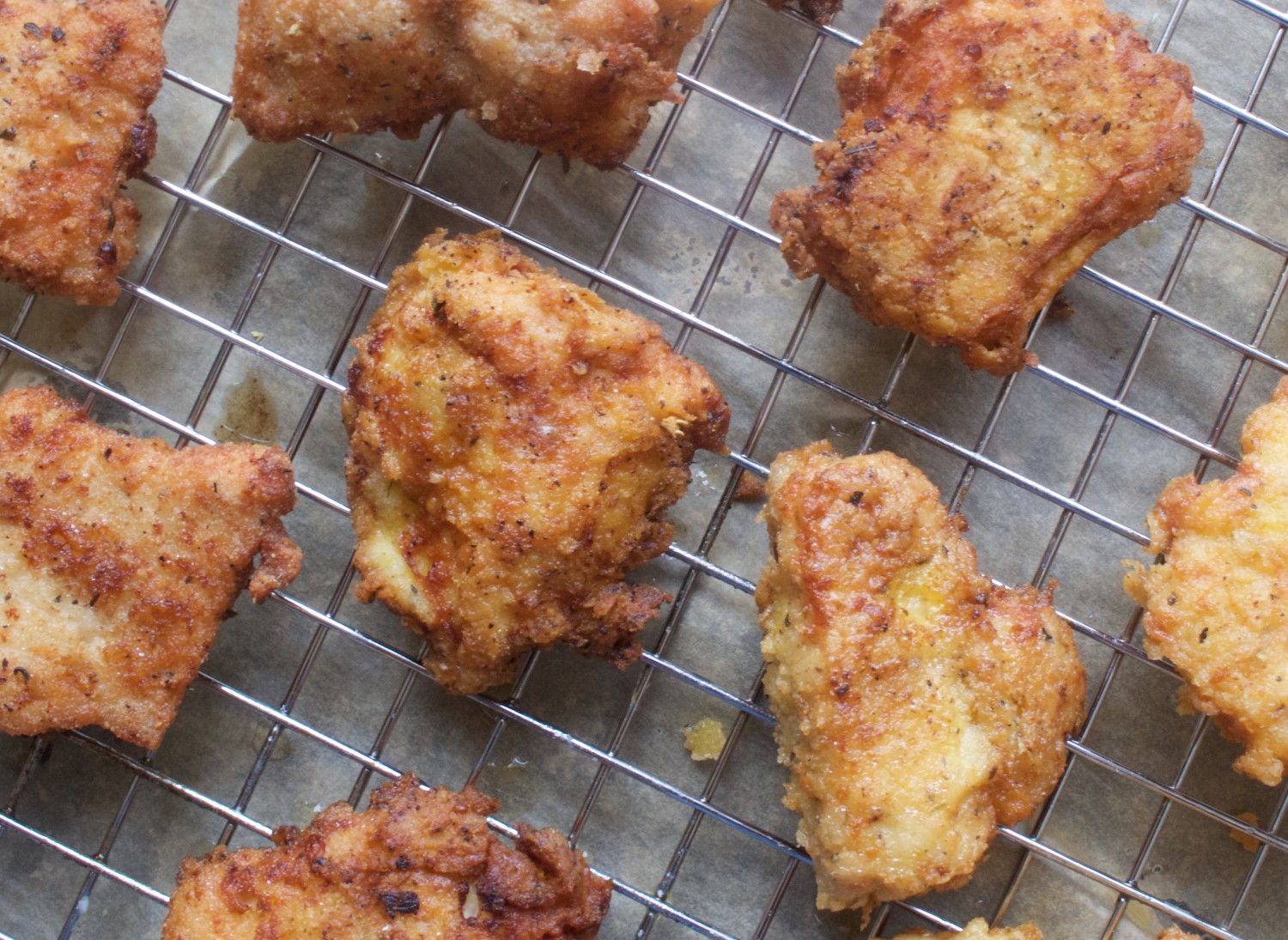 Fried Turkey Nuggets
Ingredients 
1 lb turkey – cut into 1-2 inch pieces
1 cup avocado oil
Dry Mixture (AIP, Paleo)
1 lb, skinless, boneless turkey
1 cup Otto's cassava flour
1 tsp dried basil
1 tsp dried thyme
1 tsp ground onion (omit for low-FODMAP)
1 tsp ground garlic (omit for low-FODMAP)
1 tsp sea salt
1/4 tsp dried oregano
Dry Mixture (Keto) 
Wet Mixture  (stage 1 AIP re-intro, Keto)
2 egg yolks
1 tbsp avocado oil
Wet Mixture (Elimination phase AIP, Keto)
Process
Cut your turkey (white or dark meat) into 1-2 inch pieces.
Whisk together the dry mixture in one shallow bowl, then whisk together the wet mixture in a second shallow bowl. 

If you are using pork rinds, grind them in the food processor to make them into a fine powder. 

Cover a large baking sheet with parchment paper and place a wire rack on top.
Prepare the turkey nuggets by first dredging the meat in the egg (or) oil mixture, and then place it in the flour mixture, tossing around until coated, and putting on a plate. Repeat with remaining meat.
Heat your 1 cup of avocado oil in a large, 2 inch deep skillet, on medium heat until crackling and hot.
Once hot, add the breaded nuggets, allowing to cook 3-4 minutes per side until golden brown on each side, then remove with a slotted spoon and place on the prepared baking sheet. Repeat with remaining meat, then serve. *If you are using pork rinds, see notes below.
Recipe Notes
Place a splatter screen over your skillet to avoid excess oil being all over your kitchen.
If you are making an elimination phase AIP & Keto recipe using ground Pork Dust pork rinds, DO NOT fry.  Simply bake in the oven at 400 degrees for 20-30 minutes.  The cooking time will depend on the size of your turkey pieces.
To make less of a mess, use one hand to dredge the meat in the wet ingredients, and your other hand to dredge in the dry ingredients.
Ephesians 4:7 " But to each one of us grace was given according to the measure of Christ's gift."