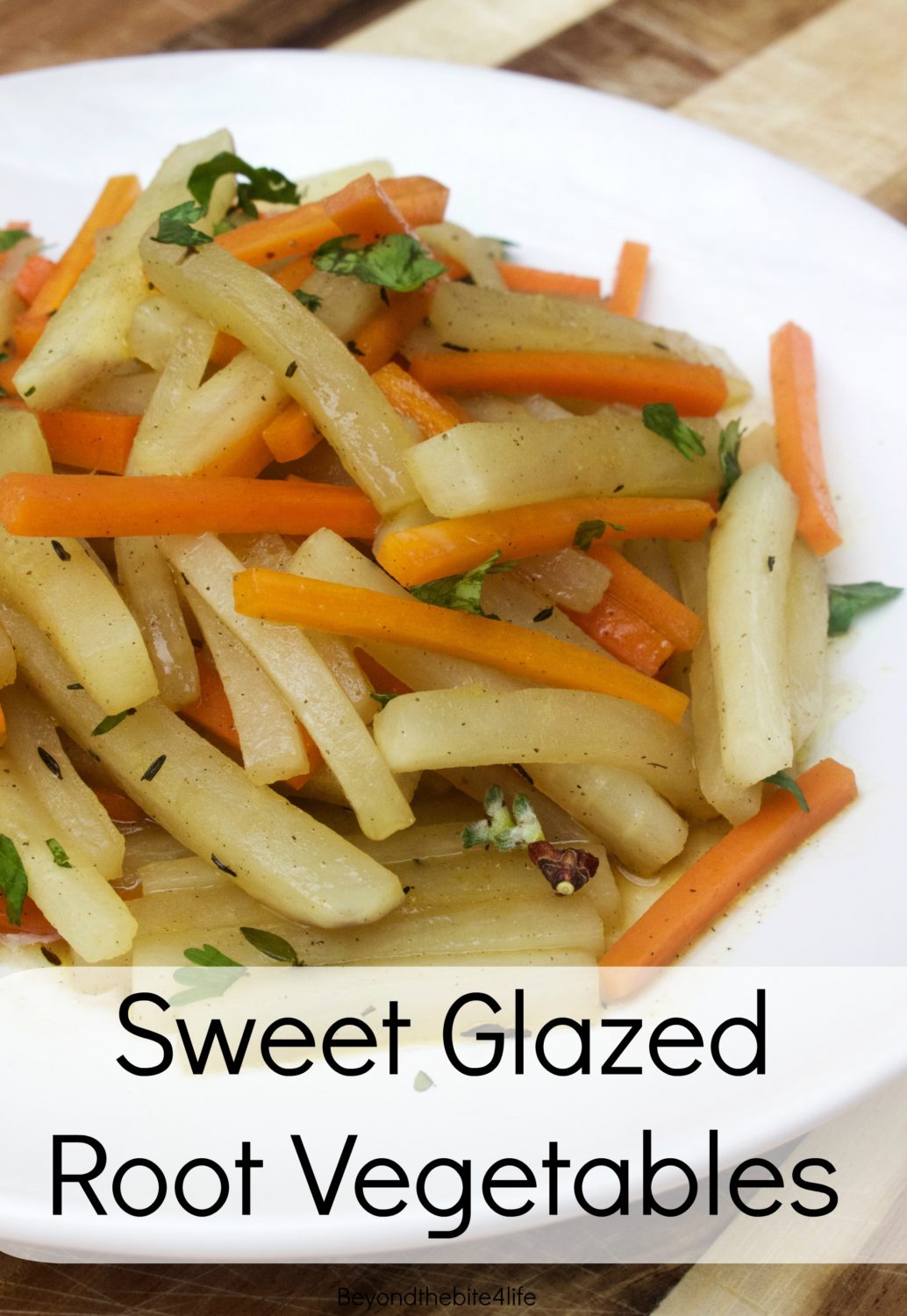 Savory glazed carrots was a side dish that I made innumerable times the past quarter of school in the beginning fundamentals class.  It was one of the dishes chef had us prepare simply to work on our batonnet knife cut (1/4 x 1/4 x 2-3 inches long).  Needless to say, I learned both how to make glazed carrots like the back of my hand, which is why I had to create my own variation to share with you all.  Typically, I only like my root vegetables mashed or roasted, however, the glazed carrots started to grow on me, and now I can say, if done right, that they are quite delicious. Optionally, you can cut your vegetables into any uniform shape as desired, such as 1/4 inch thick rounds. The key is to not have them too thick, as this will cause the stock to reduce too quickly without them being cooked all of the way through, leading to burnt (not glazed) vegetables.  Though I used a mixture of carrots, rutabaga, and radishes, feel free to use whatever vegetables you have on hand, as I believe parsnips would also be great in this dish.

Sweet Glazed Root Vegetables
(Serves 4)
Ingredients
1 cup of carrots, radish, and rutabaga – cut into 2 inch long, 1/4 inch thick pieces (3 cups total)
2 tbsp lard
1/2 tsp sea salt
1/4 tsp ground sage
1/4 tsp dried thyme
1 cup chicken stock
1 tbsp honey
Fresh parsley – chopped
Process
Cut vegetables into uniform pieces and set aside.
Heat lard in a large skillet over medium heat, then add in vegetables, sprinkle with sea salt, thyme, and sage, stirring around to lightly sweat, about 3-5 minutes,
Whisk together the chicken stock, honey, and sea salt, then pour it into the large skillet, cover the skillet and bring the mixture to a strong simmer over medium-high heat.
Cover the skillet and allow to simmer for another 3 minutes until vegetables are just soft.
Remove the veggies from the pan and set aside, place the skillet back on the heat an reduce the stock until thickened and glaze consistency, then add the root vegetables back in, tossing around to evenly coat.
Garnish with parsley and serve immediately.
Recipe Notes
Use a mix of your favorite low-carb vegetables for a ketogenic friendly recipe and swap out honey for your favorite sweetener.
John 10:28-30 "I give them eternal life, and they shall never perish; no one will snatch them out of my hand. My Father, who has given them to me, is greater than all; no one can snatch them out of my Father's hand. I and the Father are one."