It has bee a couple months since launching the Organ Meat Makeover, so I figured it was time to share one of the recipe included in the e-book.  The choice was a bit difficult, however, my final decision was turkey hearts, as these, a long with chicken and beef hearts, are a true favorite of mine.  That being said, today's recipe is also one that easily won over the tastebuds of friends and family.  I know what you're probably thinking…turkey hearts? really?  Yes, really.  Just as properly cooked beef heart is likened to a good steak, turkey hearts very closely resemble the dark meat of turkey.  If cooked too long, they become a bit rubbery, however, throw them in a pan for a quick sautee, and you have got yourself some dang good turkey (you'll  forget about the heart part, I promise).  Along with hearts, leek greens are easily one of my favorite ingredients to play around with in savory dishes.  If you haven't already, be sure to go purchase some leeks and make my Roasted Leek Greens.  They are sure to rock your world. As for today's recipe, you can make it 100% low-FODMAP using just the green part of the leeks.  However, if you are not avoiding FODMAPs, go ahead and use the entire leek  (as seen in the photo above). Overall, this dish will have you re-thinking the way you view turkey heart.  The meat is cut into bite-size pieces, making it easier to "stomach," while the contrasting tangy and sweet flavors of the balsamic and leeks hide any weird tastes your mind may try and tell you are present from the hearts.  My friend noted as she was tasting it, that it is an earthy dish, which makes the addition of fresh basil simply perfect. So, what are you waiting for?! Get your hands on some turkey hearts and go to town!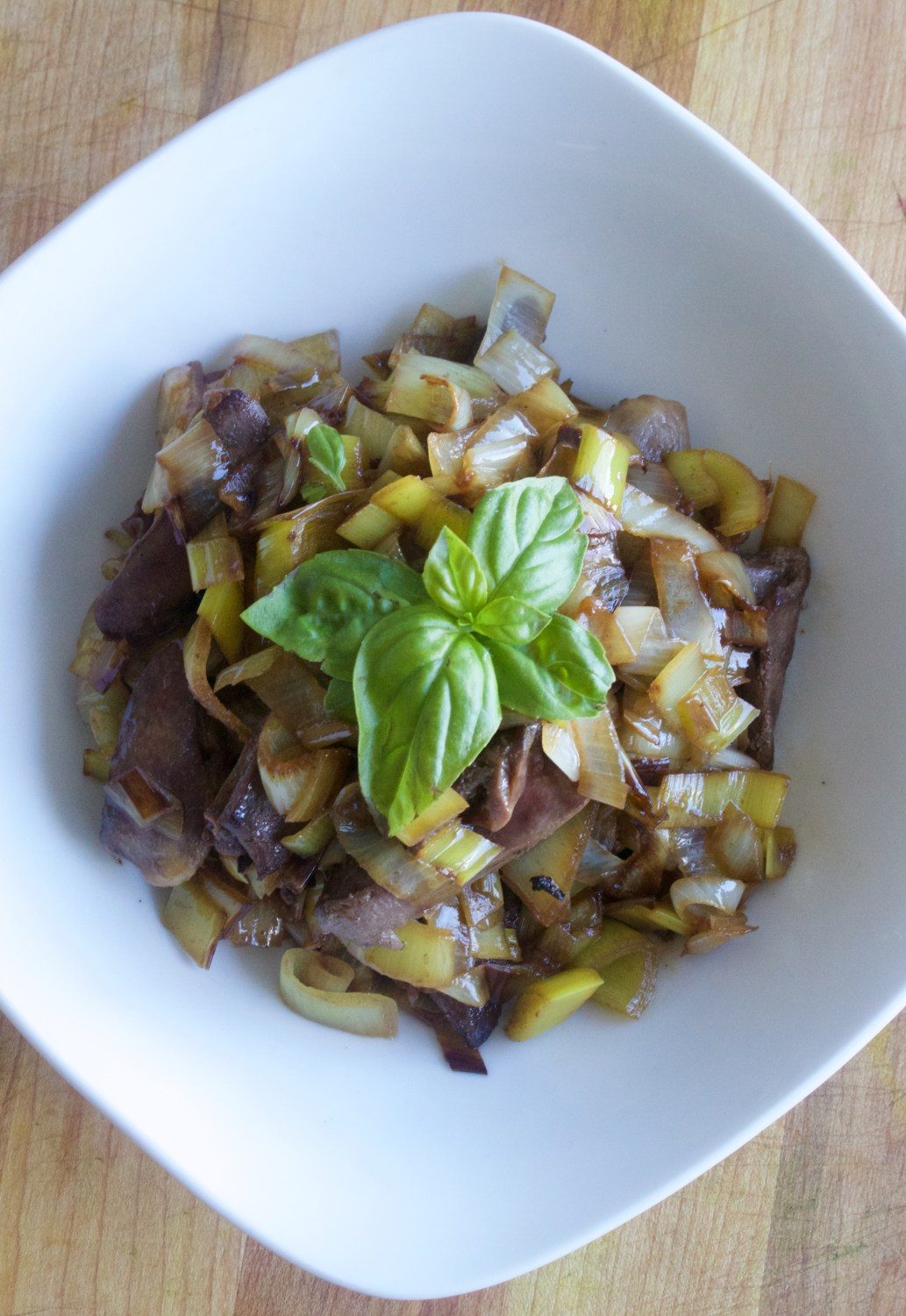 Caramelized Balsamic Leek Turkey Hearts
(Serves 2)
Ingredients 
8 oz turkey hearts
1/4 cup olive oil
3/4 tsp sea salt
2 tbsp balsamic vinegar
3 cups leek greens – chopped
Fresh basil for garnish.
Process
Prepare turkey hearts by cutting each heart into fourths.
Heat 2 tbsp olive oil in a large pan over medium heat, and once hot, add leeks and allow-ing them to cook until tender and fragrant.
Remove cooked leeks from the pan and set aside for later use, then add remaining 2tbsp olive oil to the pan, turning the heat to low.
Add prepared turkey hearts to the pan, sprinkle with remaining sea salt and cover, allow-ing them to cook for 2-3 minutes until no longer pink in the middle.
Add the cooked leeks back into the pan and deglaze the pan with the balsamic vinegar,quickly stirring to scrape up any crispy bits from the bottom of the pan, then take the pan off the heat and serve, topping with basil sprigs.
Recipe Notes
The basil is optional, but highly recommended, as it adds an extra pop of flavor especially loved by the individuals I served this dish to
If you don't have turkey hearts, chicken hearts work equally as great.
Acts 20:24 "But none of these things move me; nor do I count my life dear to myself, so that I may finish my race with joy, and the ministry which I received from the Lord Jesus, to testify to the gospel of the grace of God."