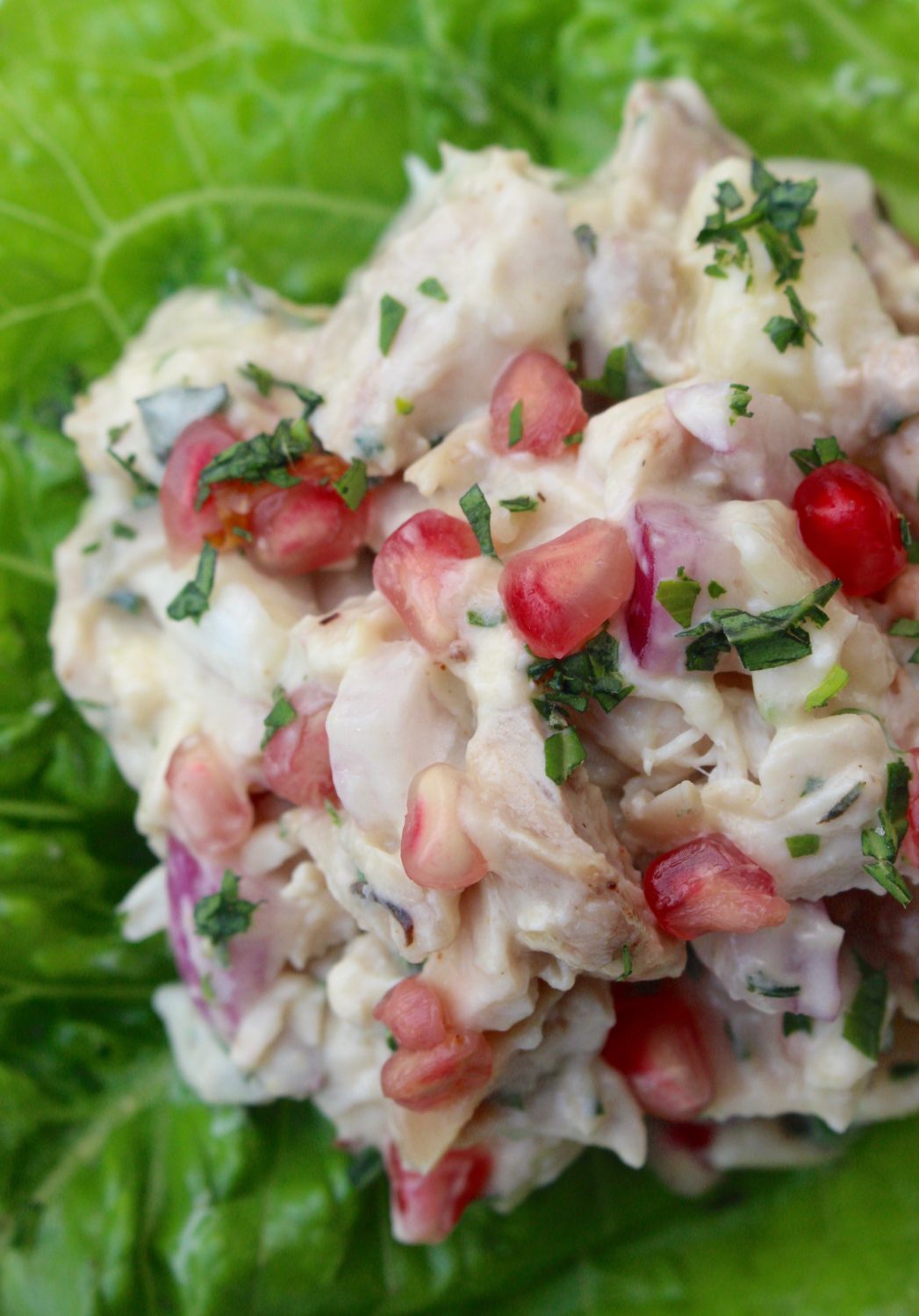 Tis the season for eating on the run.  I know, because I'm right there with you.  These next eleven weeks encompass my last semester of school.  Between countless medical related appointments every week and being in classes every day but Friday, there is little time to eat a lavish breakfast or lunch.  Most meals consist of an outrageously large salad, an egg or two if I'm lucky, and lots, and lots, of butter (to keep the ketones going, of course).   However, if you are like me and get tired of eating boiled eggs, I believe chicken salad is the best next thing.  Today's recipe is one for all of the individuals on the Autoimmune-Paleo Protocol, as it is free of an egg based mayo, using a thick and creamy dressing instead.  Though tarragon isn't an entirely common herb, it was actually part of the first chicken salad I found myself loving as a child.  That being said, if you are not entirely fond of the licorice-y type flavor that is has, please feel free to substitute parsley.  Also, if you are new to the AIP Paleo Protocol and are hesitant to consume pomegranate seeds, you can omit them entirely, or add some chopped tigernuts for an added crunch.  Overall, with a little crunch from the pomegranate, sweetness from the pear, creaminess from the dressing, and tanginess from the sherry, this recipe is one that encompasses everything most everyone loves about a good chicken salad.  Plus, it is a fantastic way to make sure no leftovers from your week night's roasted chicken dinner goes to waste.
Creamy Tarragon Chicken Salad
(Serves 4-6)
Ingredients
3 cups white chicken meat, chopped
¼ cup avocado oil
2 tbsp sherry vinegar
2 medium pears (1 1/2 cup total)
¼ cup red onion, 1/4th inch dice
¼ cup pomegranate seeds (optional)
2 tbsp fresh tarragon, minced
1 tsp sea salt
Process
Place chopped chicken in a large mixing bowl.
Mince the tarragon and add to the bowl, along with the pomegranate seeds if using.
Peel and chop the pears, placing 1/2 cup into the mixing bowl.
Blend remaining 1 cup of chopped pear, avocado oil, sherry vinegar, and sea salt until thick and smooth.
Pour the dressing over the chicken and toss around in the bowl until evenly coated then serve over a bed of leafy greens.
Isaiah 58:11 "The LORD will guide you always; he will satisfy your needs in a sun-scorched land and will strengthen your frame. You will be like a well-watered garden, like a spring whose waters never fail."