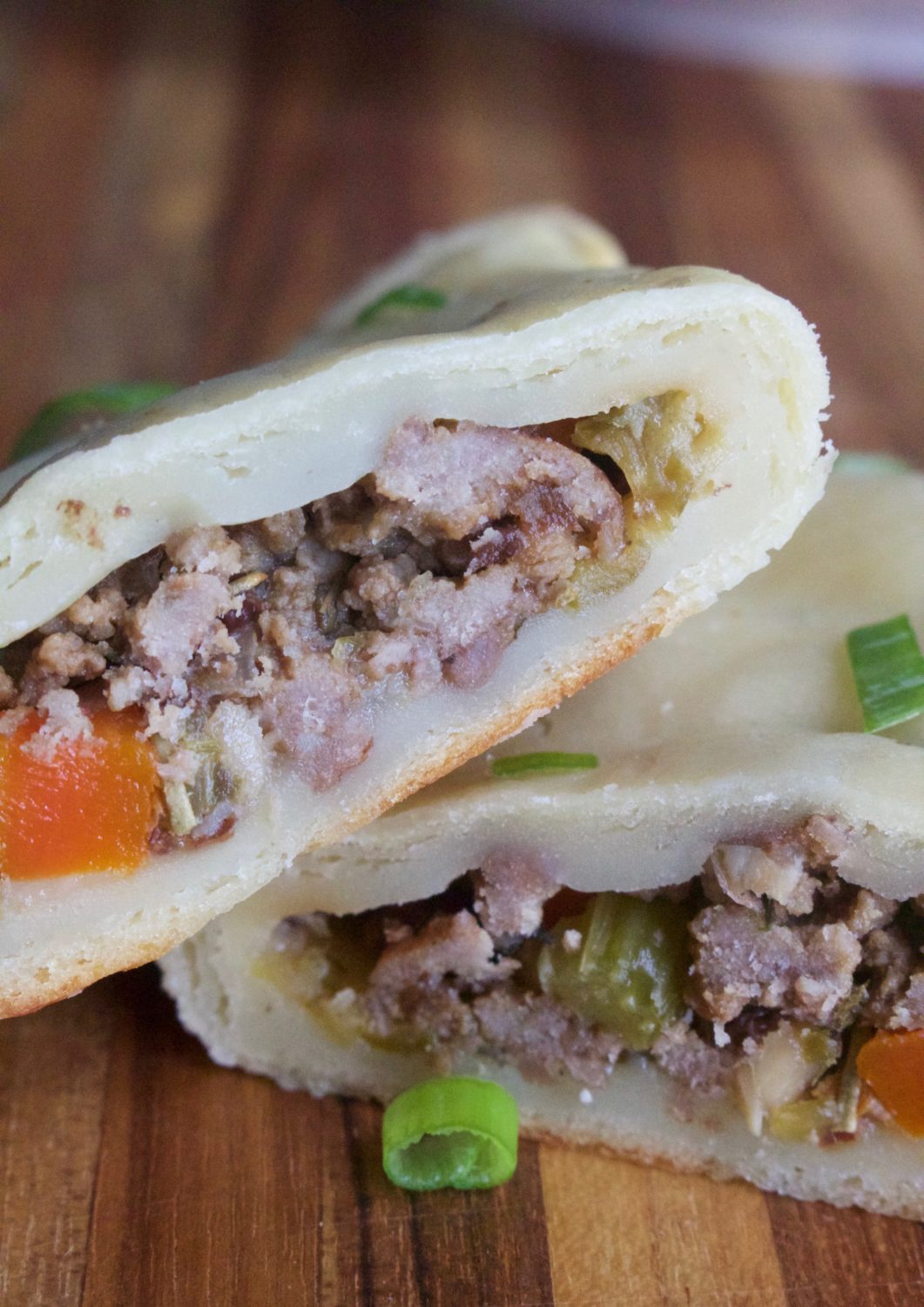 Today I decided to get back to my creative, AIP roots and share an autoimmune-friendly empanada recipe.  The inspiration from this recipe originally stemmed from doing the weekly grocery haul and seeing white sweet potatoes in the produce section.  Sweet potatoes are great, but WHITE sweet potatoes, those are what some of my most creative recipes have stemmed from (see here).  I wasn't entirely sure what I was going to make with them, but I knew it was going to be something good.  I made a list, which include some sweet treats, including vanilla spice cookies and such.  However, I decided I wanted to go the savory route this time around.  As I sat on the couch brainstorming what I should put in the filling of the empanadas, my husband happened to ask me what I was working on.  Coming from a long line of amazing Mexican cooks, this recipe was right up his wheel house.   He made the genius suggestion of adding green olives and raisins to the filling, both of which bring a unique tangy, salty, yet sweet taste to the filling, one of which I would certainly never thought of on my own. Ginger is used as the "spice" factor, while the dried herbs add an overall earthiness to the meat.  Though the filling and dough were super tasty to me, I knew that the real test would be from my husband.  I was a bit hesitant to let him try them, but after just a couple bites the reviews were excellent.  SCORE! AIP friendly empanadas approved by a Mexican?  I knew I had hit the jack pot.  But hey, don't take my word for it, give them a try yourself!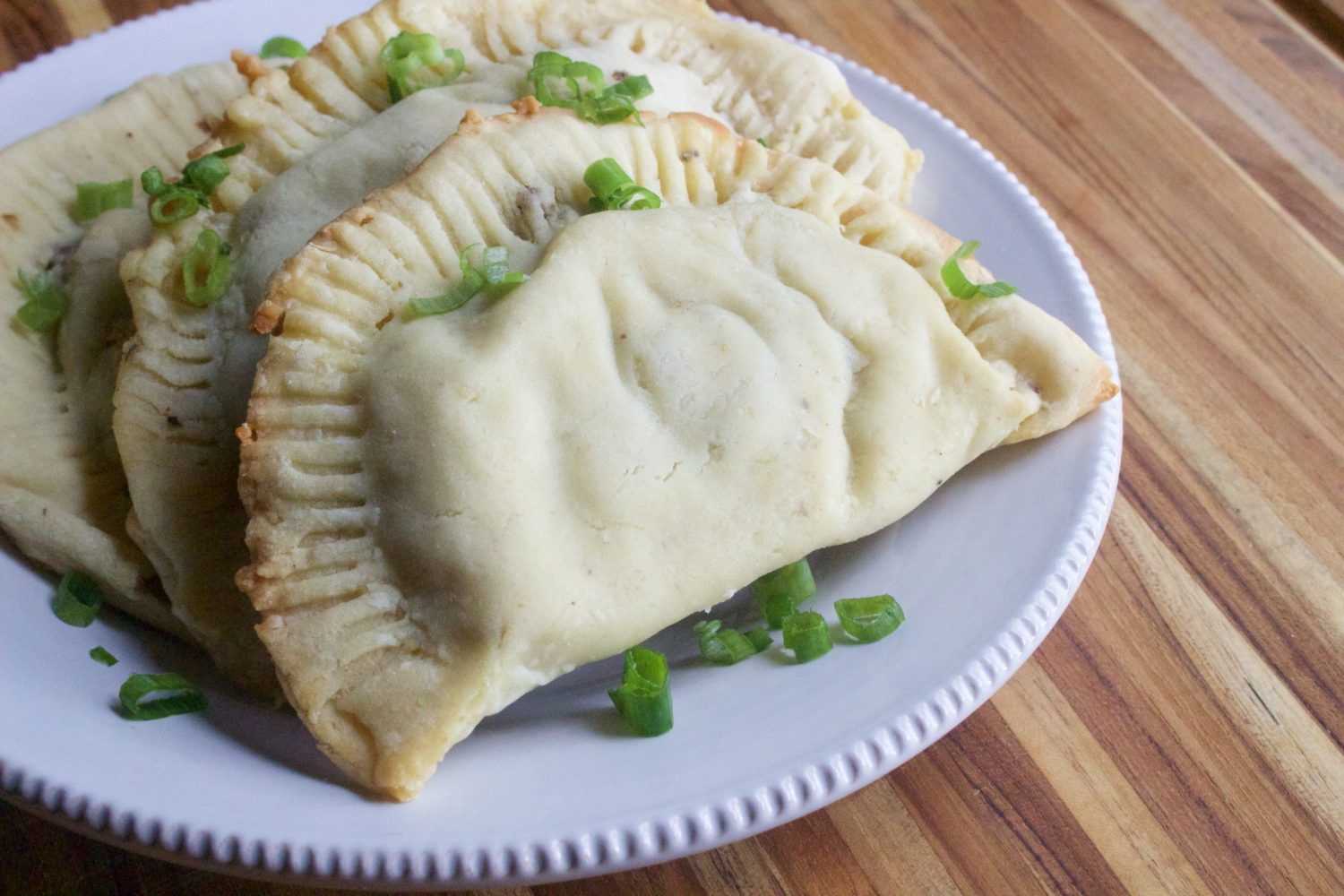 AIP Lamb Empanadas
Yields 6-8 
Dough Ingredients 
2 cups pureed white sweet potato
1.5 cups arrowroot flour
2 tbsp lard
Filling Ingredients
12 oz ground lamb
1/2 cup diced carrots
1/2 cup minced celery
1/2 yellow onion, minced
2 tbsp raisins, minced
1/4 cup green olives, minced
1 tsp ground ginger
1/2 tsp dried oregano
1/2 tsp dried thyme
1/2 tsp dried rosemary
2 tsp sea salt
2 tbsp avocado oil
Process
Make sweet potato puree by peeling, dicing, and boiling sweet potato until fork tender, then place it in a food processor and puree until smooth.
To the food processor add arrowroot flour 1/2 cup at a time, pulsing until combined.
Pulse in lard until a smooth dough has formed.
Form 6-8 like-size balls out of the dough and place them on a parchment lined baking sheet.
Press each ball out to 1/8th inch thick, creating 6-8 inch circles, then place the baking sheet in the fridge to chill while preparing the filling.
In a medium size skillet, heat avocado oil on medium-high heat, then add onion, celery, and carrot, sauteing until soft.
Once soft, add in raisins and olives, then pour the mixture into a bowl and set aside.
Back in the skillet, cook beef with rosemary, salt, oregano, and thyme until browned and cooked through.
Add vegetable mixture to the skillet and stir until combined.
Allow the filling mixture to cool then place 2-3 tbsp in each circle of dough.
Fold each circle in half, creating a half moon shape, then pinch the edges together with a fork.
Place the baking sheet in a 350 degree preheated oven and allow the empanadas to bake for 45 minutes, until golden around the edges.
Notes:  A tortilla press lined with parchment paper is ideal for this recipe.  It allows you to form uniform tortillas without the hassle of rolling them out!
Proverbs 19:20-21 "Listen to advice and accept discipline, and at the end you will be counted among the wise. Many are the plans in a person's heart, but it is the Lord's purpose that prevails."