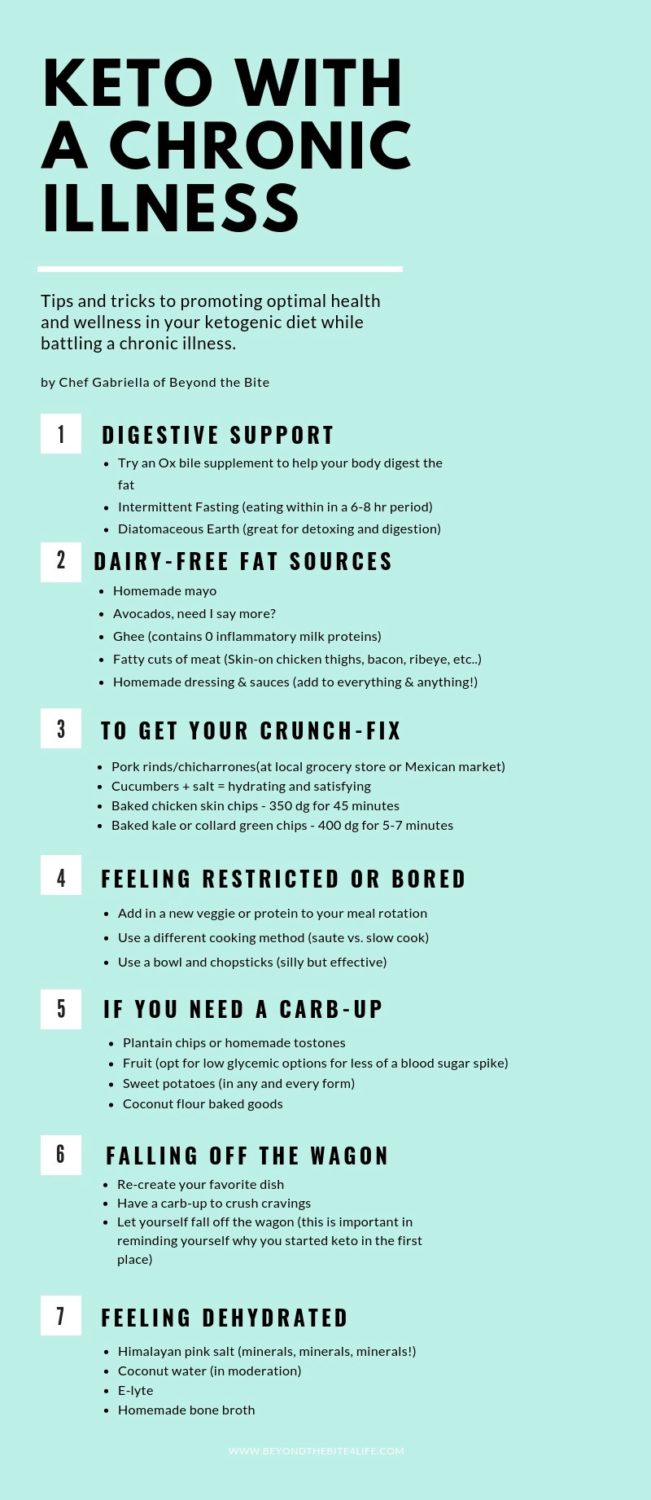 The idea to create this guide came to me one morning that I was supposed to "sleep in" (aka 8AM). Instead, I was woken up very early and could never fall back asleep. I've found that whenever I'm supposed to (or wish) I was sleeping, that is the time that I come up with my greatest (or so I think) ideas. So here it is, my guide to keto. I've been at keto for over 4 years and have experimented with a lot of things. A part of me wishes I had the ketogenic diet before and after photos to show you. That being said, the ketogenic diet for one individual is going to be different for another, especially for the individual that has a chronic illness.
There are many more factors involved outside of losing weight or performing better in the gym. Outside of activity levels, keto is also different from male to females. Overall, everything you will read below is based off of my own experiences (aka I've been there, done that). That doesn't necessarily mean that you'll have the same experience as me. In all honesty, the keto diet is not for everyone; for some, a more gradual and less restrictive weight loss program like Weight Watchers is a better option. The most important thing to do is weigh up the pros and cons, stated on the Weight Watchers vs Ketosis article on the Modern Fit website, and apply it to you as an individual.
I've hit those brick walls, I've been bored with my food, and dealt with GI and gallbladder issues. I've been dehydrated and not-motivated to continue. But above all else, I've pushed through, I've persevered, and I am here to share some of my main tips and tricks to balancing the keto diet with a chronic illness. Of course, there is the issue of the Keto Flu, but remember it affects different people in different ways. The best thing to do is read this guide to learn more about the Keto Flu if you want to discover more about how it can affect you.
Moreover, if you are just starting the keto diet, you might be interested to learn that cannabis can help. Regardless of whether you are consuming CBD, THC, or both, there are studies out there that suggest that cannabis could possibly enhance the benefits of keto and even help with some of the temporary negative effects of the keto diet, too. I was speaking to a friend of mine who lives in Missouri about this the other day. She has recently secured a medical marijuana card from her MO MMJ doctors and is now combining cannabis use with the keto diet as a way of managing her chronic illness.
So, how can cannabis and keto be combined? Well, during the initial stages of the keto diet, cravings can be intense, and your body might not have the same kind of physical stamina. This is all temporary, but it is possible to alleviate some of these symptoms by incorporating cannabis into your weight loss treatment. Cannabis-infused products can help with muscular aches and pains and can also potentially help with symptoms of keto flu. Above all, when combining cannabis with any type of diet be sure to do plenty of research and always consult with a medical professional before making any significant lifestyle changes.
My Guide to Keto with a Chronic Illness
If you're dealing with indigestion/GI upset and bloating try:
Ox Bile supplement – helps your body break down the fat.
Diatomaceous earth – can be a great aid in digestion and detoxification.
Intermittent fasting – by eating in a 6-8 hr time frame and fasting the remaining time, your body is given a break from digestion.
If you need to add more dairy-free, low-inflammatory fat sources try:
Homemade mayo – I make mine low-histamine with egg yolks, avocado or MCT oil, and salt. Add citrus or vinegar if you like!
Avocados – if you're ok with histamine and FODMAPs, avocados are the miracle child of keto.
Ghee – if full fat butter still gives you issue, try ghee! It contains zero milk proteins and is very friendly to those dealing with autoimmune disorders.
Fatty meats – don't be afraid of them, the fat is chock full of nutrients, especially if the meat is organic and grass-fed.

Skin- on chicken thighs, 80/20 ground beef, wings, ribeye steak, and duck breasts are great choices, to name a few!
Dressing – it doesn't just have to go on salads! You can dress any cooked vegetable or protein with a sauce or homemade dressing.

My favorites include pesto, Italian dressing, and chimichurri.
If you're in need of some crunch try:
Pork rinds/chicharrones – order online through Bacons Heir, _____, or find them at your local grocery store. My favorites are those from the local Mexican market. They sure know how to make them!!!
Cucumbers – while not as "snappy" as chicharrones, cucumbers + salt can be a great fix for when you're craving something salty and crunchy.
Fried chicken skin – yep, I said it.

It may sound weird at first, but baking or frying chicken skin until crispy makes for an amazingly crunchy snack.
Roasted kale chips – or better yet, my roasted collard green chips.
If you're feeling restrictive or bored with your meals try:
Adding in a new vegetable or protein to your rotation – Sometimes the answer to your boredom can be as simple as eating turkey instead of chicken, or roasting leeks instead of cauliflower.

Afterall, variety is the spice of life!
Use a different cooking method – I get it, life is busy, and its super easy to get in a rut in the kitchen.

If you've been faithfully roasting/baking your meals, try sauteeing, pan frying, or maybe even using the slow-cooker or Instapot!
Use a bowl and chopsticks – it sounds silly, but changing the vessel for your food and utensils used to eat it can completely change your dining experience. Don't believe me? Try it!!!
If you're in need of a carb up try:
Plantain chips – crunchy, salty, and perfectly satisfying for any carb-up without sending your body through the ringer.

They can be eaten plain or incorporated into a full meal!
Fruit – if you tolerate sugars OK, try berries, melon, or other low-glycemic fruits.
Sweet potatoes – boiled, mashed, roasted, fried, or baked, who doesn't love sweet potatoes?!
Coconut flour – bake up your favorite sweet treat using coconut flour and you may just get the carb-fix your body is needing without going overboard on the carbs.
When you feel like falling off the bandwagon try:
Re-create your favorite dish – sometimes all you need to keep you going is your favorite meal, dish, or cuisine. It can be just the moral booster you need to keep going'
Fall off the wagon – that's right, I said it.

Take a break! See how your body feels.

If it feels worse, more than likely you'll be happy to get back on the bandwagon.

Overall, you'll be reminded of why you started keto in the place.
Have a carb-up – sometimes a less daunting way to sway the scales can be by simply having a small to moderate carb-up.

If you feel like giving up on keto, its usually because you've found yourself feeling restricted in eating.

This is your cue to change things up!
When you're feeling dehydrated try:
Himalayin pink salt – this stuff is chock full of minerals to help balance your electrolytes
E-lyte – a fancy version of Pedialyte without all the sugars. Many functional medical professionals sell it but you can get it on Amazon for cheaper.
Coconut water – while higher in sugars and carbs, sometimes sipping on coconut water can be just the thing you need.
Bone broth – add some salt and you're set to go!
Want more tips and tricks on eating keto with a chronic illness? Follow me on Instagram at @beyondthebite4life (or) on Facebook at @beyondthebite – see ya around!
Job 37:5-6 "God's voice thunders in marvelous ways; he does great things beyond our understanding. He says to the snow, 'Fall on the earth,' and to the rain shower, 'Be a mighty downpour.'"