There are some recipes on my blog that I tend to make more than others.  One of these is my ketogenic-friendly wedding cake recipe, a recipe I created for the caterers to make on my special day.  It's simple, straightforward, and is great to have on hand when I am craving something slightly sweet and decadent (a rather common occurrence now that I am pregnant).   While I have my ups and downs of sugar cravings, I don't enjoy how sugar makes me feel, which makes this recipe PERFECT for those nights where I am still hungry after dinner (also pretty common now that I am 22 weeks in).  Overall, today's recipe is inspired by the OG cake recipe, but instead is made in a loaf pan with the amazing addition of Lily's chocolate.  While there is no cinnamon or zucchini involved, this recipe reminds me of the scrumptious chocolate chip zucchini bread my mom always made growing up (new recipe idea, yeah?).  It's moist (sorry ya'll, but believe me, it's a good thing), not too sweet, with a spongey texture, and dark, decadent bits of chocolate spread throughout.  Seriously, what's not to love?!  If you aren't eating low-carb/keto, simply substitute the Swerve for coconut or maple sugar.  The results will be almost identical!  As for the dairy, simply substitute the melted butter for melted coconut oil, non-hydrogenated palm shortening, or a light avocado oil.  Overall, this recipe could not be easier and is sure to be a true crowd pleaser!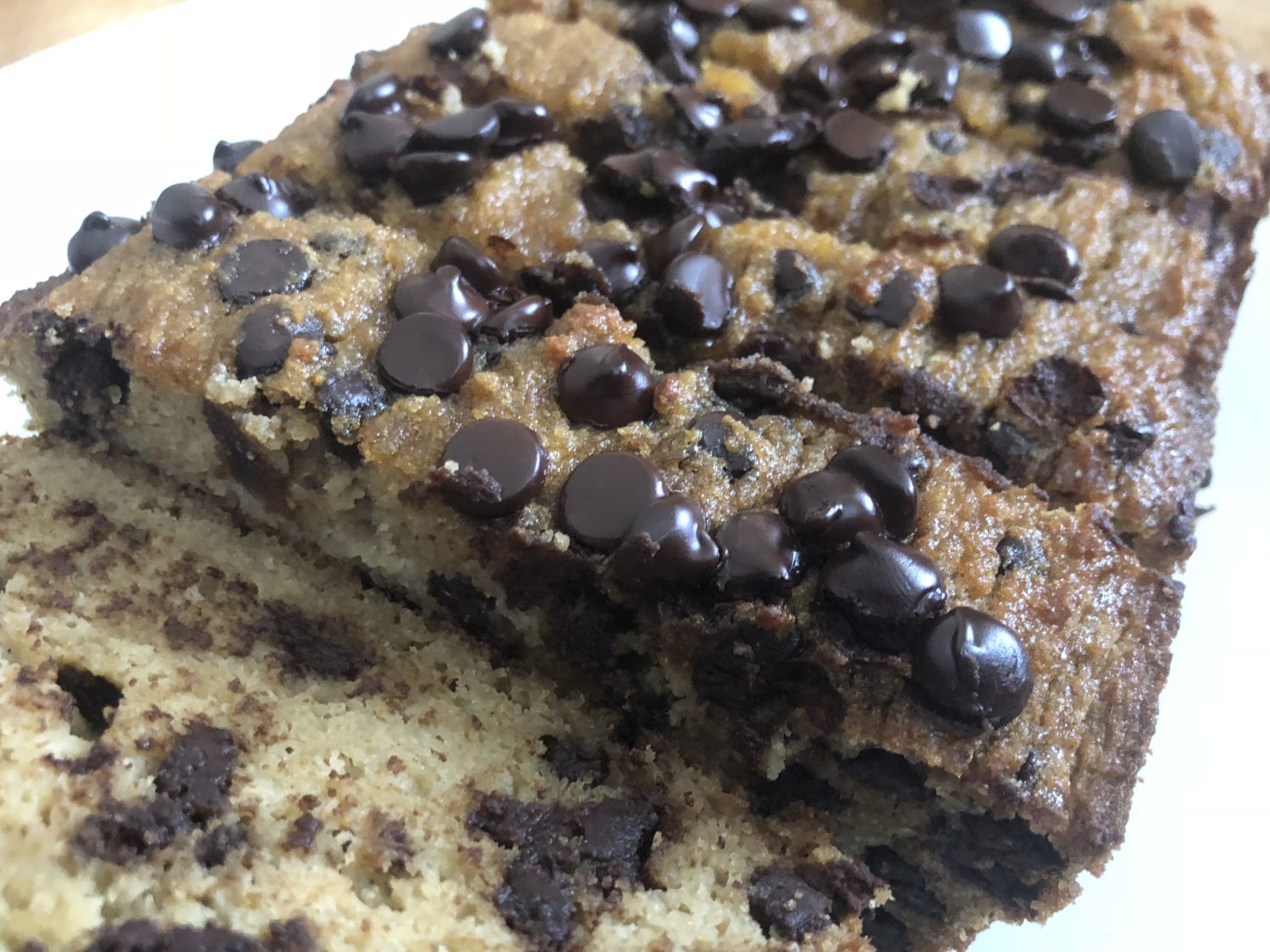 Keto Chocolate Chip Loaf Bread
Ingredients
3/4 cup coconut flour
1 tsp baking soda
1/2 tsp sea salt
6 eggs
1 cup water, warm
1/3 cup melted butter
1/2 cup swerve, coconut, or maple sugar
3/4 cup Lily's Chocolate Chips
Process
Whisk together eggs, butter, water, sugar, and sea salt.
Next add in coconut flour and baking soda, whisking until smooth.
Fold in 1/2 cup of the chocolate chips and transfer the batter to a lined loaf pan.
Sprinkle remaining 1/4 cup chocolate chips on top and then bake at 350 in a parchment lined loaf pan for 50-55 minutes until a toothpick comes out clean.
Allow to cook slightly then remove from the loaf pan and allow to completely cool in the parchment before removing and slicing.
James 1:2-3 "Consider it pure joy, my brothers and sisters, whenever you face trials of many kinds, because you know that the testing of your faith produces perseverance."