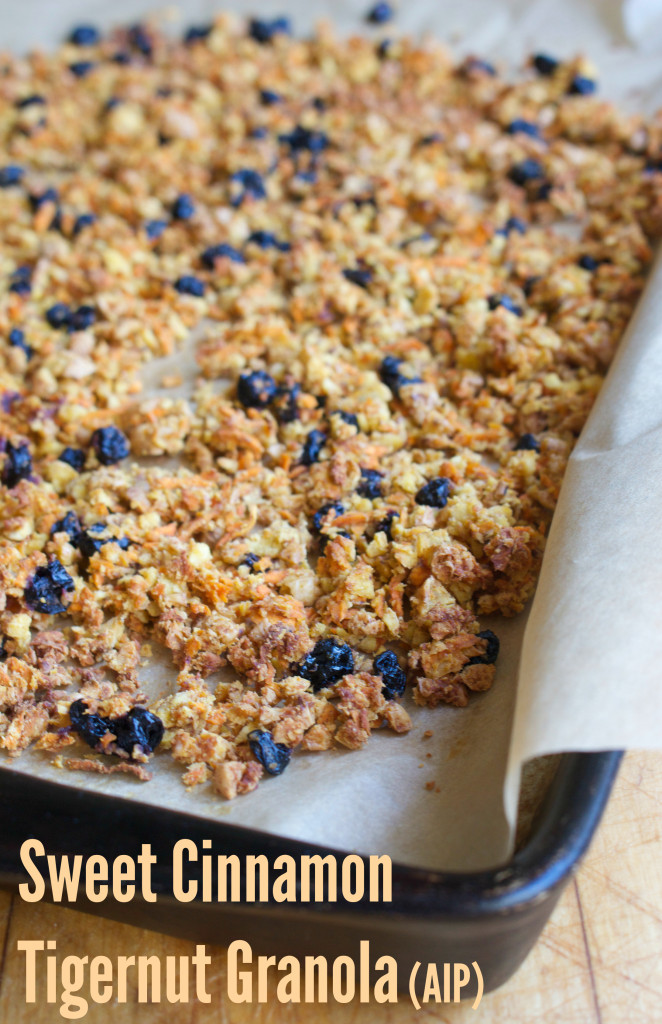 My previously posted tigernut granola seemed to be pretty well received.  However, much like many of my other recipes, I strive to make them adaptable to those who do not do well with coconut products like myself.  I have also come across individuals who do not do well with foods in the banana family, therefore, making a granola recipe without these two ingredients became my goal.  That being said, it was not until my good friend Audrea brought my attention to a new Paleo granola she picked up at her local food market that I knew what I would replace the coconut and banana with.  Though sweet potato may sound like an odd addition, it makes for a truly delicious granola.  Because it is naturally sweet, I chose to use apple sauce as the sweetener instead of maple syrup like my previous recipe.  However, if your taste buds are still not accustomed to slightly sweetened "sweets," by all means replace the apple sauce with raw honey or maple syrup.  Instead of currents, I chose to use dried blueberries as a fun addition to the granola, as it gives it an overall "summer" feel.  I imagine this recipe could easily be turned into carrot cake flavor, with the simple substitution for shredded carrots in place of the sweet potato, and raisins for the blueberries.  All in all, I am thrilled with how this granola turned out, and just had to send it to another one of my dear friends for her approval and pleasure!  Overall, we both came to the conclusion that compared to my first version of tigernut granola, it is definitely more "earthy crunchy," yet still equally delicious.

Sweet Cinnamon Tigernut Granola
Ingredients
Process
Place tigernuts in a small mason jar, cover with cold water, and allow to soak anywhere from 6-48 hours (the longer, the softer and more "plump" they will become – if soaking 48 hrs, change water at 24 hours)
Once the tigernuts have soaked, shred your sweet potato in a food processor, and transfer to a mixing bowl for later use.
Switch the shredder blade to the "s" blade, and pulverize the soaked tigernuts until chopped up.
Add the sweet potato back in and pulse a few times until everything is combined.
Pour the mixture back into the mixing bowl and fold in the cinnamon, sea salt, and blueberries.
Add in the applesauce and melted non-hydrogenated palm shortening, and mix until well combined.
Preheat the oven to 300 degrees.
Transfer the mixture to a parchment lined baking sheet and spread out evenly to all four corners of the sheet.
Place in the preheated oven and bake for 45 minutes, then turn the oven up to 400 degrees, and bake for 7 more minutes until brown and crisp around the edges.
Remove the granola from the oven and allow to cool, then transfer to a mason jar and eat as desired.
Recipe Notes
See more original tigernut granola recipe here
Galatians 5:13 "For you, brethren, have been called to liberty; only do not use liberty as an opportunity for the flesh, but through love serve one another."