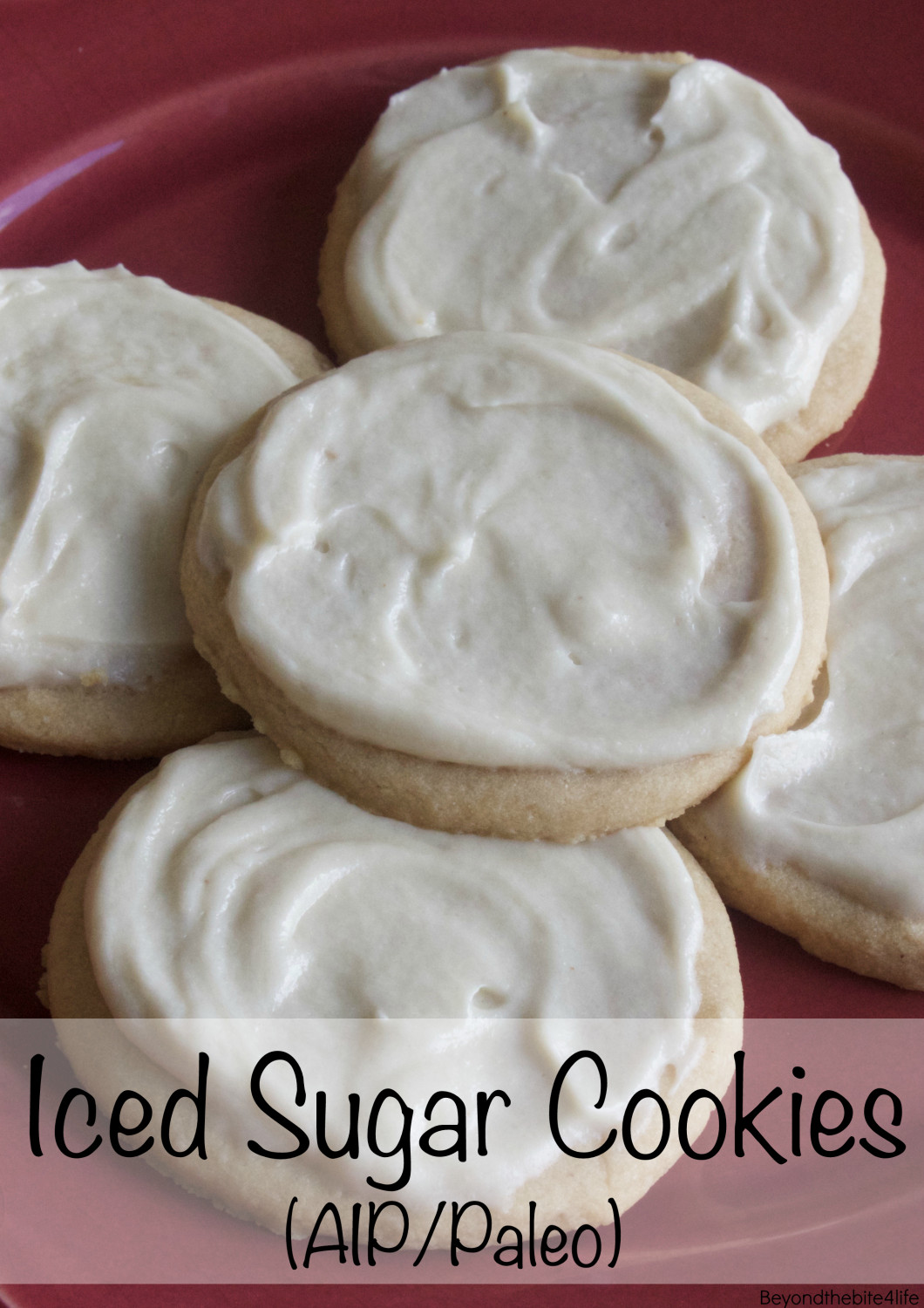 It has been over a year since I posted a sugar cookie recipe, and my, have the times of Paleo flours changed.  Last year I had great fun experimenting with different ratios, and came up with the perfect chewy yet crisp sugar cookie that even had an icing free of refined sugar.   Since then, tiger nut flour and cassava flour have come to dominate the world of Paleo flours, which is why I decided to make a new recipe utilizing a more readily available flour.  Of course, if you do not have mint extract, or you do not care for a minty sugar cookie, I encourage you to simply omit this ingredient and make them a regular, vanilla sugar cookie.  Overall, this recipe could not be easier. They have the perfect crumb and because they do not flatten on their own, rolling them out and using cookie cutters to make fun, festive shapes works fantastic.  Of course, you cannot have a sugar cookie without something to top it with.  I have made various buttercream that do not use refined sugar, however, I wanted to create one more a long the lines of icing that is lighter in texture and easy to spread.  All in all, I am thrilled to say I did just that by adding a bit of cassava flour to the mixture, which made for a spreadable icing that freezers great once on the cookies.  While it may sound odd to add flour to an icing, the cassava flour acts as what would otherwise be the starch component in a regular powdered sugar.  Because maple sugar is typically ground finer than other Paleo friendly, granulated sugars, it works best to make a smooth icing.  Overall, the cookies came out fantastic, however, I must admit, my favorite part is the icing. On that note, there are 8 days till Christmas…can you believe it?!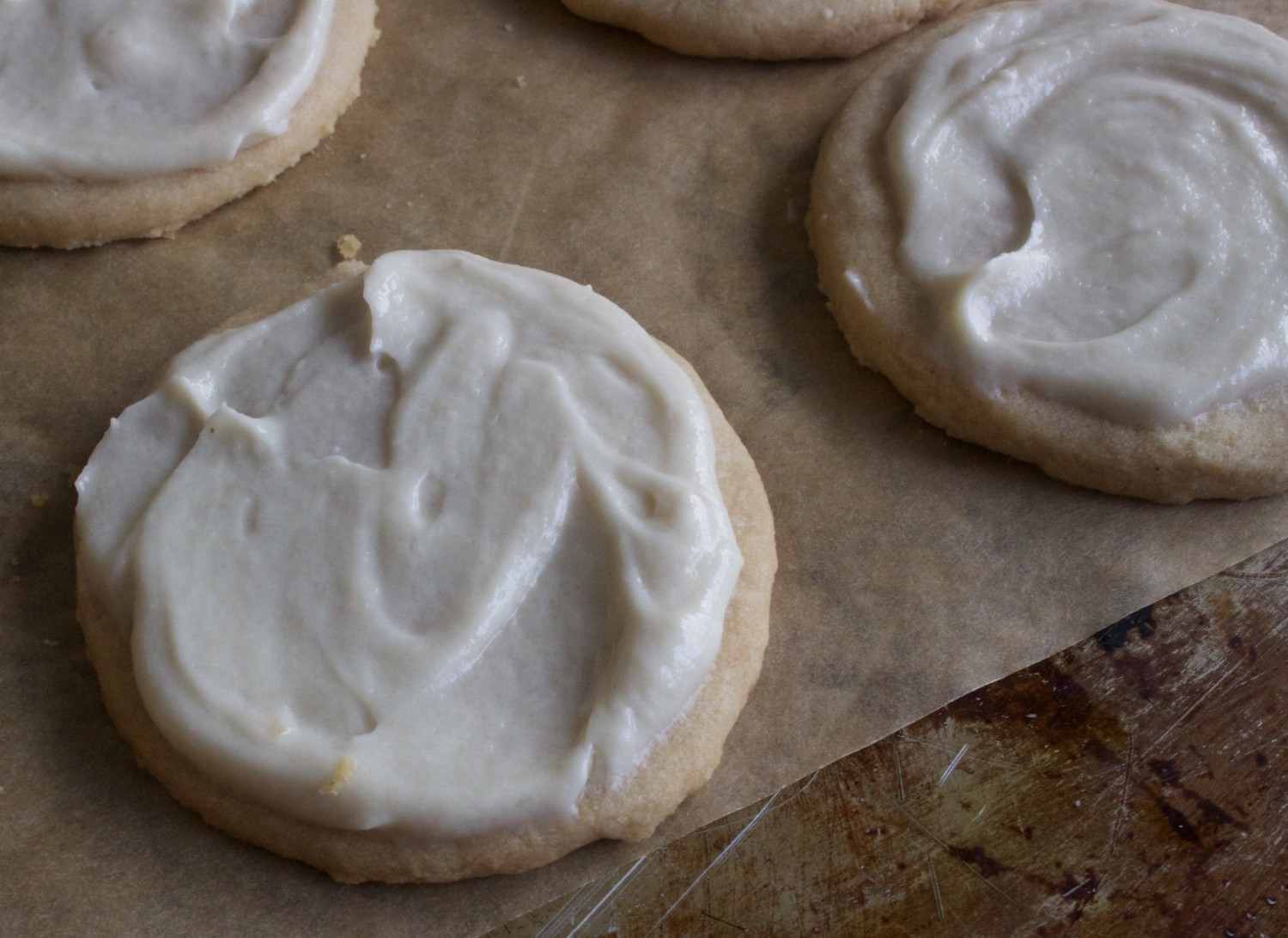 Cassava Flour Iced Sugar Cookies
(Yields 1 1/2-2 dozen)
Sugar Cookie Ingredients
Vanilla Icing 
Process
Preheat oven to 350 degrees.
Beat shortening, maple syrup, and vanilla in a standard mixer or food processor.
In a separate bowl, whisk together dry ingredients.
Add the dry to the went and beat until just combined.
Transfer the dough to a large sheet of parchment paper, use your hands to pat the dough down into a round circle, sprinkle it with flour, and then place another piece of parchment on top of it.
Use a roller to roll out the dough to 1/4 inch thick, then cut into desired shapes, continuing until all of the dough is used.
Put the sheet in the oven and allow the cookies to bake for 10-12 minutes until golden brown on the bottom.
Remove from the oven and allow to cool completely before frosting.
To make the frosting, puree coconut milk, maple sugar, vanilla, and shortening in a food processor.
Add in ottos cassava flour 1 tbsp at a time, then allow the mixture to puree for another 5 minutes until smooth.
Once the cookies have cooled, frost them with the icing and enjoy.
Recipe Notes
Add 1/3 cup maple sugar for more sweetness to the cookies if desired.
Replace vanilla powder with vanilla extract in the frosting if not on AIP.
For strict AIP coconut milk, make your own or use Natural Value brand.
In order to get the proper constancy of icing, do not stir the coconut cream into the coconut milk before using. Simply scoop out 1/4 cup of both cream and water to make the 1/2 cup measurement.
Alternatively you can use 1/2 cup of pure coconut cream.
I've made these into bars in a 8 inch pan, baking for 15 minutes at 350 degrees.
Luke 1:46-47,49 "And Mary said: "My soul glorifies the Lord and my spirit rejoices in God my Savior, for the Mighty One has done great things for me— holy is his name."