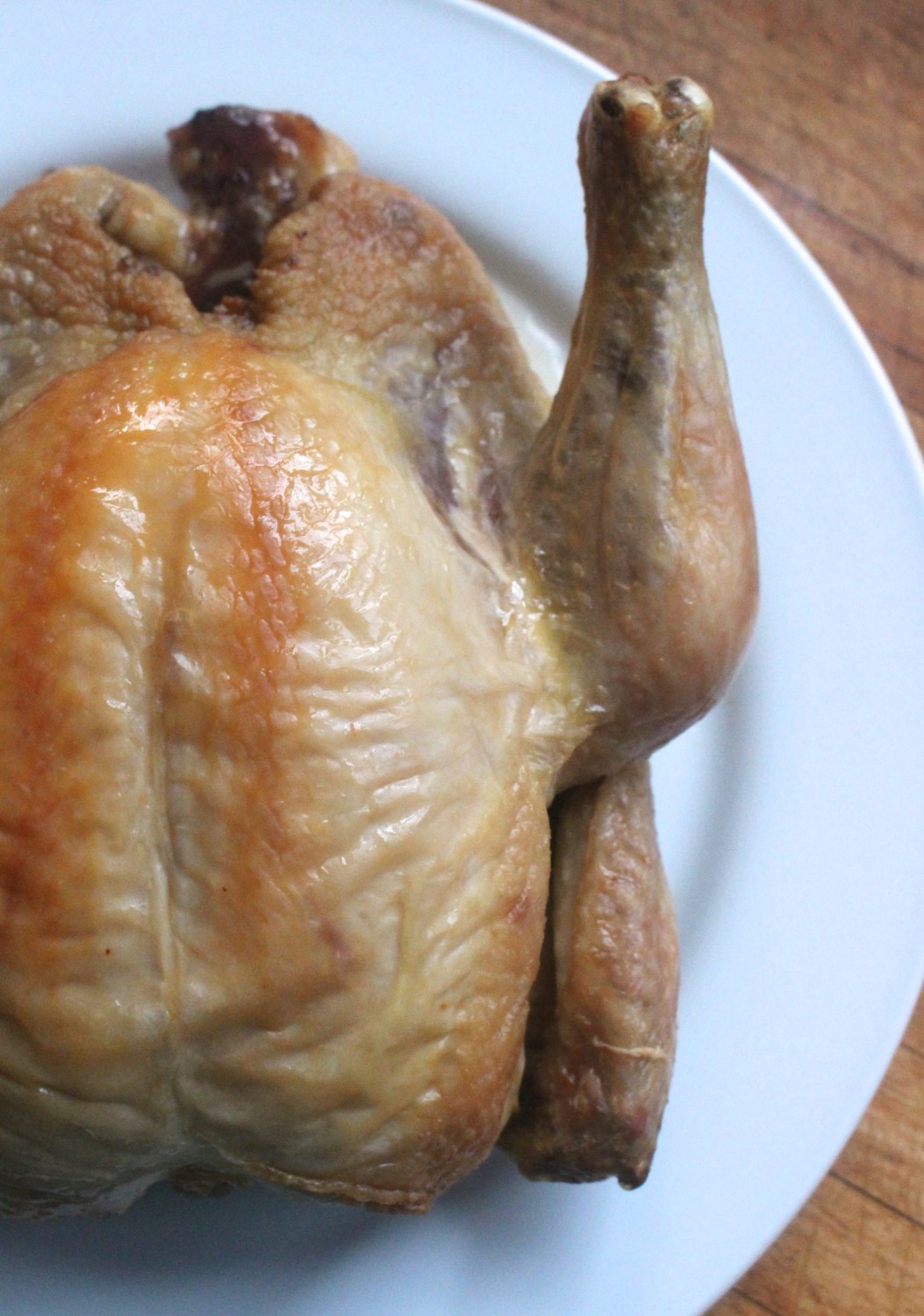 I absolutely love brining meat.  Whether it be a slow bring, such as with my dry rubbed steak recipe, or  a simple, 30 minutes dry brine, the end result is always a juicy, tender cut of meat.  Brining takes meat to a whole new level, whether it be a prized cut of steak, or an otherwise chewy pork chop, you cannot go wrong with brining.  While it may be a bit foreign to you at first, once you get the basic rules and ratios down, brining is a breeze.  So, where do you start?  Well, thanks to various articles online that have served as education for me on the topic of brining, I am going to summarize them for you in today's post.  The most basic form of bringing is a sea salt and sugar brine, as adding other flavoring agents requires a method called "boil brining," which adds a few more steps, so we won't be expanding upon that.  For every 4 cups of water that you use in the brine, you will add 1/4 cup of sea salt and 1/8th cup of sugar (in this case, I am using granulated maple sugar).  Ultimately, you want enough water in the brine to cover the entire chicken (or other cut of meat) when submerged.  So, while brining a ginormous turkey at thanksgiving may seem like it contains tons of sugar, you do not have to worry because you are not actually consuming it.  Instead, the salt and sugar simply serve as tools that allows the meat to absorb moisture that otherwise is not present, while also breaking down the structure in the protein molecules, resulting in tender meat.  The sugar also makes a super crisp skin, especially if you take the extra effort to remove the chicken from the brine one hour prior to cooking and allowing it to air dry in the fridge before roasting.   As far as cooking goes, my mother always uses the rule of thumb to cook your roaster 20 minutes per pound at 325 degrees.
Remember, the recipe below is based off of the weight of my chicken an how much water I needed to cover the chicken in the given stock pot that I was using.  If your chicken or stock pot is bigger or smaller, simply adjust the recipe with the pointers noted below. 
Use 1/8th cup of maple sugar for every 4 cups of water in your brine.
Use 1/4th cup of sea salt for every 4 cups of water in your brine.
Boil 1-2 cups of the brining water to make the dissolving easier without changing the overall cool temperature of the brine. 
Allow your chicken to brine at least 1 hour per lb, but never over 12 hours. 
Roast our chicken for 20 minutes per pound, in an oven set to 325 degrees.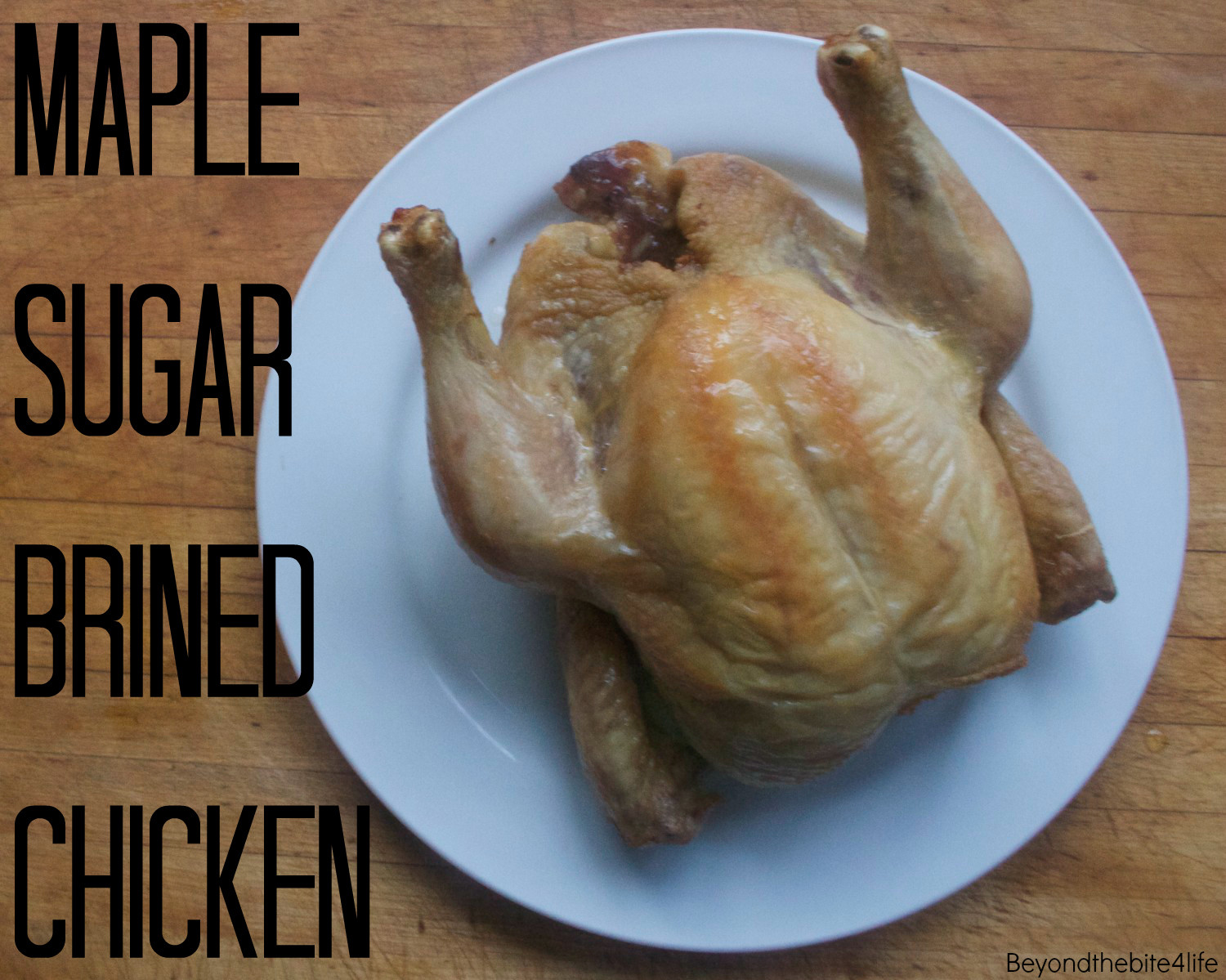 Maple Sugar Brined Chicken
(Serves 4-6)
Ingredients
4 lb roaster chicken
12 cups of cold water
3/4 cup sea salt
1/2 cup maple sugar
Process
In a large stock pot, dissolve salt and maple sugar in the water *If you heat the water to dissolve the ingredients, allow it to cool before submerging the chicken.
Once dissolved, submerge the chicken into the brine . *If the chicken floats to the top, place something heavy on it to keep it fully covered with water.
Place the stock pot in a fridge, or wherever the temperature is kept cool.
Allow the chicken to brine at least 3-4 hours.
An hour before cooking, remove the chicken from the brine, rinse it in cool water, pat it dry with paper towels, and allow it to air dry in the fridge for a hour.
Preheat oven to 325.
Place roasted chicken on a wired baking sheet lined with foil.
Once preheated, allow the chicken to bake 1 hour and 20 minutes.
Remove the chicken from the oven and allow to cool 5-10 minutes until carving and serving.
Recipe Notes
Of course, if you do not have tons of maple sugar on hand, simply use regular cane sugar or brown sugar.
Adjust the cooking time according to how many lbs your chicken is (20 minute per extra lb).
Hebrews 4:12 "For the word of God is alive and active. Sharper than any double-edged sword, it penetrates even to dividing soul and spirit, joints and marrow; it judges the thoughts and attitudes of the heart."