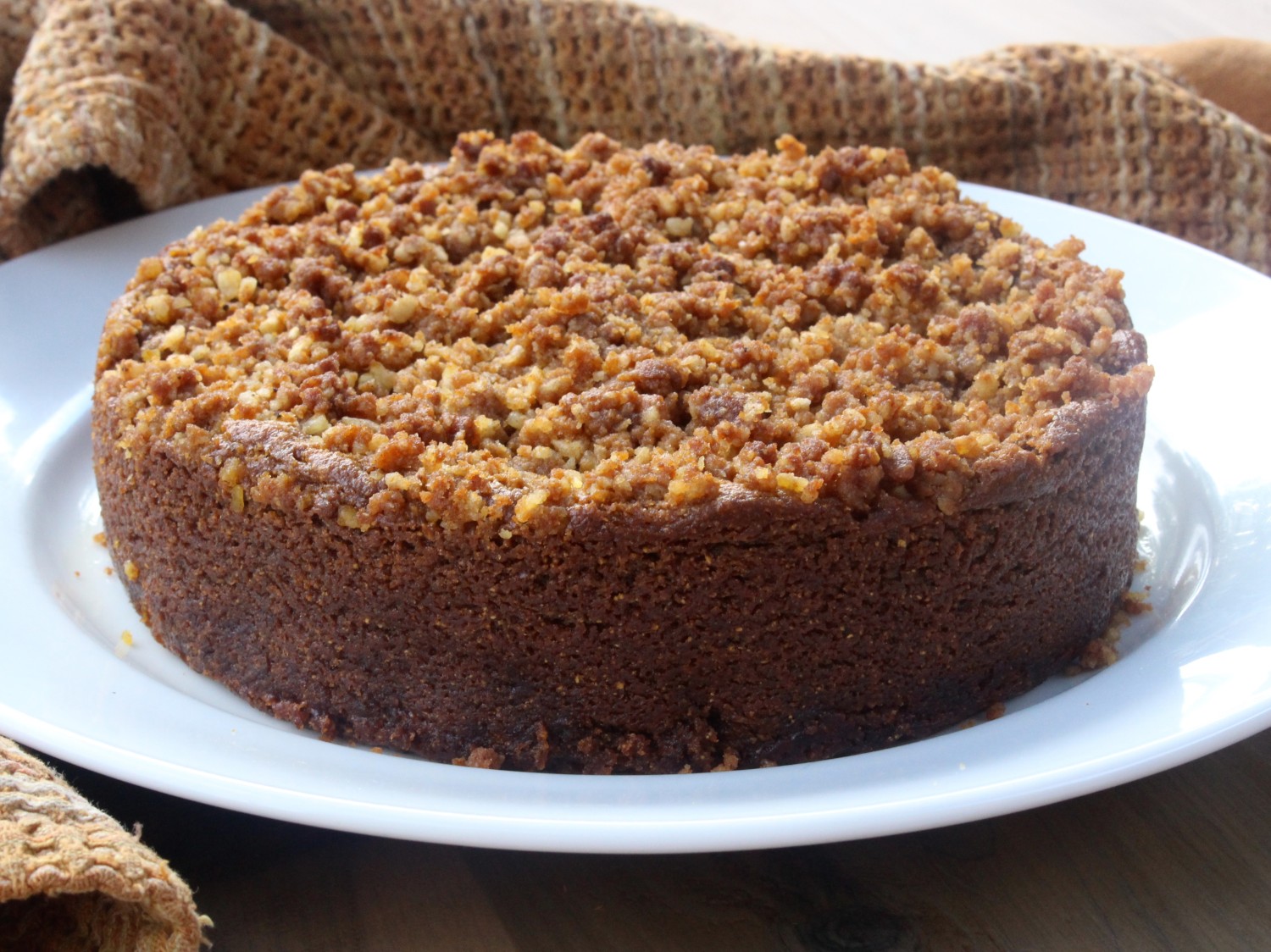 Awhile back, as I walked in the door when returning from a trip down to the tennis courts, I was hit with with a waft of cinnamon.  Yet not just any cinnamon, but sweet, maple cinnamon, as my mother was baking off her favorite Paleo granola recipe found in Paleo in 28, a cookbook by Kenzie of Cave Girl in the City.  This got my taste buds watering and therefore my mind thinking, and obviously, I simply couldn't resist making a recipe that made one's kitchen smell like a sweet, cinnamon wonderland much like my mother's granola.  As the winter months come around, Anti-Grain's vegetable based flours come into great use, as sweet potato, pumpkin, and butternut squash inevitably go with the flavors of pumpkin pie spice.   Simply by the smell, I knew that this coffee cake would easily win over the hearts and mouths of my "official taste testers."  That being said, whenever I bake with vegetables like plantain or sweet potato, in order for the recipe to pass the taste test, the flavor of these ingredients must be undetectable.  While I personally  don't mind this, my family and friends are a bit more picky in that they don't like tasting "dinner in their dessert."  Yet much to my surprise and delight, there was no hint of sweet potato or plantain in this coffee cake, causing it to be scarfed down quickly by those eagerly watching me take photos and waiting to dig in.  As for the crumble topping, I believe I may have just stumbled upon the beginnings of a new AIP friendly granola recipe that doesn't use tiger nuts like my previously posted recipes.  All in all, this coffee cake has the perfect, ready texture on the outside, with a moist, decadent center that you cannot help but completely love.  Not only that, but it is a recipe sure to make your house smell absolutely amazing!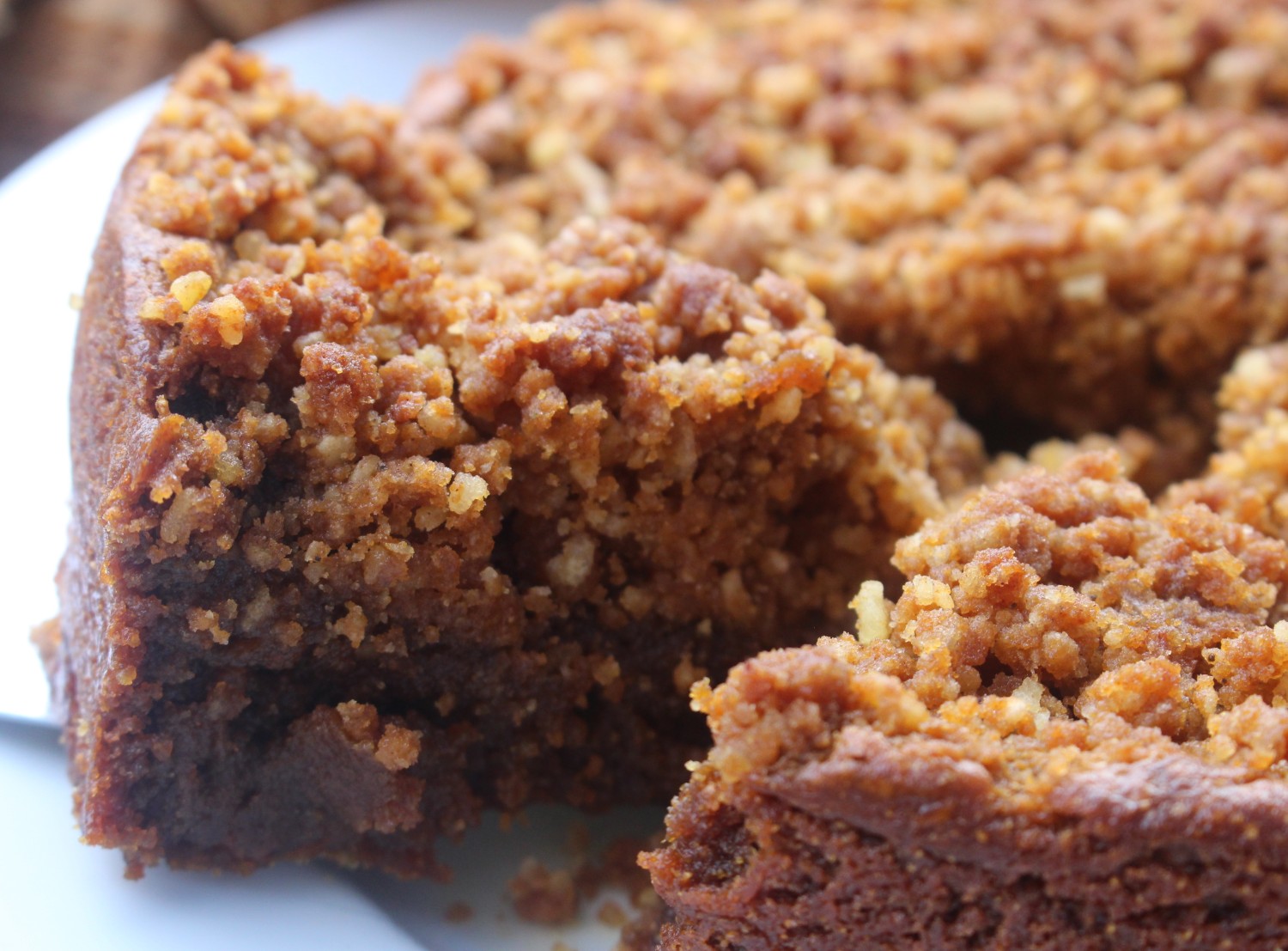 Sweet Potato Flour Cinnamon Coffee Cake
(Serves 8)
Cake Ingredients
Topping Ingredients
Process
Preheat oven to 350 degrees.
In a food processor, puree plantain, maple syrup, palm shortening, and vanilla extract until smooth.
Whisk together grain free baking powder, sea salt, and sweet potato flour in a separate bowl, then add to the food processor and puree until just combined.
Grease a 6×2 inch round cake pan and cut out a piece of parchment paper to fit into the bottom of the pan.
Evenly scoop the cake batter into the prepared pan.
To create the topping, pulse the banana chips, cinnamon, sea salt, and sweet potato flour until crumbly, then add in palm shortening and maple syrup, pulsing until a sticky crumble forms.
Transfer the crumble to the top of the cake batter and lightly press it down.
Place the cake in the oven to bake for 40-45 minutes, until the cake has pulled away from the sides and the middle is no longer wet when a toothpick is inserted.
Recipe Notes
Coconut oil can be used in place of the non-hydrogenated palm shortening.
John 10:7, 9-10 "Therefore Jesus said again, "Very truly I tell you, I am the gate for the sheep. I am the gate; whoever enters through me will be saved. They will come in and go out, and find pasture. The thief comes only to steal and kill and destroy; I have come that they may have life, and have it to the full."