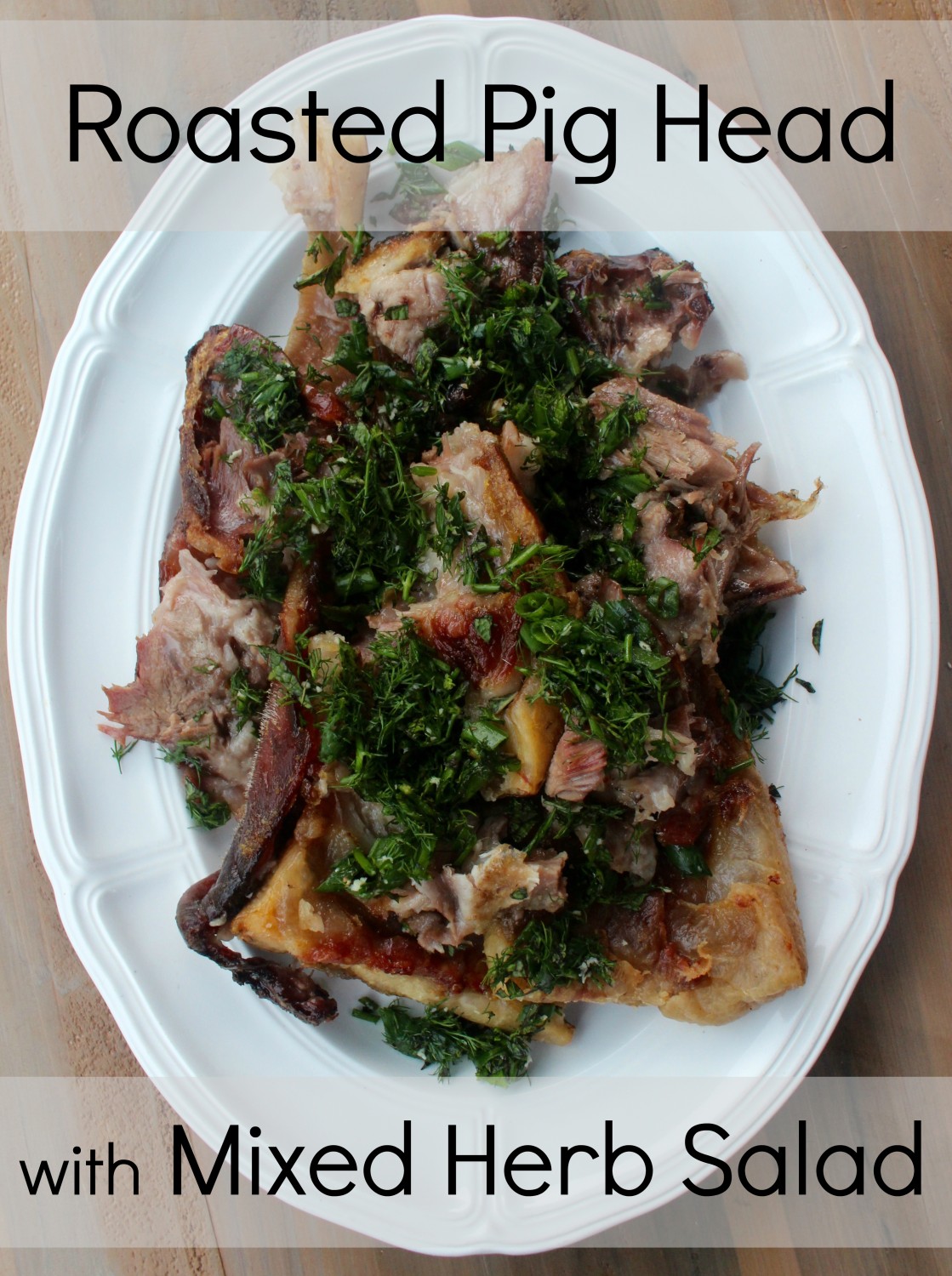 It honestly feels like a decade since my last blogpost. A lot has been going on lately with starting back up with school while simultaneously coming down with an awful flu. I'm working on writing up a post to update ya'll on what my life been like for the past six months, but in the meantime, I decided to pass on a recipe I made last fall. Yes, for everyone reading the title of today's who was born and raised in America, with no blood lines anywhere else in the world, today's recipe may leave you gagging, with wide eyes, or in just plain rebellion of reading on further. Really, I can't say anything to that except for that you are simply missing out. Yet if you are one of the individuals who just so happens to have an open mind, or are simply too intrigued by today's recipe that you are making yourself continue to read, then high 5's to you. Much like any organ meat recipe, forget what the term "head" means, rather, just think of it simply as another part of the pig that we should (yes, should) be eating. Not only because it contains some of the most delicious, succulent meat on the pig, but because in order to respect the whole animal, everyone in the world should be eating nose-to-tail. Of course, this is far and few between here in the U.S., however, pig roasts (i.e. the whole pig, head and all) are quite popular in Caribbean, Cuban, Puerto Rican, and Hawaiian cuisine (to name a few). Whenever I watch the Food Network and I see a pork roast, I am insanely jealous. However, after our local farmer asked if I would be interested in the organ meat, head, and hocks from their heritage breed pigs, I simply couldn't resist saying yes. Of course, I chose to roast the head when my brother was away at youth group, as to avoid any extra gagging noises that may have filled the house. That being said, if you, your family or friends are not entirely fond of the thought of eating "head," cutting the meat into portions before serving is a great way to trick their minds into believing they are simply eating the most delicious pork roast they have ever tasted in their life. Due to the meat being rich and fatty, I chose to eat my meat with a light and refreshing herb sauce that offsets this, while also adding more depth of flavor to the dish. Overall, while roasting a pig (head) may sound daunting, it could not be easier. The ingredients that you roast your meat with can be as complex or simple as you like. I personally chose to use only sea salt, and man, did it come out fantastic. If you are interested in more nose-to-tail recipes from yours truly, be sure to check out the Organ Meat Makeover for more offal goodness.

Crispy Roasted Pig Head with Mixed Herb Salad
(Serves 6-8)
Ingredients
1 cleaned pig head (ask the butcher to do this step to make it easier)
1 tbsp sea salt
1/4 cup chopped fresh mint
1/2 cup chopped fresh dill
1/2 cup chopped fresh green onion
1/4 tsp sea salt
1/2 tsp fresh grated horseradish
Process
Preheat the oven to 375 degrees.
Rinse, thoroughly pat dry, and lace the pig head in a large roasting dish, then rub it down with 1 tbsp sea salt.
Place the head in the oven to bake for 1 1/2 hours, then turn the heat to 325, and allow it to roast for another 2 hours.
Prepare the herb sauce by finely chopping the mint, dill, and chive, whisking together in a bowl with the olive oil, sea salt, and lemon juice.
Once done roasting, remove the head from the oven and cut it into pieces and serve with the herb sauce.
Proverbs 19:20-21 "Listen to counsel and receive instruction, That you may be wise in your latter days. There are many plans in a man's heart, Nevertheless the Lord's counsel—that will stand."