Horseradish is one powerful plant.  Its use can be traced back to the Egyptians as early as 1500 B.C, along with the Greeks and Jews, who used it both to treat physical ailments, as it was found helpful in healing anything from the common cold to inflammation throughout one's joints, muscle, and tissue.   It is believed that term "horseradish" initially stemmed from the German translation of meerrettich, which means "sea radish, as the plant grows by the sea.  The popularity of this food spread from Central Europe over to Europe, where it became standard fare for English men and weary travels of the like.  By 1840, early settlers in North America were growing the root in abundance, most notably near Boston, MA.  Now in days, with its popularity spreading throughout the U.S., it is estimated that "6 million gallons of prepared horseradish are produced annually."  That is a heck of a lot of horseradish!  The reason for the pungent, eye-watering bite that horseradish has is due to the fact that it is part of the mustard family, a long side other vegetable such as kale and turnips.  It is a root vegetable and therefore is at its peak of season during fall and winter months, much like sweet potatoes and carrots.  To learn more on the history, usage, and growing techniques for horseradish, be sure to check out this article. Overall, today's recipe is simply the basic preparation method for horseradish.  You can use this as is, dolloped on top of a burger or stirred into dressing or sauces.  Instead of water, you can use apple cider vinegar in the recipe to make the horseradish a bit more moist, however,  I chose to use water, as vinegar is high histamine.  I also must forewarn you all, beware that fresh grated horseradish is extremely strong, so don't stick your head too close to the food processor close unless you want a full on sinus draining session in the comfort of your own kitchen.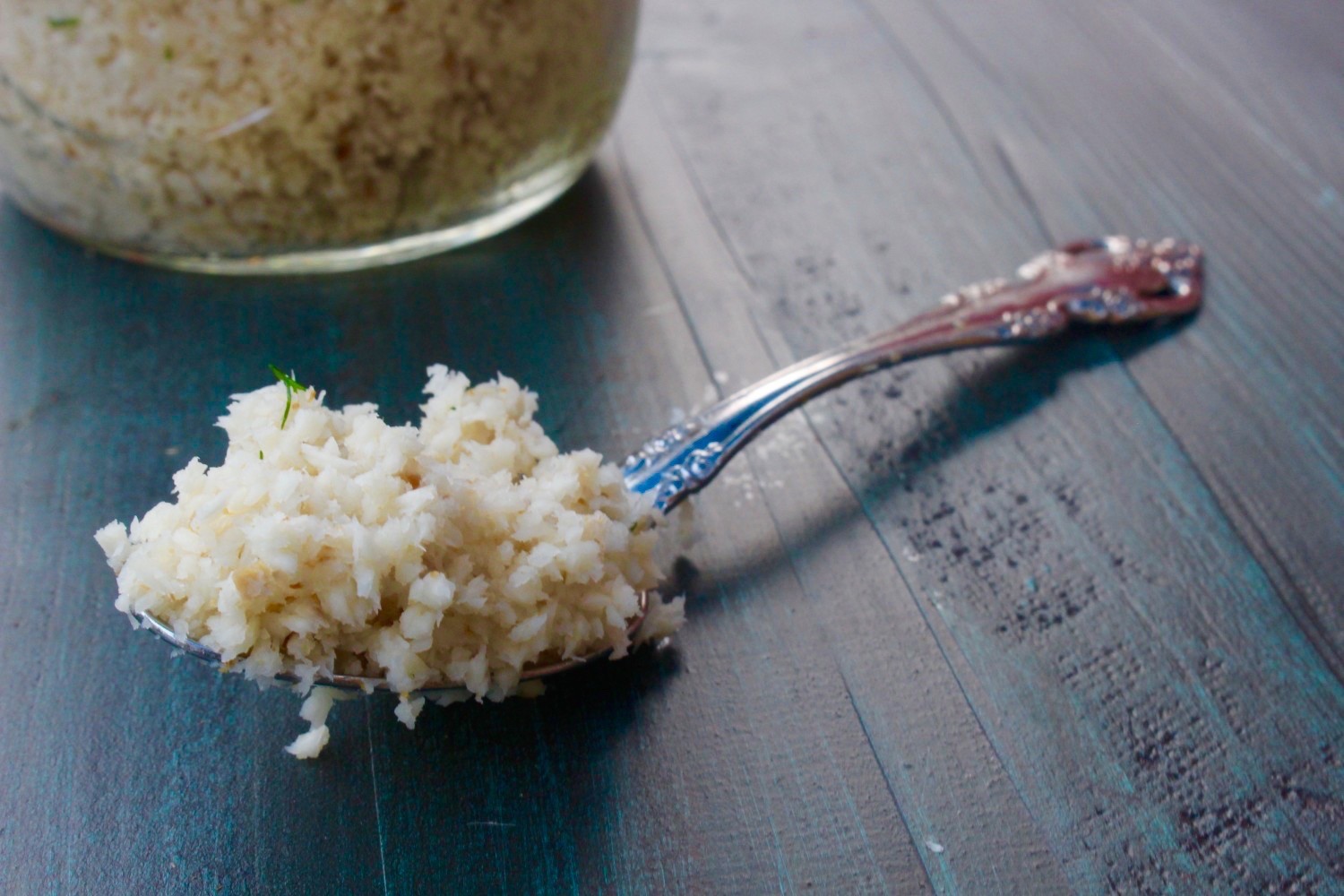 Fresh Grated Horseradish
Ingredients 
2 cups fresh horseradish chunks – peeled
2 tbsp water
Process
Peel, chop, and place horseradish in a food processor fitted with the "S" blade.
Pulse the horseradish until broken up, then turn the food processor on and allow it to run until finely ground, pouring in the water as needed.
Scoop the horseradish into a 10 oz mason jar and store in the fridge.
Recipe Notes
Beware of sticking your head too close to the horseradish once ground, it is VERY strong and will clear your nostrils and make you cry.
1 Peter 2:24 "who Himself bore our sins in His own body on the tree, that we, having died to sins, might live for righteousness—by whose stripes you were healed."