There are truly so many ways that you can use plantains.  Whether green and starchy, or ripe and sweet, the possibilities pose to be endless.  While I may not be eating them now due to following the PK Protocol as part of my treatment for chronic Lyme, I certainly do not give up the opportunity to experiment with them for my families sake. Because green plantains are not always around, I typically stock up on them when I do happen to stumble upon them at our local Stop and Shop.  If the plantains begin to ripen faster than I would like, even after keeping them in the fridge, I will puree them and keep them in the freezer for later use.  Though the plantains will inevitably turn brown when thawing, the overall texture is quite exact to that of when they are fresh.  Because plantains are so versatile, there are many recipes in the "paleosphere," including those similar to today's recipe.  Therefore, of course I cannot take full credit for the idea of baked plantain chips.  That being said, I still wanted to share my rendition simply because the more options out there for people scouring the internet for recipes, the better.  The difference in my recipe is that it uses lamb tallow, which may sound completely foreign at first, but really it just like the more common beef tallow, simply from lamb instead.  Though I purchase my lamb tallow from Miller's Organic Farm, you can also do so through US Wellness Meats, of which is where I get many of my delicious grass-fed muscle and organ meat products.  One of my most recent orders included chicken feet, lamb sweetbreads, and duck hearts.  Talk about being excited?! Anyways, back to the recipe.  Due to the fatty acid content of tallow making it harden at room temperature, these chips get super crispy after coming out of the oven and cooling.  My parents both enjoyed there chips both plane, however, it is for certain that they would also be great dipped in guacamole, my sweet garlic dip, or even my sweet avocado cream.  Truly the ways you enjoy this crispy and crunchy snack is up to you!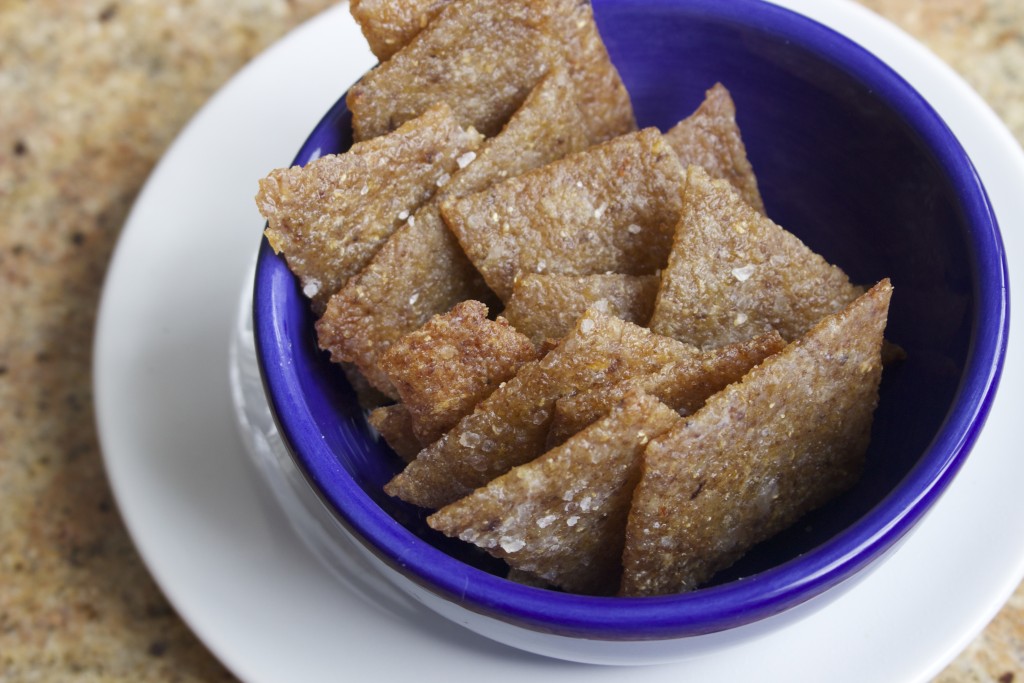 Crispy Plantain Tortilla Chips
(Serves 2-4) 
Ingredients
1 cup pureed green-yellow plantain
1 1/4 tsp sea salt
1 tsp garlic powder
1 tsp onion powder
1/2 cup lamb tallow
Process
Preheat oven to 350 degrees.
Peel and chop plantains into small chunks, puree them in a food processor until smooth, then transfer them to a bowl for later use.
Melt lard and then pour into the food processor until fully incorporated with the plantain.
On a parchment lined baking sheet, spread the plantain mixture out to about 1/4th inch thick with the back of a wet spoon or spatula, then place another piece of parchment paper over the mixture and use a rolling pin to further spread it to 1/8th inch thick.
Place in the pre-heated oven bake for 350 degrees for 15 minutes, then use a pizza roller to cut into triangles
Allow the chips to cook for another 8-10 minutes, then remove from the oven, flip over, and break apart into the chips, placing back in a oven that is preheated to 425 and allow them to bake for 3-5 more minutes. *The time will vary depending on the thickness of your chips.  *DO NOT STEP AWAY FROM THE OVEN OR YOU RUN THE RISK OF BURNING YOUR CHIPS.
Remove from the oven and allow to cool before serving with my roasted garlic dip, or anything else that you enjoy.
Recipe Notes
Lard or bacon fat may work in place of tallow
See my plantain tortillas for another fun plantain recipe.
Store the chips in a mason jar or plastic bag in the fridge for optimal shelf life.
2 Chronicles 7:14 "if my people, who are called by my name, will humble themselves and pray and seek my face and turn from their wicked ways, then I will hear from heaven, and I will forgive their sin and will heal their land."