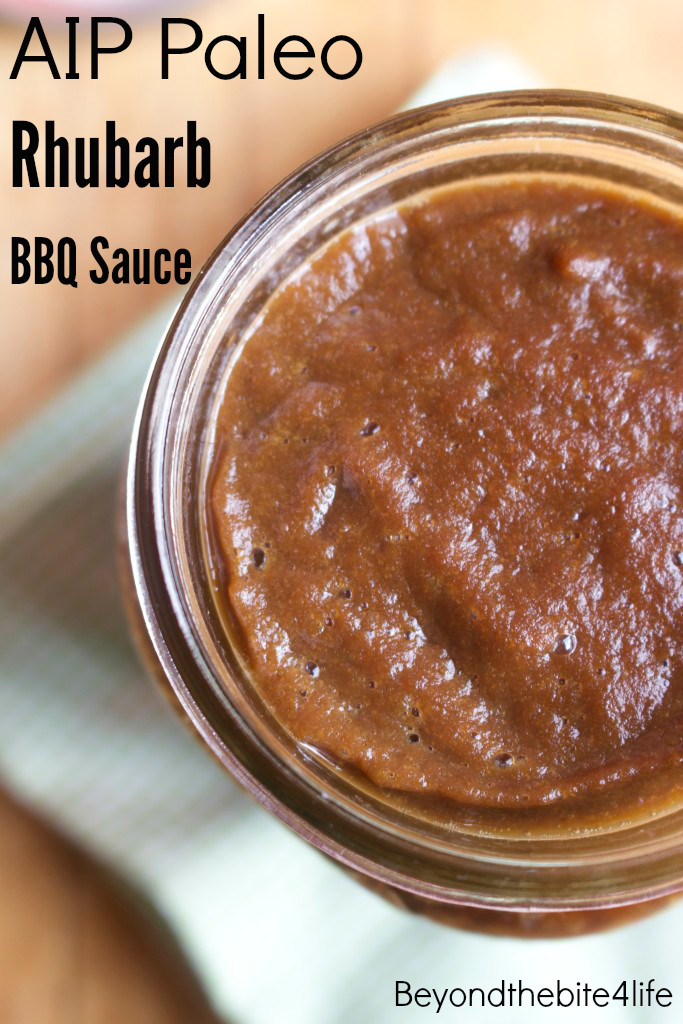 This spring (March 30th to be exact), marks the one year anniversary of Beyond the Bite. Therefore, I thought it would be rather appropriate to go back through the blog archives and re-make some of my first published Paleo recipes into autoimmune-friendly versions. One of my first posts from at the Cape was Shrimp Two Ways – BBQ and Pesto. While I have already remade an AIP-friendly pesto sauce, I wanted to begin by re-inventing BBQ sauce featuring rhubarb. As a plant that flourishes in the spring and summer months, I wanted to use it in a way outside from the typical strawberry-rhubarb combination, and I saw a nightshade-free BBQ sauce as the perfect way to do just that. While I served this to my family slathered over grilled chicken, it can easily be used in pulled pork, brisket, or any other grilling recipe that you enjoy making in the summer, including shrimp. I assume it would also be fabulous used as a dip for homemade sweet potato fries, or plantain chips. Either way, this BBQ sauce will have you reminiscing on past summer cookouts, and savoring every bite.

AIP Rhubarb BBQ Sauce
(Makes 2 Cups)
Ingredients
3 cups chopped rhubarb  
2 tbsp apple cider vinegar
1/4 cup water
1 tbsp garlic powder
1/2 tsp ground ginger
3 tbsp pure molasses
3 tbsp pure maple syrup
1 medium onion (1 1/2 cup chopped)
1 tsp smoked sea salt
Process
Combine all of the ingredients in a medium sized sauce pan and bring to a low-boil on medium heat.
Allow the mixture to cook for 25-30 minutes until reduced by half and the rhubarb is very soft.
Transfer mixture to a blender and blend until smooth, then pour the sauce into a mason jar for later use, and store in the fridge.
Ephesians 3:17-19 "that Christ may dwell in your hearts through faith; that you, being rooted and grounded in love, may be able to comprehend with all the saints what is the width and length and depth and height— to know the love of Christ which passes knowledge; that you may be filled with all the fullness of God."