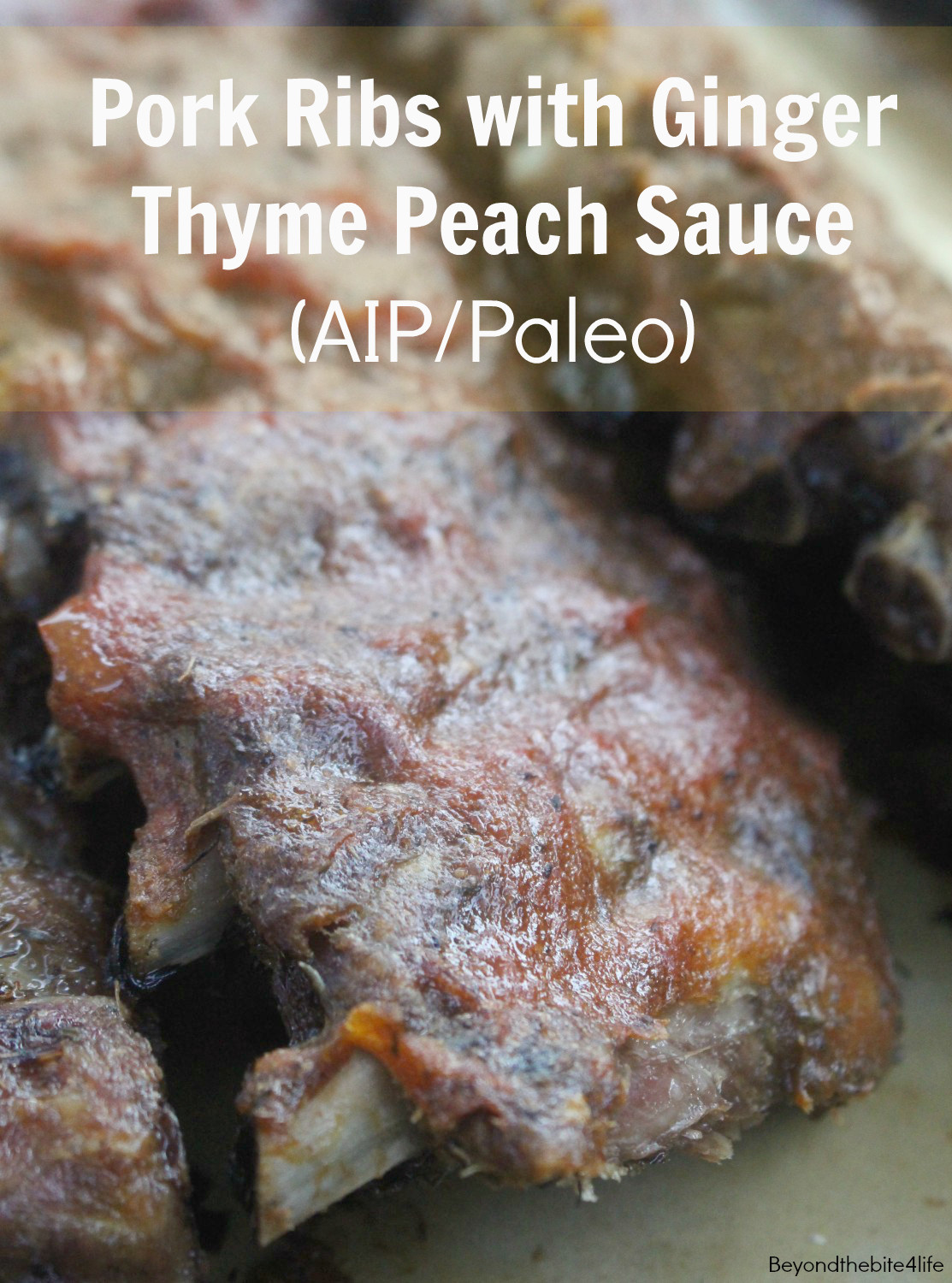 I grew up absolutely loving ribs.  My parents should have known they were doing atleast one thing right in their parenting style! Right?  That being said, creating AIP friendly BBQ that actually stood the taste test against real, nightshade-full BBQ was once slightly intimidating.  Yet after successfully making two different recipes for pulled pork, as well as a loved Rhubarb BBQ Sauce, I was feeling a bit adventurous and decided to expand upon my experience in the realm of BBQ. Much like the sauce that I made this past summer, I chose to use peaches as the base for today's recipe, as they are in season and therefore in great abundance here in New England.  The pork ribs that I used were also from a farm down the road, which made the entire dish locally sourced, something that I absolutely love both the idea and taste of.  While I have a deep love for ginger, other members in my family tend to shy away from it when cooking.  Therefore, I typically take any chance I can get to introduce it to them in subtle ways, all of which they end up loving once tasting.  In today's recipe, ginger serves as a the "spicy" factor that would otherwise be present in BBQ in the form of chili powder and paprika.  The peaches give the sauce a natural sweetness, while the vinegar acts as the underlying "tang."  In place of the umami factor that tomato paste would otherwise give a barbecue sauce, I used just a bit of fish sauce to give it this sweet, sour, bitter, and salty flavor that our taste buds can't help but jump at.  Overall, these ribs were eagerly accepted at the dinner table.  Even my younger brother, who first asked what they were made of, ate them without any negative comments, instead saying "cool" after I rambled off the ingredients.  As noted below, if your ribs are naturally lean like mine, basting the ribs with extra fat while roasting can help yield in a more succulent rib.  On the other hand, placing all of the ingredients in a slow cooker and cooking anywhere from 4-8 hours would also be another fantastic method to make these finger-licking ribs.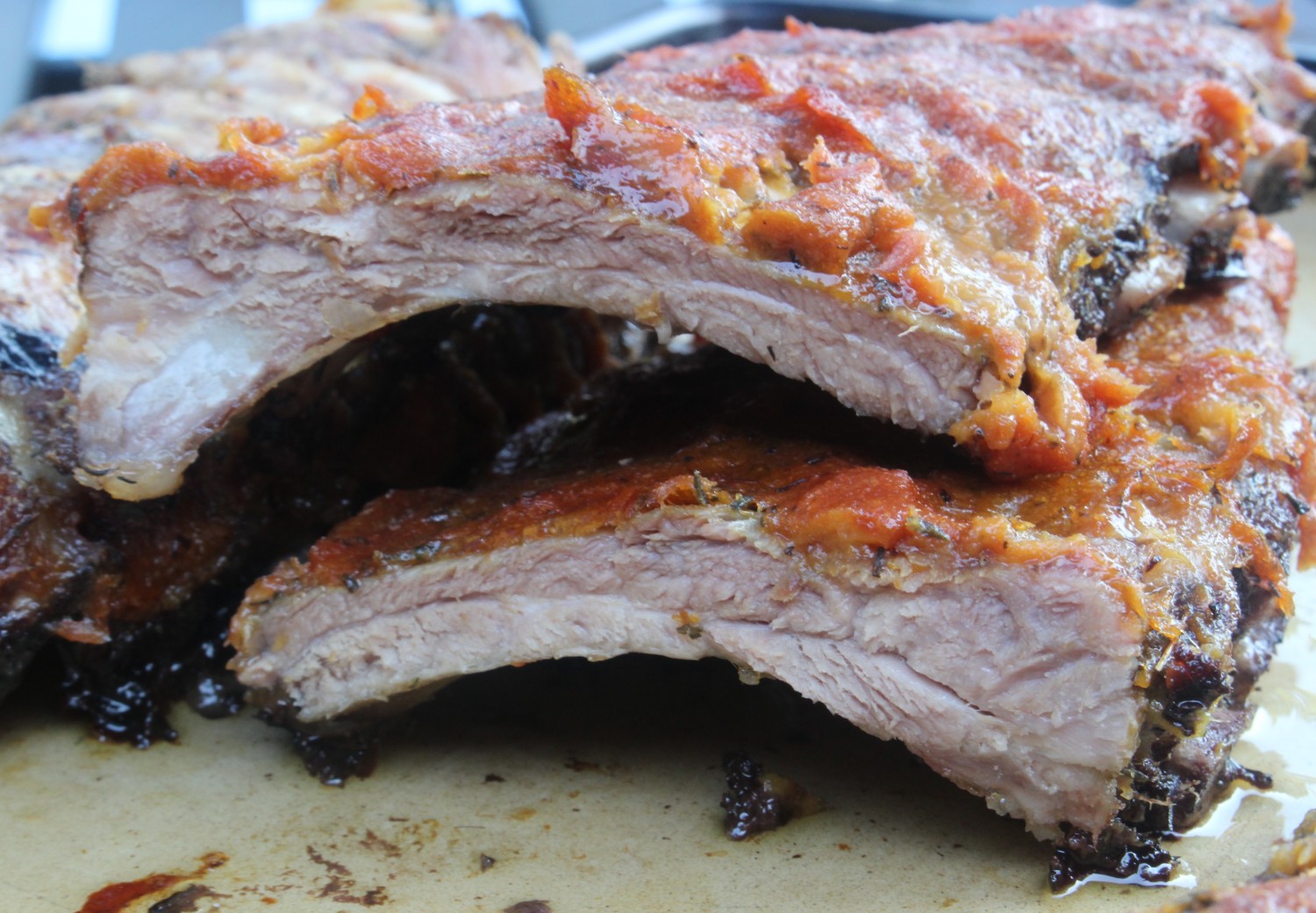 Oven Baked Pork Ribs with Ginger Thyme Peach Sauce
(Serves 4-6)
Rib Ingredients
3 lb baby back pork ribs
1 tsp sea salt
1 tbsp ground ginger
1 tbsp dried thyme
3 tbsp avocado oil
Sauce Ingredients (Yields 1 1/2 cups) 
6 whole peaches (3 cups chunked)
1/4 cup white wine vinegar
1 tbsp minced fresh ginger
4 minced garlic cloves
1 tbsp fresh thyme
1 tsp Red Boat fish sauce
Process
Preheat oven to 250 degrees.
Prepare ribs by removing the thin membrane on the back of the meat and cutting off any tough end pieces of meat.
Place ribs on a large baking sheet and rub down on both sides with sea salt, ground ginger, dried thyme, and avocado oil.
Put the ribs in the preheated oven and allow to bake for 2 hours.
While the ribs bake, it is time to prepare the sauce.
Pit the peaches, cut them into chunks, and place them in a medium sized sauce pan on medium heat, a long with the fish sauce and white wine vinegar.
Allow the mixture to heat up, then add in fresh thyme, minced ginger and garlic.
Let the mixture come up to a strong simmer and allow it to cook for 10 minutes, stirring every now and then to ensure the mixture doesn't stick to the bottom and burn.
After 10 minutes, turn the heat to low and let the mixture cook another 5 minutes.
Once reduced,  pour the mixture into a blender to make a sauce the consistency of your liking.
After 2 hours, slather the ribs generously with the peach sauce and place them back in the oven to roast for another 2 hours, slathering with sauce as you see fit.
After the 4 hours are up and the ribs are tender, remove them from the oven and slather with more peach sauce if desired and fresh thyme.
Recipe Notes 
If your pork ribs are naturally lean, basting them with lard or bacon fat throughout the cooking process can help yield in a more succulent end product.
Exodus 15:2 ""The Lord is my strength and my defense; he has become my salvation. He is my God, and I will praise him, my father's God, and I will exalt him."