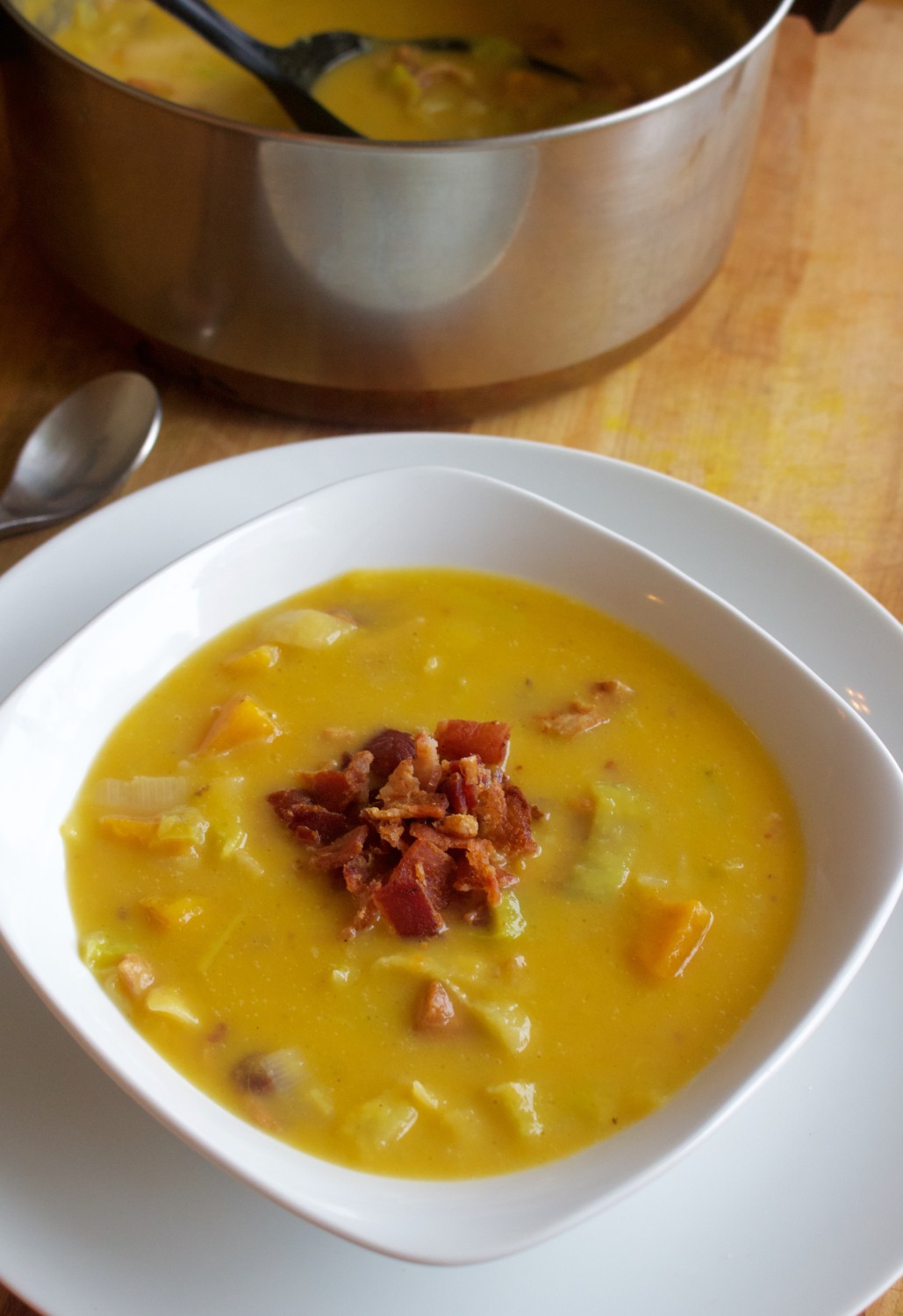 It feels slightly odd posting a soup recipe when yesterday's high was 73 degrees.  However, there have certainly been some colder days popping up leaving frost on my window pains and a light, white coating on the grass each morning.  While my body may not necessarily appreciate the chill in the air, my mind tells me that there is no better way to make use of the winter months than to get busy in the kitchen.  Therefore, with marrow bones from a local farmer slowly building up in a bag in my freezer, I decided it was time to make some bone broth.  There are also a million leeks in the fridge, all without their tops, as the leek greens are the only part of the leek I can eat.  Since my brother is out of town for a couple weeks and no one around the house is going to eat them on a salad like he does, I thought there would be no better way to use a large portion of them up then by incorporating them into a soup.  There is also a ginormous butternut squash that I received from my local CSA farm share, and just in case I received another one this week, I decided it too was required to be incorporated into the soup.  While I do love coming up with recipes in my head with any and every ingredient in mind, sometimes trying to figure out what to make with a set list of ingredients is just as, if not more fun.   It makes you become more creative, seeing ingredients in a whole new light than when prepared in their typical manner.  Overall, the combination of homemade bone broth, leeks, and butternut squash came out fabulous.  Of course, we cannot forget about the bacon, as it infuses the soup with a slight smokey flavor that is offset perfectly with the subtle sweetness of leeks and squash.  I was also told by my housemate that there was just the perfect amount of bacon found throughout the soup.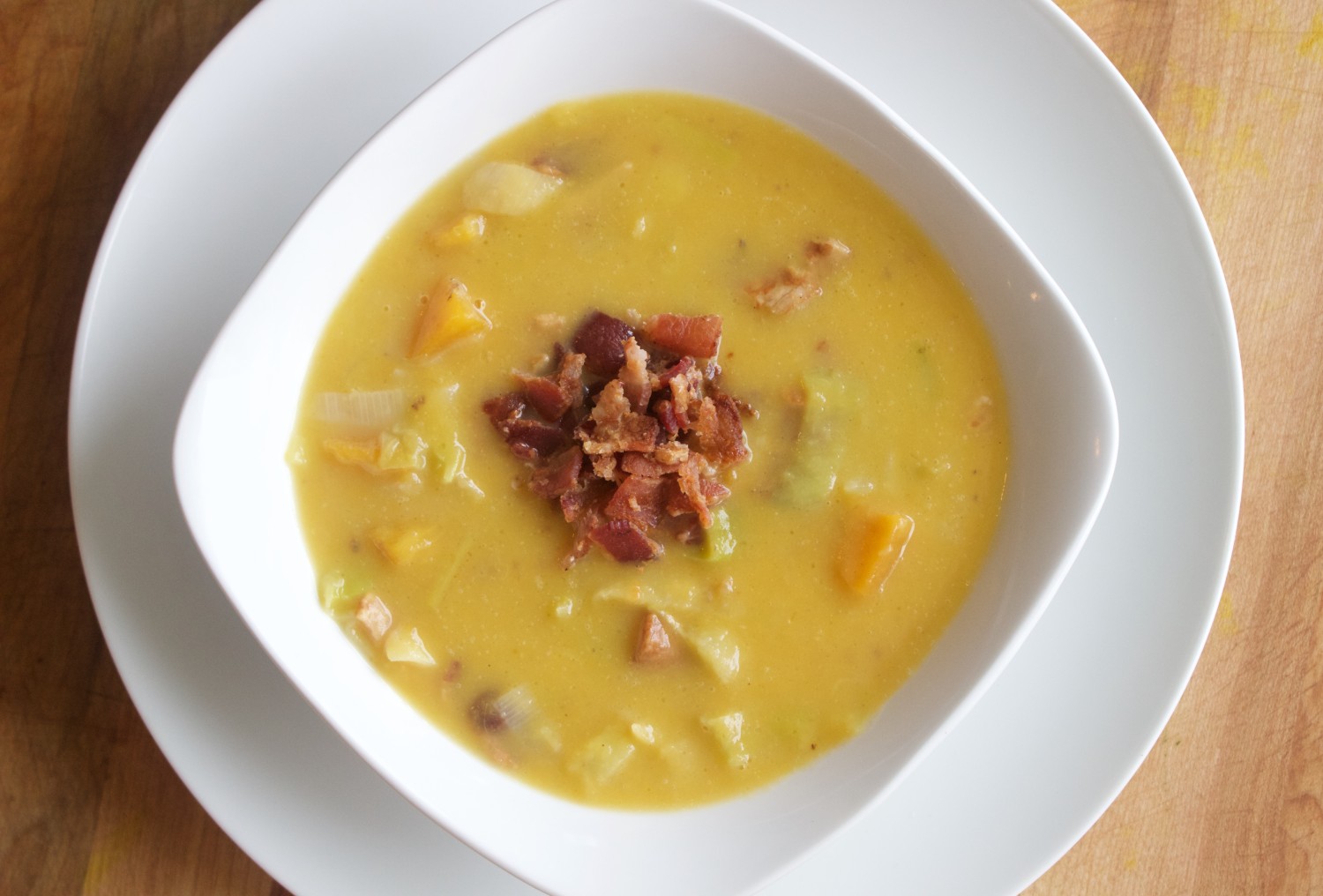 Roasted Butternut Leek Soup with Bacon
(Serves 4-6)
Ingredients
5 cups cubed butternut squash
1/4 cup avocado oil
6 1/2 cups homemade bone broth
5 cups chopped leeks
1 tbsp ground ginger
1 tsp sea salt
8 pieces of bacon
Green onion for garnish (optional)
Process
Place bacon slices in a large baking dish and place in the oven in the oven.
Turn oven on to 400 degrees, and allow the bacon to cook until just beginning to get crispy, then remove and allow to cool before chopping into bite size pieces.
Peel, cut, and cube butternut squash into 1/2 inch, like size chunks, place on a large baking dish, toss with 2 tbsp of avocado oil, and once preheated, place the dish in the oven and allow the squash to roast for 30-40 minutes until soft and just beginning to brown.
In a large stock pot, heat remaining 2 tbsp of avocado oil on medium heat, and once hot, add leeks, sprinkle them with 1 tsp sea salt and ground ginger, and allow them soften and fragrant, about 10-15 minutes.
Once the leeks have softened and are fragrant, transfer half of them to a large blender with 1/2 of the roasted squash and 1 1/2 cups of the bone broth, pureeing until smooth.
Scoop the puree back into the stock pot, then mix in with the remaining 6 cups of bone broth, roasted squash, cooked leeks, and chopped bacon pieces.
Stir to fully incorporate, season with salt if needed, and allow the mixture to come to a gentle simmer, then turn the heat off of the soup and serve.
Psalm 27:5 "For in the day of trouble He will keep me safe in His dwelling;  He will hide me in the shelter of His sacred tent and set me high upon a rock."