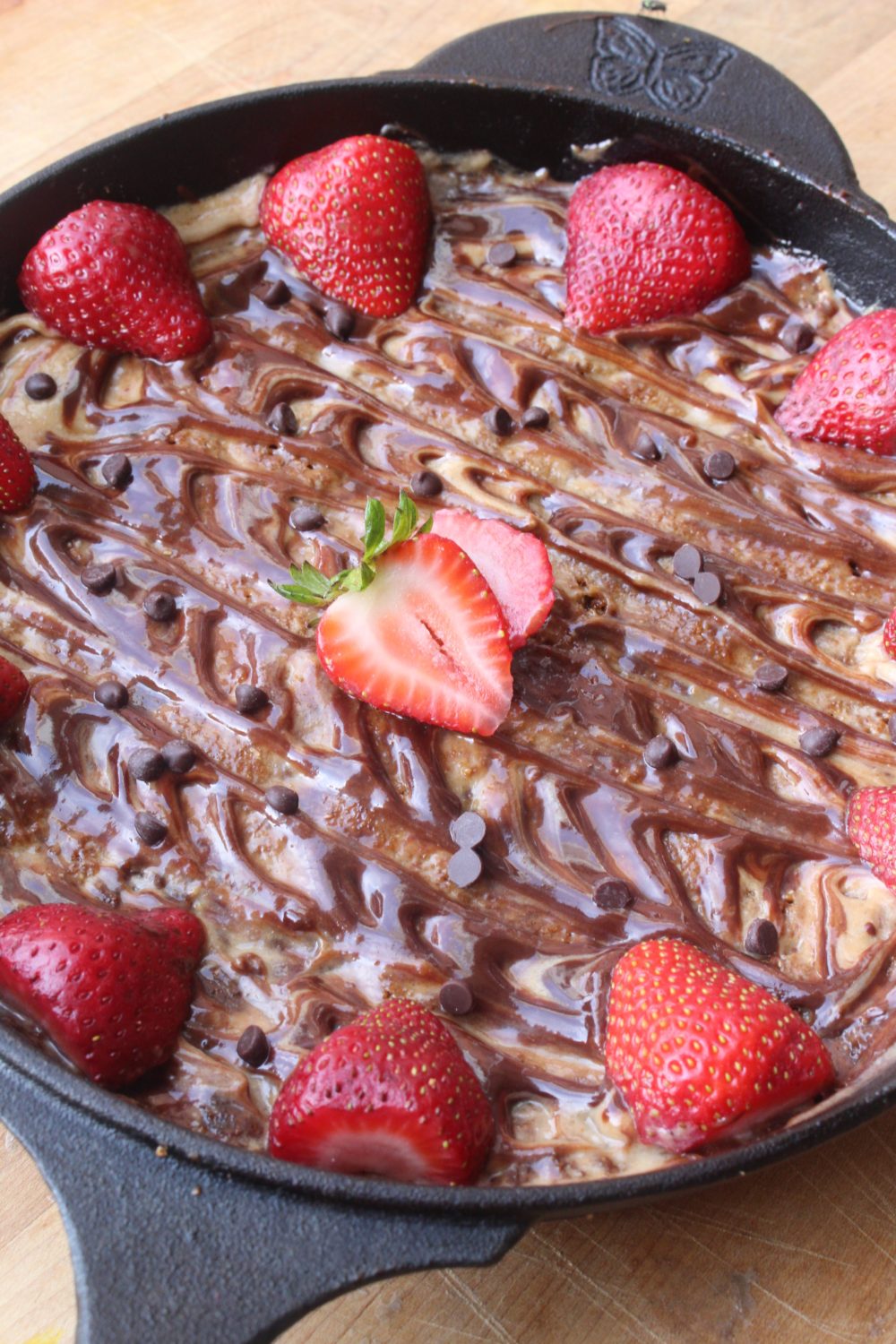 I've been waiting to post this recipe for some time now.  Mainly because with New Years, comes New Years resolutions, many of which are to avoid sweet treats and sugar.  That being said, I believe Valentines Day is the perfect excuse to share a decadent dessert recipe.  I played around with the idea of a "cookie pie" for quite awhile.  At first, I started with a regular Paleo version made with almond flour, twerking it to perfection.  Then I decided to try and omit the eggs and nuts and make an autoimmune friendly variation (using carob chips of course).  The end results between the two are slightly different, the egg version being lighter and fluffier, while this cookie pie is chewy and fudge-y, just the way I like it.  You can decorate this cookie pie any which way you like.  I chose to swirl melted chocolate on the top and garnish with strawberry slices.  My vanilla icing and a few fresh raspberries would be equally delicious and festive.  On another note, if you are without a cast-iron, no fear, this recipe bakes up just as tasty in a 8×8 inch brownie pan. That being said, if you are going to use your cast iron, I recommend it be one dedicated specifically to baked goods, as any savory cooking you may have previously used the pan for may leech unwanted flavors into your baked good.
For more Valentine's Day themed sweet treats be sure to check out this recipe roundup here.
Happy Valentines Day!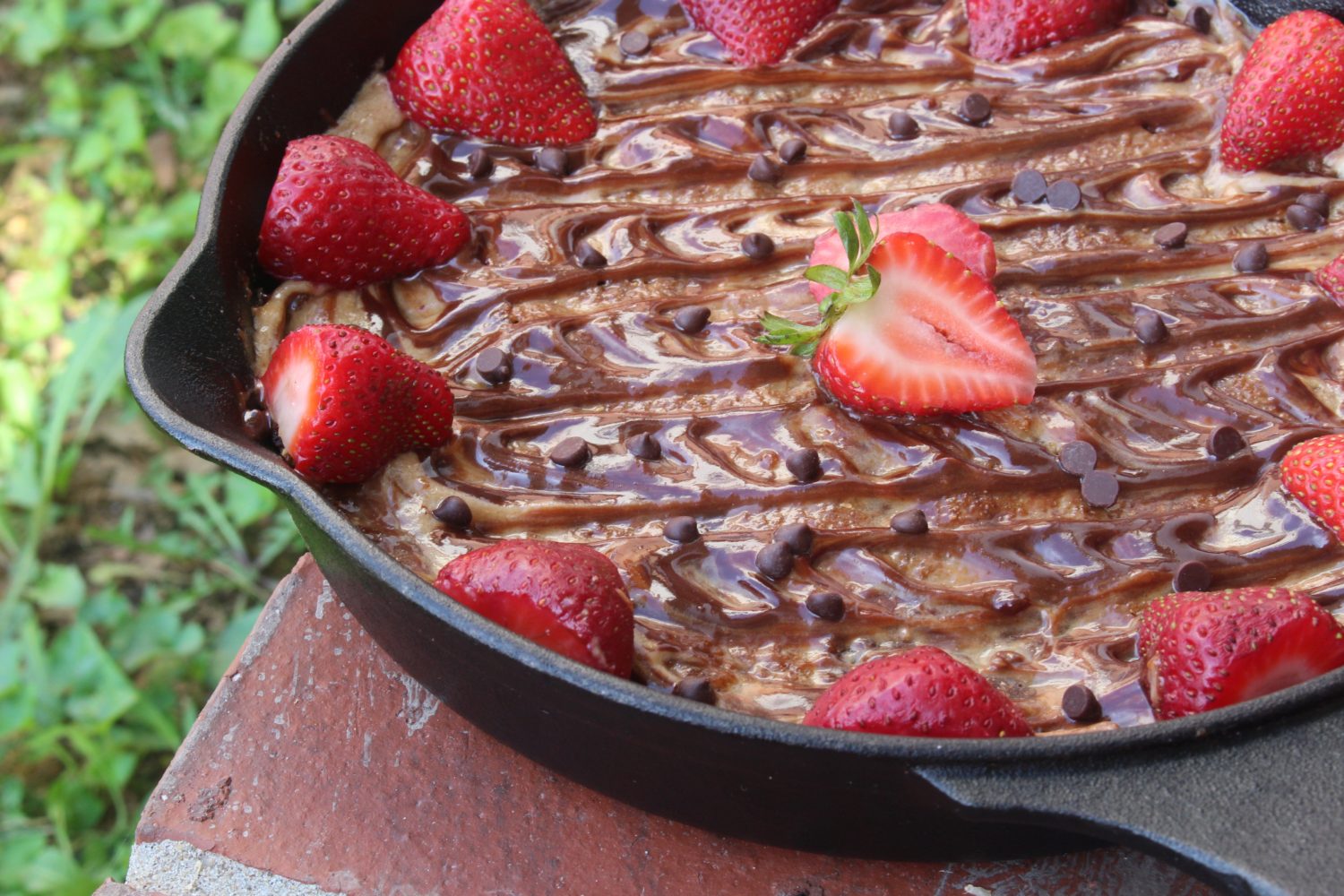 Tigernut Flour Cast Iron Cookie Pie
(Serves 8-12)
Ingredients
1 1/4 cup Organic Gemini tigernut flour
1 1/4 cup tapioca starch
2 tbsp gelatin + 3 tbsp water
1 cup non-hydrogenated palm shortening (or) ghee
1 3/4 cups maple sugar
1/2 tsp baking soda
1/4 tsp sea salt
1 tsp vanilla extract
1 cup chocolate (or) carob chips for AIP
1/2 batch of vanilla icing  (optional)
Melted chocolate or carob chips for drizzling (optional)
Fresh strawberries for serving (optional)
Process
Preheat oven to 350 degrees.
In a bowl, sift together sea salt, baking soda,tapioca starch, and tigernut flour.
In a second bowl, beat shortening, coconut sugar ,and vanilla until smooth.
Add the dry ingredients into the wet, mixing with a spatula until smooth.
Whisk together gelatin and water to create a slurry, then add to the mixer and beat quickly to combine.
 Fold in chocolate chips.
Scoop cookie dough into a greased, 10 inch cast iron pan and place in the preheated oven to bake for 20-25 minutes.
Remove the pan from the oven and allow to cool completely before decorating, cutting, and serving.
Recipe Notes
This recipe can be made using almond flour in place of the tigernut flour and butter or coconut oil in place of the shortening.
1 Corinthians 13:3 " If I give all I possess to the poorand give over my body to hardship that I may boast, but do not have love, I gain nothing."